COMPANY: ZND has become a worldwide leader in temporary fencing manufacturing with innovation at their core. With considerable manufacturing capacity they are able to provide mobile fences and barriers to prestigious events. Their state-of-the-art and high-quality products leave their customers perfectly satisfied. 
With Pathmonk, ZND Quadrupled Their Conversion Rate
ZND has over 50 years of experience as a global manufacturer. Since opening their factory doors the team has continuously worked to provide safer, stronger and smarter products. By developing and automating this process they have created unwavering support from their clients. By saving clients time and money their distinguished reputation continues to expand.

Not only do they optimize in their factories but equally look to develop their digital user experience. Mykel Hedge is the Senior Digital Marketing Manager at ZND. As a specialist in his field and the determination to grow this well-developed company, he looked to increase online conversions by catering to the digital buyer and ensuring the user experience converts prospects successfully.
The Challenge:
How to Digitize the Buying Journey & Increase Conversions
With a commitment to continually evolve in the industry, ZND was ready to evolve its online marketing strategies. Within this traditional space, their referrals and reputation continued to support the business growth but Mykel knew there was even more opportunity to expose their quality products and services to a wider audience.
As the digital space becomes an increasing necessity to any business marketing, Mykel was eager to leverage the tools and solutions available, to ultimately increase conversions on their website. B2B buyers naturally expect to receive the same thorough customer service on a website as they do in face-to-face sales interactions. ZND was not willing to sacrifice their high standards. With readiness to digitize the buying journey further, Mykel wanted to ensure the needs of the audience were catered to. As the numbers rise in industrial goods buyers using the internet to search, qualify, evaluate, and select suppliers, the opportunity to deliver has a tremendous impact on the B2B buyer's opinion. 
The Key Question: How to implement key micro-moments to shape the customer's decision?
The experience a supplier provides during the decision-making process is as vitally important as the quality of the actual products. With the expectation of a quality experience manufacturers need to cater to these digital buyers with services that educate, guide, and understand the buyer's needs. Mykel knew that providing the right information at the right moment and ensuring a simplified and streamlined buying process, would increase their digital conversions.
Get The Buying Journey Guide
Read practical advice, best practices, and expert tips to help you become a master of your website's buying journey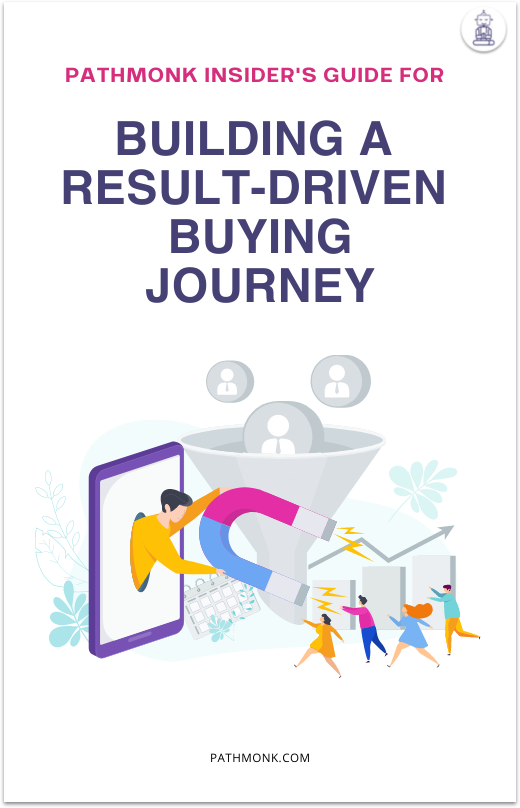 The Solution:
Implement Micro-Moment Marketing
Users canvasing the internet for a product in this industry spend time researching and ensuring they are making the best choice. If you are not offering an enhanced user experience it is easy enough for a prospect to move on to a competitor. However, by offering those users appropriate material balanced with a streamlined buying process you can influence your audience in those key moments.
The opportunity to create a seamless customer experience across all channels while being useful and anticipating users' needs was exactly what Mykel wanted for further growth and increased conversions, which the company deserved to see. He knew the website had never been optimized or leveraged for converting users in a new market, and Pathmonk was a natural solution to that issue. He opted to use Pathmonk's easy integration to provide his users with micro-moments. As a global company, they decided to implement Pathmonk's tool in their market in the United States. As it continues to expand. Mykel didn't want to miss out. 
Pathmonk detects the intent-rich moments that shape the visitor's decision on whether to stay, sign up or leave the website. These game-changing moments are significant in converting website traffic. With Pathmonk's intelligence ZND's prospects were supplied with educational and actionable content in key purchasing moments.
 Pathmonk delivered micro-moments that match the stage of the buying journey to trigger more conversions. With a longer buying journey in this traditional market, users are often at various stages in the conversion funnel. Mykel wanted to deliver appropriate moments to match the stage of a prospect, while ultimately anticipating their questions and showing the right content. 
Seamless integration is a core value at Pathmonk. As the key marketeer with the eagerness to learn and bring on the optimized tools, we needed to ensure the integration of Pathmonk was streamlined. That it was complementary to any other incorporated solutions.
Results:
A Quadrupled Conversion Rate
With a targeted focus on their US market to ensure this was the right path, ZND saw their conversion rate quadruple. As clients navigated their website their questions were answered in key-decision moments. Users felt catered to in the digital space with no loss of service or quality. With Mykel's willingness to embrace this new-age micro-moment marketing he quickly witnessed the benefits. As he expands his knowledge in the space and equally commits to the exposure of ZND, the team can extend their new strategy to the rest of their market. 
Pathmonk takes your sales proposition and provides them to your visitors at the right time. Using micro-experiences Pathmonk guides visitors based on their interactions to the most optimal buying journey.
In an overloaded world of information, it is hard to convey the key values of your product and present them in a way that fits each visitor on your website. Pathmonk nurtures your visitors with your key value proposition and builds interest with its revolutionary UX and Artificial Intelligence engine.
Know Why Your Page Is Missing Results
Pathmonk Metrics analyses the growth opportunities & user journey on your website, then generates suggestions on how to improve.