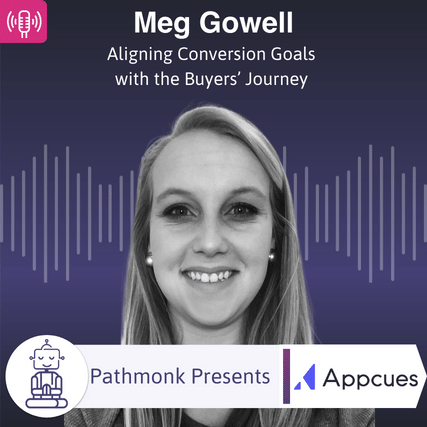 Introduction
Having a product, software, or solution that a prospect can't live without and desperately needs, is a game changer. But we quickly lose prospects with overwhelming, unorganized, and overly complicated onboarding processes. Cue Appcues, a no-code platform that makes it easy to measure and improve product adoption—without a developer. Director of Growth Marketing, Meg Gowell dives into how Appcues helps those transitioning from a sales-led motion to a product-led motion while helping us understand how they drive growth through organic thought leadership on their blog and Product Adoption Academy. The website plays a crucial role in their customer journey and the importance of aligning conversion goals with that buying journey. Meg emphasizes the importance of understanding where a customer is in their buyer journey, what information they need to know, and what the next step to conversion should be. Meg also discusses the challenges of funneling customers and helping them move along the journey in order to learn more about the product.
Take The Next Step on Your Growth Journey
Growth Marketers in the show focus mostly on one of the three big problems. Increasing the amount of leads, reducing the customer acquisition cost or improving the lead quality – that's why they are in growth at the first place. Reports from Gartner & real experience from our guests show that >70% of the buying journey is happening online while the competition for leads online is increasing.
The step-by-step Ebook guide below will help you to get started & analyse the digital buying journey on your website. Take this cheat sheet to accelerate revenue for your company.
Free AI-Powered Buying Journey Toolkit
Learn how to optimize your buying journey and speed up your revenue with top strategies and invaluable resources.