Digital marketing is getting more complex. With constantly changing consumer behavior and demands, evolving technologies and tools, a lack of resources, talent, and budget, changing privacy regulations, and an expanding pool of competition; it's no surprise that marketers feel like they're drowning. So, we're here to remind you that you're not alone. 
We speak to many marketers, growth hackers, and founders on Pathmonk Presents. It gives us a great deal of insight into what works, what doesn't, and most importantly how to adapt to and embrace those challenges. So while we bring you a list of the top 6 challenges of digital marketing, we also bring you solutions, and a reminder that facing things together can make it all feel a little better.
1. Solve Conversion Attribution
Conversion attribution is like a balloon. It's filled with all the answers you need but you just can't seem to grab the string as it floats away. 
Conversion attribution, the process used to track the effectiveness of marketing campaigns and find which channel led a user to perform a desired action, is one of the biggest challenges of digital marketing today. As our prospects consume in a multi-touch, cross-channel, constantly-on era; 48% of marketers consider conversion attribution to be their biggest challenge. We don't blame them!
And now, with the looming cookieless environment, things are getting even harder.
Solution: Technologies are still evolving to adapt to the dynamic and almost out-of-control world of conversion attribution. But as we draw prospects to our websites (our home base), there is a way to see where they came from. To see what channel led them to take action and find out more about your brand. With the Pathmonk Results platform, powered by artificial intelligence, marketers can identify which ad campaign a visitor is coming from and even deliver a tailored experience that matches that ad. You'll know which ad campaign or type of strategy is worth investing in. Insights like this help us make the right data-driven digital-marketing decisions and serve those all-important buying journeys.
Supercharge your ads' ROI without cookies
Boost your ads performance with cookie-free ads that retargets users based on their real-time intent.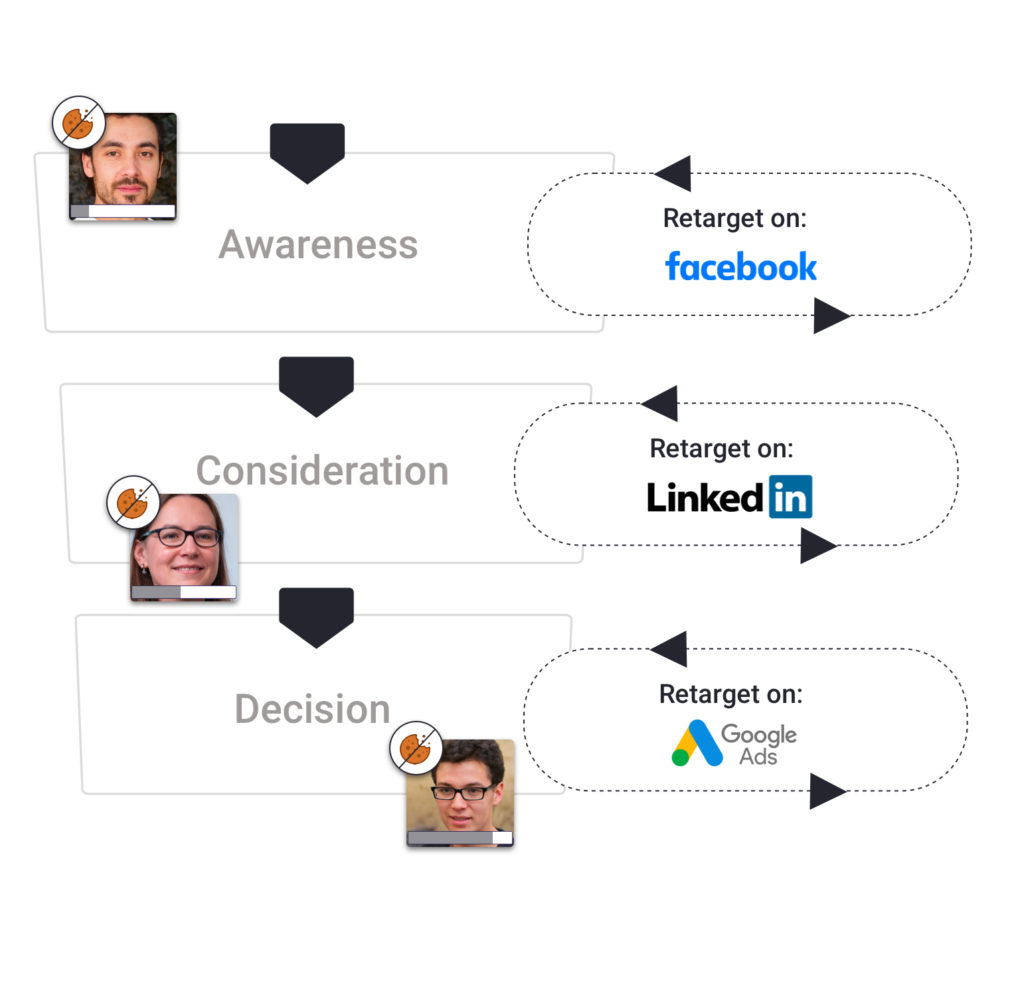 2. More Marketing Automation
Well, of course. Marketers are data scientists, creatives, advertisers, strategists, and psychologists. There can be a great deal to cover in one day and the pressure to see results can be insurmountable. From content marketing to email marketing to behavioral targeting to social media management to lead nurturing to website optimization; there are uncountable opportunities to automate. 
So in the hopes of simplifying this, let's focus on one form of automated marketing; website optimization. As our website plays the role of our always-on sales guru, available at any given moment a prospect has a question, requires more information, or needs guidance, it's critical that we find better ways to optimize, personalize, and even automate the website user experience. From checking heatmaps, screening online user behavior, reaching out to agencies for assistance, defining your message, and relying on outdated popups, its time to give our consumers what they want without you having to rely on multiple sources, feel overwhelmed by incoming data, or manually guide and influence a user's path to purchase. 
Solution: Automated, predictive micro-experiences. Want to sit back and see your website visitors guided through their buying journey? Do you want to see your prospects automatically provided with information and content that matches their intent and be influenced in key-decision moments? Or save time by automating qualification processes and removing friction from your buyer's journey with a qualification experience that works? Check out an easy-to-install, plug-and-play solution here.
3. Marketing Data in One Place
Fair enough! Leveraging and collecting big data gets messy and it's no surprise it's one of the top challenges of digital marketing. From Google Analytics to Hubspot to Calendly to Contact Forms to Hotjar. We have data everywhere. And although we love and rely on data to make better decisions and drive results it has become an almost scientific practice. We need to collect and analyze strategically to have any real impact. With new technologies, complex algorithms, and statistical applications being developed, we find ourselves working hard to keep up. Struggling to truly understand and use our data. 
The control can feel like it's slipping away. But what if you could control even just one element? Your website data? 
Solution: It's time to analyze and extract value from data. Forget about complex analysis that requires resources and expertise, simply start taking advantage of the power of artificial intelligence. Drive more conversions by identifying the channels to avoid and the sources to embrace. With actionable change suggestions, first-party data analytics has never been easier. See how it's done here.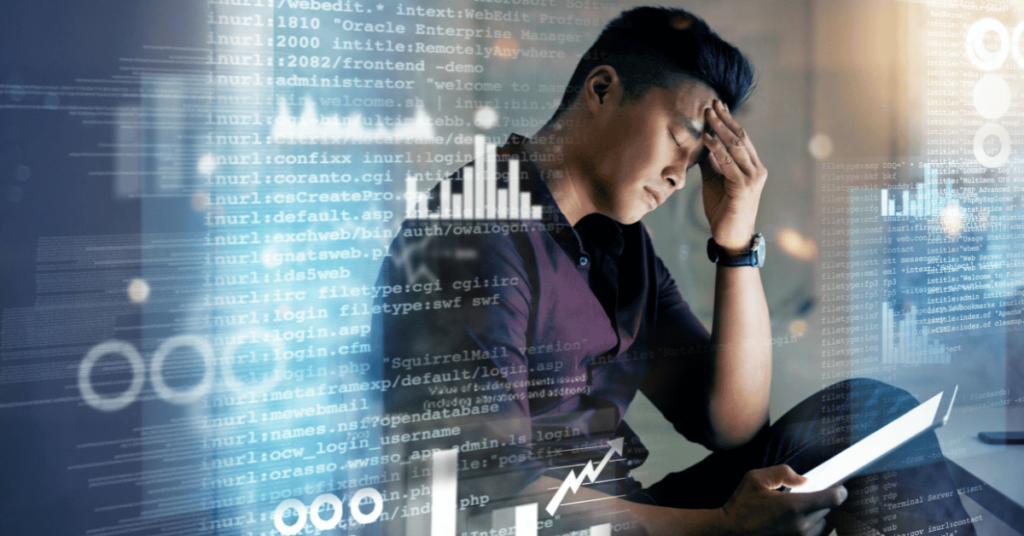 4. Understand Website Visitors' Intentions and Emotions
We hear this one a lot. Marketers wish they were mind readers. In fact, the first rule of marketing is to focus on and understand your audience. We get wrapped up in the latest trends, new technologies, and the best strategies to convert. But what's more important than all of that? Knowing who your buyer is, how they buy, and most importantly how they don't buy. Business survival means customers and we create customers by supporting buying journeys. By understanding their intent and emotions. 
So, yes, we do research, talk to customers and prospects, or hold focus groups. It's that essential data and those critical conversations that help us improve our products and services, and even influence future prospects. But what about real-time data? Visitor intentions and emotions in the moment? 
Solution: Through the power of artificial intelligence you can predict the most likely next step of your visitors. Understand if they're more inclined to leave, want to learn more, or sign up. Understand your visitors' buying journey and know why you lose prospects on your site.
5. Leverage AI in Marketing
Well, well, well. If that hasn't been the common thread in our solutions above, now is our time to shine. AI and machine learning are taking over, even creating fear. Will it replace our jobs? Will we become redundant or irrelevant? Instead, it's an opportunity to assist us, aid us in our mission to be better marketers and create better buying experiences; help prospects get the solutions, services, and products they need. So how can we embrace and leverage AI effectively? 
Solution: Pathmonk is all about the power of AI and automation. We want to be a part of your business success; to help hundreds of website owners get better results. By collecting and analyzing thousands of data points Pathmonk can give you the best actionable-change suggestions and predictive real-time micro-experiences all through the power of AI. 
6. Successful Lead Generation Despite GDPR and The Cookieless Future
Although more and more technologies and strategies become available, some are taken away. Providing personalized experiences, understanding our customers, and measuring and tracking online interactions are essential to increasing lead generation and driving growth. But for so long we have relied on cookies to do this. So as the digital world, yet again, shifts around us, we have to embrace the cookieless future and our consumers' demands for change. It's time to strike a balance between data ethics and personalization. 
Solution: Real-time personalization, increased user engagement, and optimized buying journeys are the future of website experiences and lead generation. We must shift the paradigm in order to continue to gather consented data and monitor buying intent. That is why solutions without cookies, like Pathmonk Intelligence, are the future of this cookieless era. By leveraging data science and artificial intelligence, you can collect buying-journey data, growth opportunities, and actionable insights. You'll finally have the power to understand why customers aren't converting.
Pathmonk provides a privacy-friendly conversion uplift. No cookies and fully compliant with GDPR. It is built for privacy-conscious website owners. You get up to 1.5x more qualified leads from your website while visitors feel secure and catered to.
We collected this information from marketers with real-life insight and pain points, not only to show you that you're not alone but to show you how we, at Pathmonk, can be a part of the solution. Technologies and tools that help to solve the challenges of digital marketing today are always emerging. But keeping up with those technologies, tools, and strategies is a challenge in and of itself. By listening to our podcast and using tools specifically designed for you, you can keep up-to-date and at the cutting edge of technology and emerging insights.
Supercharge your ads' ROI without cookies
Boost your ads performance with cookie-free ads that retargets users based on their real-time intent.