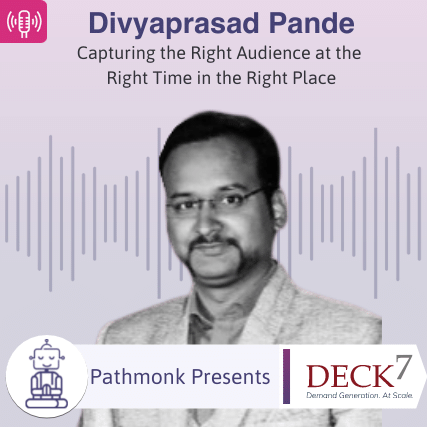 Introduction
Nothing feels better than being right. So rewarding and satisfying as the slightly arrogant side of your personality congratulates yourself. For marketers, there's a slightly more rewarding feeling when they've worked attentively; reaching the right audience, increasing lead generation, and improving customer experience. Reaching that audience is greatly impacted by the experience you create for them, offering the appropriate experience at the right time and place.
Helping marketers succeed with their brand awareness and lead generation campaigns is Deck7. Companies rely on Deck7 for lead acquisition at scale. With over 7 years of digital marketing experience the Senior Manager of search marketing, Divyaprasad Pande, joined us today. As they work to capture the right audience for their clients it's important to do the same for themselves.
With user experience as a core focus for Divyaprasad, he aims to improve audience interactions and understand user behavior. Companies have more opportunities than ever to understand their buyers, but it comes with the responsibility to use it wisely, thoughtfully identify audiences, and communicate with them in personalized ways. It's no longer just about marketing to the right audience but rather communicating with them.
Take The Next Step on Your Growth Journey
Growth Marketers in the show focus mostly on one of the three big problems. Increasing the number of leads, reducing the customer acquisition cost, or improving the lead quality – that's why they are in growth in the first place. Reports from Gartner and real experience from the guests show that >70% of the buying journey is happening online.
The step-by-step Ebook guide below will help you to get started and analyze the digital buying journey on your website. Take this cheat sheet to accelerate revenue for your company. The buying process has changed, has your website experience?
Get The Buying Journey Guide
Read practical advice, best practices, and expert tips to help you become a master of your website's buying journey