Click Funnels is one of the platforms that have taken the online sales and marketing world by storm in recent years. There's a lot to love about the service, but it's not without its drawbacks as well. In this Click Funnels review, you can get the full scoop on what it has to offer, the pros, and cons, important features, pricing information, and a lot more.
If you are looking for a Click Funnels alternative for any reason, we go over Pathmonk and what value it can bring to you as a professional marketer.
To start off this Click Funnels review, let's look at what the software is, how it started, as well as how it works. According to the platform, Click Funnels gives you "everything you need to market, sell, and deliver your products and services online." This product package is meant to replace the need for a tech team to handle a lot of your business for you. This claim is a bold one, so let's go into more detail to show what the platform is all about.
Click Funnels is an online sales and marketing funnel builder. Sales and marketing funnels are very important in the online business space. Any business or entrepreneur looking to sell products or services online needs a good understanding of online marketing and how to increase lead generation and conversion rates.
Sales and marketing funnels are all about understanding your customer's journey and interactions with you and targeting them with the right marketing at different stages. The goal is to convert as many leads as possible into sales. This is the mission of Click Funnels—to increase sales for its users.
The platform was founded by marketing guru and author Russell Brunson in 2014. Several years later, it has grown to be one of the fastest-growing software-as-a-service (SaaS) companies with over 100,000 paying customers and $100 million in annual sales as of 2019.
The next question on your mind might be this one. How does Click Funnels work and what features does it offer? Read on to learn more about this sales and marketing software.
Free AI-Powered Buying Journey Toolkit
Learn how to optimize your buying journey and speed up your revenue with top strategies and invaluable resources.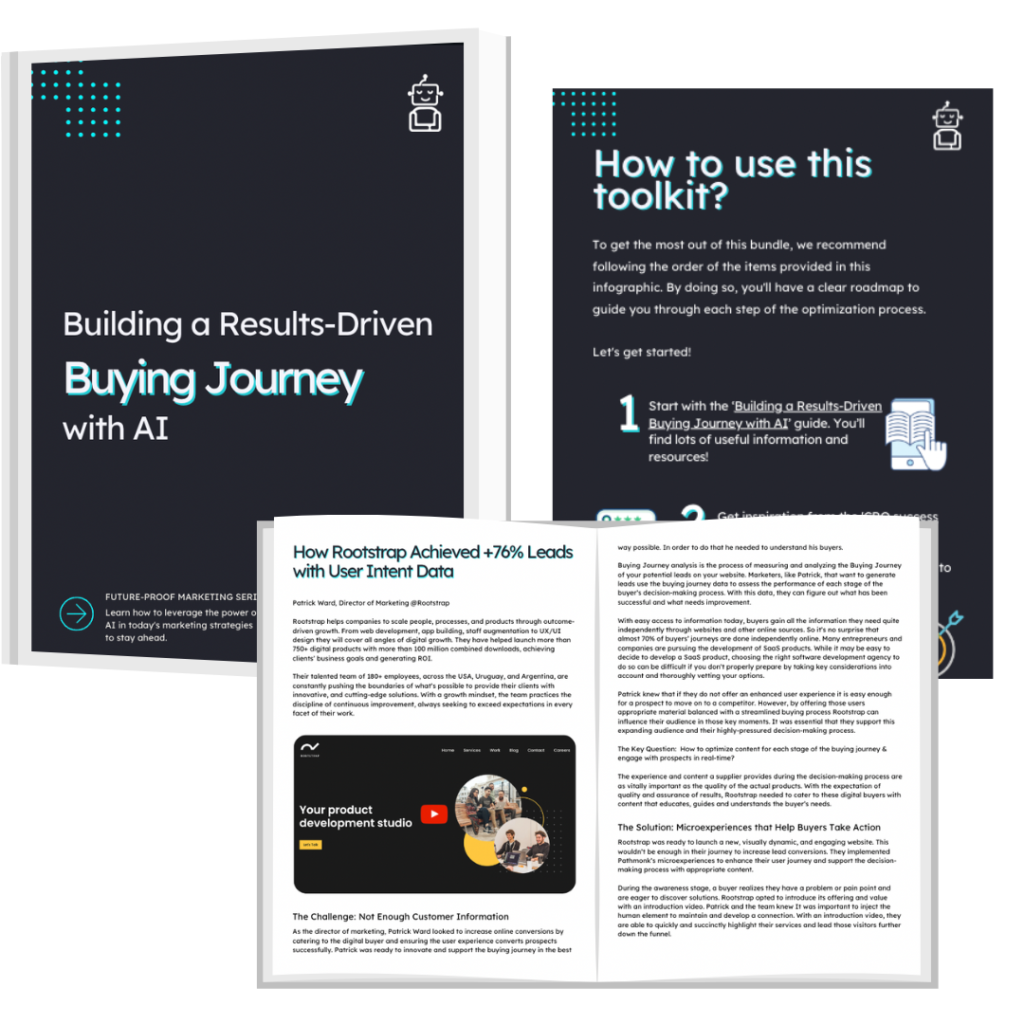 How Does Click Funnels Work?
To boost its users' sales and help them market and sell their products and services better, Click Funnels has a few key features:
An easy-to-use landing page builder with a drag-and-drop editor
Easy integrations for capturing emails and taking payments inside the software
A/B testing capabilities
When you sign up for Click Funnels, the registration process is simple. If you have a few hours on your hands, you can figure out most of what the software offers. The platform allows you to set up sales funnels easily so that you can convert your site visitors into leads and then paying customers.
Is Click Funnels Worth It?
From all the insights we found doing this review, it's clear that the software is a legitimate business offering real value for its growing clientele. There's been a lot of media coverage and hype about the software itself, as well as its founder, so it makes sense to ask if ClickFunnels is worth it and is all it's cut out to be.
To evaluate whether joining ClickFunnels is feasible or not, we looked at the pros and cons of the software as well as the pricing information. The different pricing plans and feature options can give us a good indication of the relative value you can expect if you choose to use ClickFunnels for your conversion rate optimization.
Easy to learn and use
Good reviews
Simplified platform
Many great integration options
Excellent conversion rate optimizations
WordPress plugin
High cost
Overhyped marketing strategies
Not the best customer service
Bugs and outages
Oversimplified platform heavily reliant on templates
As you can see, it's not all good news when it comes to ClickFunnels. As far as the benefits are concerned, it's important to note that the software delivers on its promises. Using ClickFunnels can help you increase your leads and sales conversions. There is a growing community of users with excellent reviews about how much money they have been able to generate since using the platform.
One of the standout features of Click Funnels is ease of use. A complete beginner can start using the software system in no time. Some people view the simplicity of the platform as a drawback, however. Not everyone is a big fan of the heavy dependence on templates, and some call for a little more complexity and uniqueness in the landing pages they can build. The results speak for themselves, however, so while there is room for a little more diversity, as the current model seems to be working well.
There isn't just a lot of similarity in the type of pages being created using Click Funnels–some have also questioned the marketing strategies that the company uses. We've noticed a growing community of users who could swear by the software and how it has made them rich. There's also a growing following for the mastermind behind the sales funnel platform and his other works and methods. While this does little harm, it can verge on excessive, cult-like, and distracting from the software itself.  
We also experienced some challenges when contacting customer service. It is not always very responsive and helpful when it comes to more complex questions and queries. Another thing to note is that your sales funnel landing page may run into many bugs and crashes. It's not completely clear how often this takes place, but it is enough for users to complain. The worst thing about these outages is that they are quite difficult to keep track of.
Is Click Funnels worth it? We looked at the Click Funnel's cost structure to see if the product is delivering value for the money. The good news is that users can sign up for a free 14-day trial. You can see what the hype is all about and determine if this is the right sales and marketing platform for you. After that, you can choose between two plans.
Click Funnels Cost Structure
The Click Funnels Standard Plan costs just under $100 a month and allows up to 20 funnels, 100 pages, one user, three payment gateways, three domains, but no follow-up funnels. If you chose to go with the Click Funnels Platinum Plan, you get unlimited funnels and pages, three users, nine payment gateways, and nine domains. This plan also provides unlimited follow-up funnels and a few other extra features for a price of $297 a month. Some have argued that this is on the more expensive side for a simplified platform, but it's highly subjective.
Although Click Funnels delivers on its promise and is an excellent software system for entry-level markets and other professionals looking for simplicity, there are other options available. Pathmonk, for example, is a Click Funnels alternative offering sales and marketing optimization services. Read more to explore what Pathmonk provides and how it compares to funnel builders such as ClickFunnels.
An Alternative to Click Funnels
Pathmonk is a ClickFunnels alternative that gives you automated lead generation and increased website revenue. If you are looking for a way to increase your conversion rates, then you might want to give this platform a try.
With Pathmonk, you can get more than 50% more conversions instantly. How does the software work? Pathmonk analyzes all the actions taken by your website visitors. From there, it produces personalized micro-moments that are used to trigger even more conversions. The process is fast, and you can start seeing it work in just a few minutes. You don't have to make any changes to your website, but you can learn how to guide interested traffic to the right landing pages.
The power behind the results of Pathmonk is the artificial intelligence (AI) to detect and react to a buyer persona on your website automatically, which you aren't going to see with the competitor programs. AI is a game-changer in many industries and online sales are not an exception.
Pathmonk differs from many of the other conversion optimization options out there such as popup tools, chatbots, heatmaps, IP tracking, and funnel builders such as ClickFunnels. Feel free to take the time to more deeply learn why Pathmonk is a better solution for your site conversion rate.
Here are some of the standout features behind Pathmonk that make it so good at what it does:
Relevant experience through micro-moments
5x lead conversion increase
AI tool for automatic personalization
Easy set-up in less than five minutes
Fully qualified leads with contact information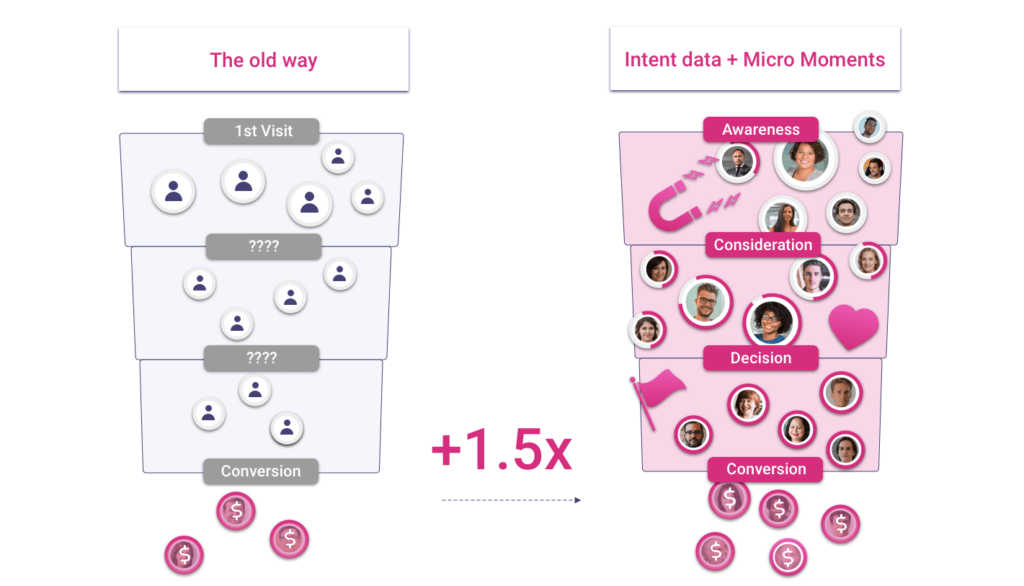 If you decide to give Pathmonk a try, there are four different plans available. The basic one is the Startup and Small Companies Package, which is followed by the Business, Premium, and Enterprise Packages. The Business Package is the most popular and is suitable for sites with under 50,000 views a month. You get AI micro-moments, individual intent data profiles, lead qualification, multiple conversion goals, conversion funnel reports, custom branding, and integrations.
In this ClickFunnels review, we looked at the merits and demerits behind this fast-growing sales and marketing funnel software platform. It's easy to use and can help you optimize your conversions and build winning landing pages. Understanding the customer buying journey is an art and a science and can mean the difference between success and failure in sales and marketing. Pathmonk is a ClickFunnels alternative that uses AI to automatically react to buyer persona and optimize your conversions.
Smart website analytics made simple
Understand your user intent, buying journey, and enhanced attribution in one unified hub. Up to 10x conversions.