In the sales world, there are two common terms that teams are acquainted with, lead qualification and lead scoring. Each works with sales leads to help the company grow, but each has its own differences in strategy. 
These two methods have their own benefits and drawbacks, but what a company uses for their sales strategy depends on their needs and industry. To understand these two methods, it is important to understand more about leads.
In sales, a lead is a potential customer. There are all kinds of leads for different industries, such as a company interested in using your software or a person visiting a website interested in signing up for your service. When sales teams get involved, these purchases or potential sales tend to be on a bigger scale, but they can also be smaller sells too.
Leads are important because of the potential they hold. These leads can come from many different sources such as organic routes, like word of mouth, or pay per click ads that are strategically placed on the internet. These leads then visit a website, fill out a form, make a phone call, or download something from your company. None of these actions means they are a customer yet, but they show your company that someone is interested in potentially becoming one.
Capitalizing on a lead is almost an art form that requires skill. Acquiring a new customer can be an expensive pursuit though if you chase every single one. Both time and resources put toward wooing leads can add up quickly. Finding the leads that are right for your business and have the most potential to become a customer is one of the most efficient way to build a business. It cuts customer acquisition costs, builds revenue, and helps make a more profitable business.
Now that we have established what leads are and why they matter, let's discuss two types of strategies for sifting through leads and prioritizing the right ones.
Free AI-Powered Buying Journey Toolkit
Learn how to optimize your buying journey and speed up your revenue with top strategies and invaluable resources.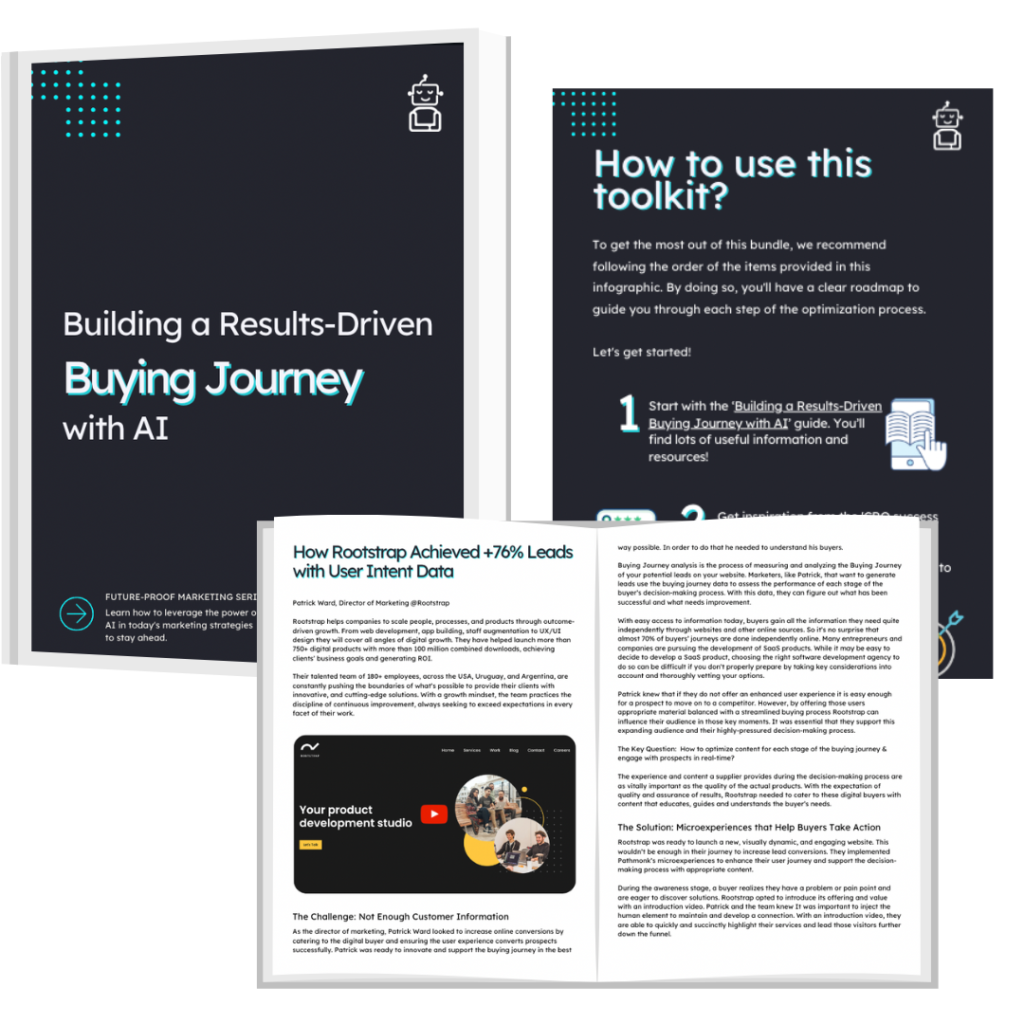 Lead qualification is another strategy used for deciding if a lead is worth putting company resources into or not. 
There are two basic parts to lead qualification, the lead fitting in with your business and if they are truly interested in your product or service. An ideal lead would have both qualifications, but that does not mean that a lead with only one of those is worth pursuing.
A lead qualification process helps a company determine a potential customer's likelihood or becoming a customer. This method looks at the way they interact with your brand and if they fit within the ideal customer ranges. If they will make an agreement with your company to purchase your product, use your services, or engage in a way that meets your goals, they become a qualified lead. If it is determined they will not, they are disqualified.
The act of disqualifying a lead does not mean that you do not sell to a person or company showing interest. Instead, labeling them as disqualified shows a salesperson or team that the likelihood of a deal or purchase being done is low. This helps the everyone to know that while they can still engage and keep a line open for that lead, they should devote less time and money toward the lead. It helps prioritize all the leads coming into a company.
There are two different type of qualified leads.
Marketing Qualified Lead (MQL)
Sales Qualified Lead (SQL)
An MQL engages with your brand. This engagement can be through your website, social media channels, or ads. While this is a good sign, not everyone who likes a post on social media is ready to buy from you yet. 
A SQL has gone beyond the small engagements and shown they are more likely to buy. If they are clicking through to your website multiple times and spending time there, that shows they are closer to buying. 
The difference between these two qualified leads is the lead's purchase intent, or where they are in the sales funnel.
Using this type of qualification can give more guidance on where sales teams should spend their time. Clearly the SQL is closer to purchasing, making them the best targets. Starting the qualification process there is a great idea.
If you want to learn more about lead qualification I recommend you to read "What Does Qualifying Leads Mean In 2020?".
Some criteria your sales team should be looking for in this process is still likelihood to purchase. If someone is coming to your website a lot, they could be doing research because they are a competitor or just like reading your articles. If there is no intent to purchase, your sales team can figure that out by engaging with them. Ideas for engagement may be:
A pop-up box on your website initiating a conversation
Offering a sign-up list for email updates
Using more targeted ads on social media
Offering a deal or coupon code during the website visit
Most of the engagement can happen in an automated program. If none of these responses prompt a purchase, the site visitor is not likely to purchase.
For products or services that are B2B geared, the engagement looks different. Most of the communication is going to happen in a face to face, phone call, or email format. There will still be leads that come in from website visits, but there are bigger relationships made and are handled strictly by the sales team or executive membership for a company. Sales teams will track communications and document their efforts to nurture the relationship through the sales funnel.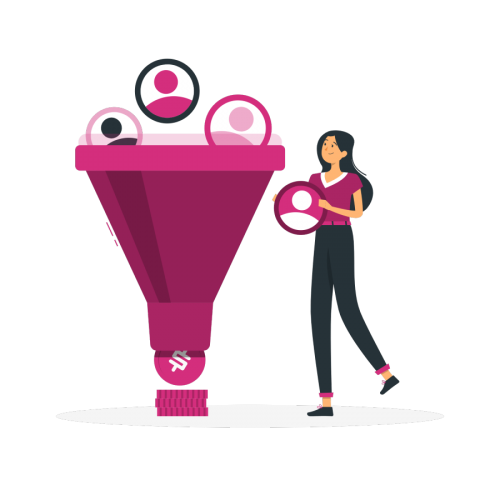 The methodology that uses lead scoring is one that puts a lead up to a scale that they have set to determine its value to the company. In other words, lead scoring is a method of lead qualification. There are different methods people will use to prioritize leads, but many are subjective and do not work for each industry.
The basic idea of lead scoring is that each lead is held to the same standards and then placed accordingly on a list for the company that is prioritized. This list does not list them according to profitability, but rather which ones are more productive and ready to convert and which are not.
When a lead is scored as ready to be converted, engagement is initiated. This allows contact to be made with more engagement to follow, ultimately meaning more time should be devoted to nurturing a relationship. A path has been established to start that lead toward becoming a customer.
Let's take a closer look at scoring and the system that scores the leads. More specifically, what factors are used to determine their score? That depends on which of the two lead scoring systems you are using.
Traditional lead scoring is a system that analyzes information from visitors based on activities they do while online.
Predictive lead scoring is a faster system that uses more information like customer profiles and behavioral statistics.
Traditional lead scoring, or implicit lead scoring, involves basic information gathered from your website on the user. A system is put into place that tracks what activities the visitor does, where they look, what places they pause or hover their mouse, these are all indicative behaviors that help companies understand their visitors. This is gathered through cookies, tracking URLs, analytics tools, and other tracking tools.
Predictive lead scoring systems, or explicit lead scoring, works faster than traditional scoring systems. In this method of scoring, you are working with more data that has been gathered across many platforms rather than just your website. This data helps companies discover what their ideal customer looks like and how they are reached.
The data for predictive lead scoring is done with tools that dive deeper. One example that most internet users are familiar with is when visiting a website, a box pops up to confirm or share their location. Understanding more about your visitor's location and habits will help you know their buying habits, history, and likelihood of becoming a customer.
Other tools are used through social media platforms and cookies. While many companies take these tools lightly, they are powerful ways to qualify and engage with leads. A staggering 78% of salespeople say that using social media lets them outsell their peers. It has also been found that their average deal size deals are up to by 35% larger. Using social media tools can increase your engagement with leads and find specific targets for business.
When looking at the differences between traditional and predictive scoring systems, it is that the traditional way adds up a total score using certain website markers while predictive uses more data sources. Traditional will place leads on a list using their site scores, but predictive will use a more fluid method to interpret data from social platforms, online profiles, and specific demographics.
Using the Information to Build a Business
Qualifying leads is an important part of giving your business focus. Analytics are a great indicator of people visiting your site or engaging with your brand, but that is not enough to move potential customers through the sales funnel. Instead of chasing every lead, using lead scoring as a means of lead qualification can help you focus your efforts where they will most likely work.
Smart website analytics made simple
Understand your user intent, buying journey, and enhanced attribution in one unified hub. Up to 10x conversions.