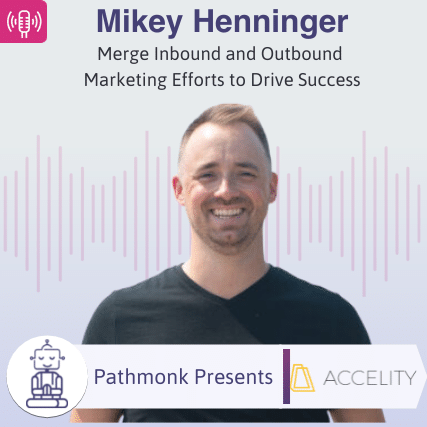 Introduction
When you're looking for support in your sales and marketing efforts your focus should be sourcing experts with experience in the same market, individuals who thrive from the same passion as your business. Accelity is an agency comprised of entrepreneurs that help start-ups and scale-ups create a sales and marketing foundation to drive success. Supplying professionals from diverse backgrounds and expertise your company will be given a suitable extension of your team.
The director of growth, Mikey Henninger discusses the marketing efforts of their own business and how they seek the perfect clientele. With a powerful immersion of the sales and marketing departments as well as the merge of inbound and outbound marketing efforts Accelity's team can attack from all angles, forming the ultimate armor for driving success and increasing conversions.
With a team built from software backgrounds they know what they're doing and they do it confidently and successfully. Avengers who? The best marketing departments are those integrating all of their marketing efforts. While inbound and outbound strategies are powerful apart, when you integrate both into your overall marketing plan, you can drive success.
Take The Next Step on Your Growth Journey
Growth Marketers in the show focus mostly on one of the three big problems. Increasing the number of leads, reducing the customer acquisition cost, or improving the lead quality – that's why they are in growth in the first place. Reports from Gartner and real experience from the guests show that >70% of the buying journey is happening online.
The step-by-step Ebook guide below will help you to get started and analyze the digital buying journey on your website. Take this cheat sheet to accelerate revenue for your company. The buying process has changed, has your website experience?
Get The Buying Journey Guide
Read practical advice, best practices, and expert tips to help you become a master of your website's buying journey