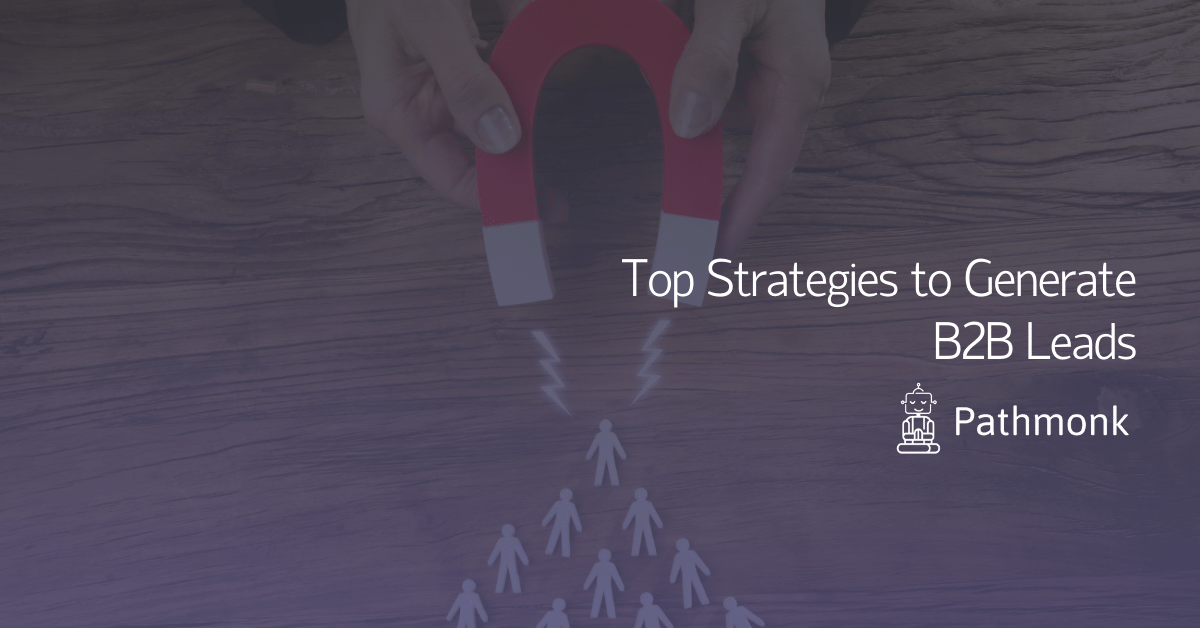 Let's be clear, generating B2B leads differentiates from B2C in many many ways. The process to convince a company to buy and use your products or services can be a very challenging and lengthy journey.
In this article, we will cover the top strategies used by the best B2B companies in the world.
There are 2 values that we always recommend checking in order to know how good your b2b lead generation process is performing (disregarding cost for this example), those are conversion and quality.
You track website conversion by the number of prospects that show interest in your product or services. Important to make sure your conversions actions (CTA, etc) are helping you, two bad examples of CTA are having long forms, or not visible enough buttons for your CTA Buttons (trials start, book a demo, etc)
To check tools for automated conversion you can check Pathmonk here and its artificial intelligence technology.
In regards to quality, when dealing with B2B the lead generation process can be a real challenge, wasting the time of the sales reps if the leads are not good enough. It is usually a manual process, introducing delays and errors and it is hard to route all the different buyer's persona into the right sales flows, in general a common failure point that introduces bottlenecks and deal breakers.
If you are interested in the quality of the leads, Pathmonk has an instant qualification tool that will route and automate all of that process, to know more you can visit this link.
So now that the basics are  covered, let's jump into the top strategies
B2B Leads: A Strategy for Each Buyer Persona 
To do this, the marketing and the sales team must work together to find continuously new ways to generate B2B leads, running experiments, learning and repeating over and over.
The markets constantly change and you should do so.
Create a buyer persona and work on deeply understanding their problems and needs, so you can really connect with them.
Pro tip: The buyer persona is built based on real data of your clients, not using hypotheses or not validated assumptions.
Important to have in mind that each industry can be similar or completely different to each other, so we recommend creating very specific personas for each. That segmentation will help you to identify and scale the lead generation funnels 
Combine Inbound and Outbound Strategies
Depending on your business, inbound or outbound can be more suitable but above all, never execute just one. The reason is that they are connected and affect each other.
That is, when you are doing outbound strategies, the B2B leads will check on your webpage, will research your company, will check your social network activity, references, opinions, blogs, etc.
Imagine that in many cases this lead has never heard of you, so the first impression can and will make a difference.
On the other side if your strategy is only inbound; you are missing big opportunities. Reaching out to potential partners can help you to promote your company even more, or sometimes the big players need an extra push to close a big deal, don't hesitate to connect a potential customer that visits your LinkedIn profile. 
Best Performance Inbound Sales Strategies:
Inbound sales refer to attracting or pulling potential B2B leads to your website (or your other conversion channels). For b2b lead generation, this strategy is very interesting since they have already shown some interest in any content, solution or value in your inbound channel. The most successful inbound sales are
SEO
It stands for Search Engine Optimization and basically aims to put your website on the top of Google search results. Ideally, your web is found by the keywords search that people use when describing your product or product. 
It is possible to set tools for helping you capture leads (Check Pathmonk conversion) and increase the conversions.
Email Marketing
Email marketing is one of the few channels that has aged well during the past years. Actually, it is still in the top 3 channels for B2B lead generation strategists.
Content Marketing
It takes a lot of effort to create a good content marketing strategy, like becoming an influencer in an area, it focuses on creating a relevant figure about a topic that your audience cares about and is important for them. You want to create a long term relationship that delivers high-quality content
PPC (Pay-per-click)
It stands for Pay Per Click and is basically marketing actions that target an audience and you directly pay for it,  great for bringing high-quality traffic that matches with your buyer persona, but it requires some effort to build a stage where the visitor is engaged with your brand and ready to become a lead. That is done through audience targeting and retargeting.
Here as in the SEO case, it is possible to set tools for helping you capture leads (Check Pathmonk conversion) and increase the conversions. 
Free AI-Powered Buying Journey Toolkit
Learn how to optimize your buying journey and speed up your revenue with top strategies and invaluable resources.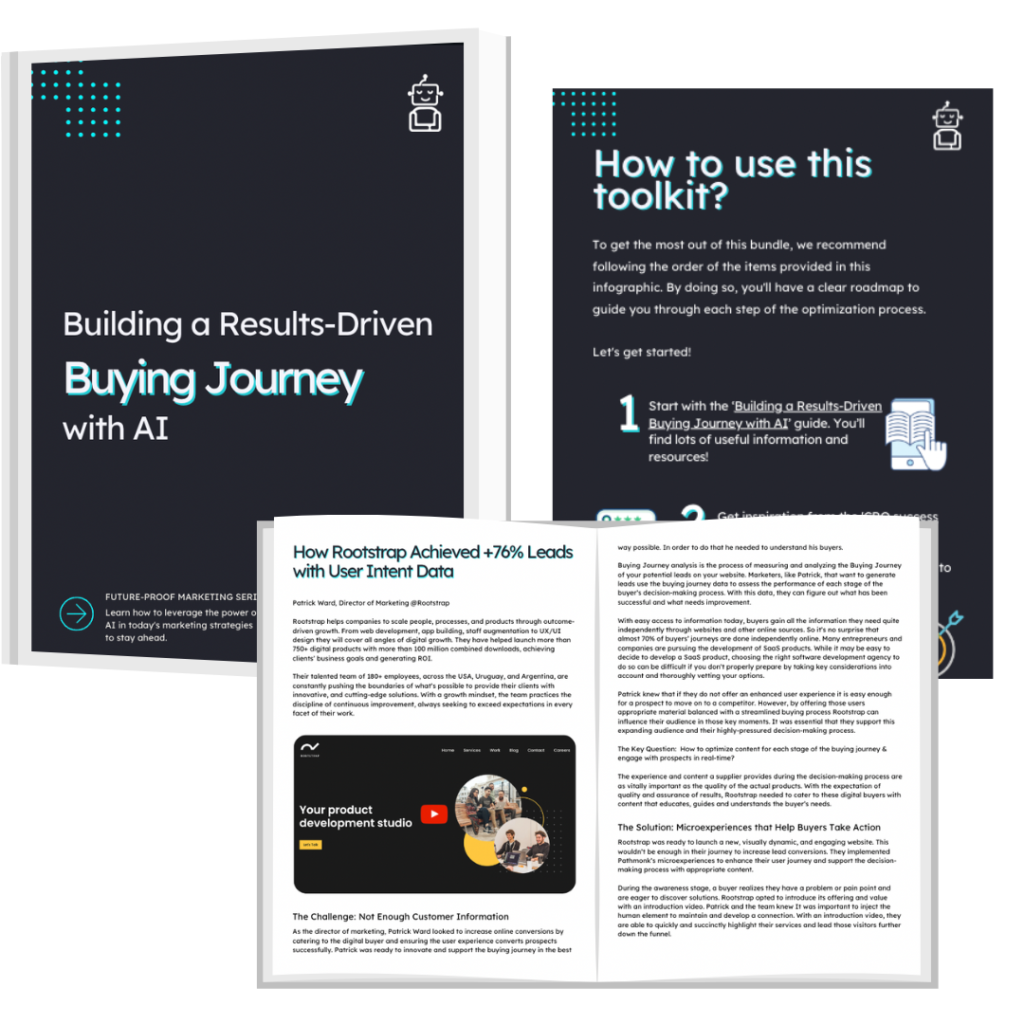 Best Performance Outbound Sales Strategies:
In regards to outbound strategies, there is an entry barrier, you are reaching out to someone who potentially has never heard of you, so you need to generate trust and also have a simple and direct message that they can feel identified with a problem or need. For the majority of the outbound strategy, you will need a list of people to reach within a company, those people have to be relevant for the value of your product or service. The main outbound sales strategies are:
Pro tip: For outreach when building a contact list, we don't recommend using tools to automatically build that lead list and we don't recommend buying the list either, instead make sure every person on the list is validated and matches a specific buyer persona. Especially when you are starting a new strategy so you can learn as much as possible in a short amount of time.
Cold Emails
There are plenty of recommendations for cold emails, but our top picks are: make your value short and clear. Personalize your cold emails. Set a clear CTA, like asking for a meeting or to give feedback about your product. And finally insist, a successful email campaign consists of at least 2-4 emails.
Typically when doing cold email outreach there are 2 actions to optimize for. Either to obtain a reply (with a booking time, some feedback, etc) from your contact or prompt them to visit your website, for this second CTA you can take advantage of personalized welcome when they visit your page using Pathmonk web assistant in your web, to know more check this link.
Social Media Outreach (LinkedIn,…)
Similar to the cold emails but taking advantage of the social network for professionals like LinkedIn you can target specific roles in a company see what are their interests, connect with them, exchange messages quickly, etc. Also, you can find groups of people that are interested in the topics where you are an expert and get recommendations.
If you are new to LinkedIn outreach you can consider working with a partner, for example, Hypersocial, who can support you with a human-focused LinkedIn outreach process.
Trade Shows, Industry Events, and Online Events
There is nothing better than a face-to-face (or screen to screen) meeting to break the ice and introduce yourself to potential clients. In that sense, trade shows and industry events are excellent to find new clients. Our recommendation is to have a bunch of business cards ready and your 30 seconds pitch is very well prepared. Usually, in these, you won't have so much time to engage with clients but rather give a first impression and get into deeper conversations later on.
For online events, there are also some tips that can help you to get the most of them. First set a good environment around you, quiet enough, with a professional background, everything you can think of to cause a good first impression. Then invest in a good microphone so they can hear you loud and clear and finally your 30 seconds pitch is very polished, you want to make sure they grasp the value of your business if you have the chance to pitch it.
Automate Your Sales Process
As a rule of thumb, you don't want to do repetitive tasks over and over again. Once you find a process that works, ideally you automate as much as possible and focus on scaling the process and maintaining the quality.
For example, you can find tools for email automation like Klenty or MailChimp.
There are also tools for automating the post content in social media and blog posts like Buffer.
As mentioned before we don't recommend using tools to automatically build a lead but instead support your work with tools like Crunchbase, LinkedIn Sales Navigator, build with, etc.
For your SEO strategy, you can use tools like Rankmath to help you position and add quality control to your content.
So this is a condensated list of considerations and tips you don't want to miss when generating B2B lead generation. The next steps from here would be to plan what strategies fit better for your products and target clients, it will take a couple of experiments until you find a formula that works for your particular situation.
Finally, as mentioned previously make sure you have always kept tracking of your website conversion and lead quality in your strategies. Once you have a strategy that works we recommend checking what artificial intelligence can do for you in conversion and qualification using Pathmonk.
Smart website analytics made simple
Understand your user intent, buying journey, and enhanced attribution in one unified hub. Up to 10x conversions.