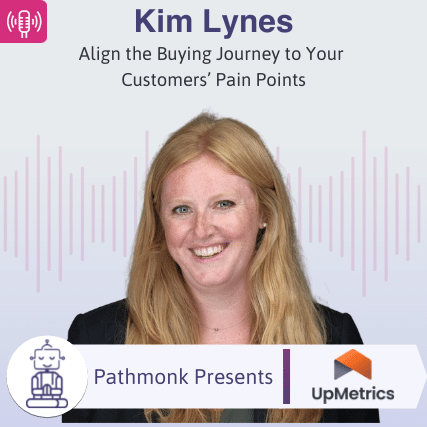 Introduction
'How wonderful it is that no one need wait a single moment before starting to improve the world' – Anne Frank.
We all have the opportunity to make a difference, incite change and impact through social good. There are organizations that nobly manifest opportunities to improve the world. However, they can always do with more support to articulate their impact and inspire action. UpMetrics is a unique impact analytics platform that helps social good organizations to gain insight, drive action and inspire change.
By combining technology and humanity together UpMetrics is helping clients reach more support and growth. Behind their ambition to create a big picture for social good organizations is Marketing Director, Kim Lynes. Kim has worked conscientiously to understand their buying journey and what influences prospects through this journey. Rather than leading with their technology, focusing on pain points and storytelling drives their conversions.
A successful buying journey can make all of the difference between a thriving business and a struggling one. By offering a solution to their problem rather than pushing for a hard sell, your product or service will do most of the 'selling' work for you. Kim is well versed in her website success, customer buying journey, and client acquisition, we have no doubt that with Kim, UpMetrics will continue to improve the world.
Take The Next Step on Your Growth Journey
Growth Marketers in the show focus mostly on one of the three big problems. Increasing the number of leads, reducing the customer acquisition cost, or improving the lead quality – that's why they are in growth in the first place. Reports from Gartner and real experience from the guests show that >70% of the buying journey is happening online.
The step-by-step Ebook guide below will help you to get started and analyze the digital buying journey on your website. Take this cheat sheet to accelerate revenue for your company. The buying process has changed, has your website experience?
Get The Buying Journey Guide
Read practical advice, best practices, and expert tips to help you become a master of your website's buying journey