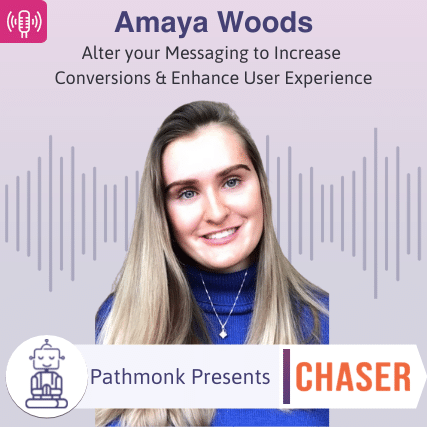 Introduction
One size doesn't fit all is a great way to think about your messaging, brand positioning, landing pages, and calls to action. Having a beautifully interactive website that clearly showcases your products or solutions may not be enough if you haven't optimized your messaging. One of the biggest challenges faced by marketers is how to increase conversions. We're all a little too wrapped up in the product, rather than how we communicate to prospects.
Focusing on and optimizing messaging is the growth marketing manager of Chaser, Amaya Woods. Chaser is an end-to-end accounts receivable software helping businesses pay invoices more efficiently. They're humanizing the automation process to ensure their users can maintain and personalize their client relationships.
Amaya offers us insights into how she thinks about growth for the business and how she looks to better support the buying journey. With a dynamic website and software that solves key challenges in the industry Amaya is eager to focus on communication and test messaging to strike the perfect balance to increase conversions.
Take The Next Step on Your Growth Journey
Growth Marketers in the show focus mostly on one of the three big problems. Increasing the number of leads, reducing the customer acquisition cost, or improving the lead quality – that's why they are in growth in the first place. Reports from Gartner and real experience from the guests show that >70% of the buying journey is happening online.
The step-by-step Ebook guide below will help you to get started and analyze the digital buying journey on your website. Take this cheat sheet to accelerate revenue for your company. The buying process has changed, has your website experience?
Get The Buying Journey Guide
Read practical advice, best practices, and expert tips to help you become a master of your website's buying journey