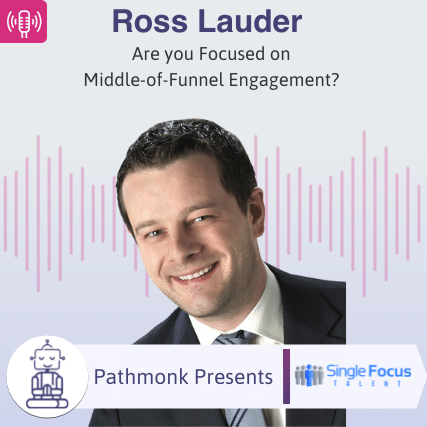 Introduction
There are endless debates as to the importance of each stage of the sales funnel, which one should you prioritize, what needs more focus, what will win you leads? To be honest, you've got to prioritize them all; offering the most suitable content and optimizing each stage to match your audiences' journey. However, we've noticed that many marketers get distracted by the end result and the awareness stage, forgetting to maintain the middle-of-funnel stage.
Our guest today, Ross Lauder, Chief Executive Officer of Single Focus Talent, proudly highlights his prioritization of middle-of-funnel content and strategy, stating it plays a crucial role in the overall buying journey. As we forget to nurture and lead those prospects we run the risk of losing our audience during key-decision moments.
Single Focus Talent is an executive search firm. With a combination of automation, Tech industry expertise, years of testing, and hustle, they specialize in delivering unique hiring experiences tailored to your vision and growth trajectory. Ross discusses their growth, future strategies, and his expertise in marketing and sales. Trust me, you'll want to learn from him as he exudes confidence and intelligence.
Take The Next Step on Your Growth Journey
Growth Marketers in the show focus mostly on one of the three big problems. Increasing the number of leads, reducing the customer acquisition cost, or improving the lead quality – that's why they are in growth in the first place. Reports from Gartner and real experience from the guests show that >70% of the buying journey is happening online.
The step-by-step Ebook guide below will help you to get started and analyze the digital buying journey on your website. Take this cheat sheet to accelerate revenue for your company. The buying process has changed, has your website experience?
Get The Buying Journey Guide
Read practical advice, best practices, and expert tips to help you become a master of your website's buying journey