The Best Buyer Journey Stage Examples
As B2B marketers have the similar goal of driving conversions from their websites they face the challenge of trying to better understand their online buyers and where to find them. Marketers work to understand how their prospects use and search within the online world in order to engage with them, understand their unique pain points, and ultimately build a bridge from their expertise to those it can help most. Simply having a website with content is not enough to impress our online buyers, we must ultimately know and understand the buyer journey stage to optimize their online experience. 
The buying journey helps us get an overview of how people buy but it's the buyer journey stage that truly allows us to have influence and control. By acknowledging the buyer journey stage we can tailor content and experiences in order to influence the prospect towards a final purchase.
If you are on a mission to improve the buyer journey experience nothing is more helpful than real-life examples. We have created a list of companies that we love and feel have executed a buyer journey stage with clear CTAs, content, and value. You can see these impressive approaches in action and implement their tactics into your own efforts to optimize each buyer journey stage.
Free AI-Powered Buying Journey Toolkit
Learn how to optimize your buying journey and speed up your revenue with top strategies and invaluable resources.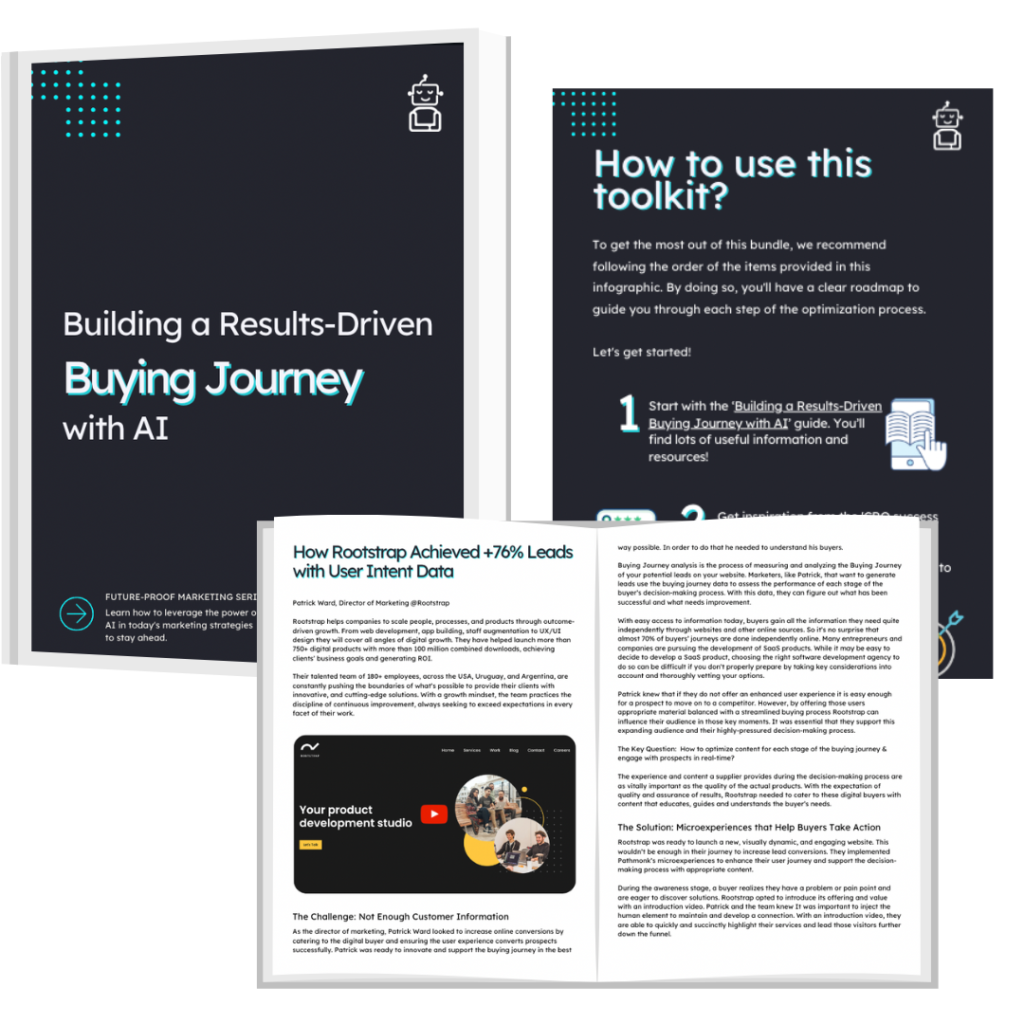 Awareness Buyer Journey Stage
The awareness buyer journey stage is the first phase of the buyer's journey and is the process of making potential customers aware of your business, its brand, and products or services. It's important to provide value to your prospects during this stage to build trust. None of the other stages of the customer journey matter if you are not delivering well in the Awareness stage. At this stage, it is critical that we help rather than sell, but equally important that we as marketers learn too. It's impossible to be of service to an industry without understanding the context of the industry you wish to serve.
At the awareness stage, we must remember that we are not at the heart of the business, your customer is, and placing value over profit, and removing self-interest could bring you more return than expected. Here you'll start to value patience as you appreciate that building trust, awareness and reputation take time but are critical to the growth we all desire. In this buyer journey stage, it's your job to make these potential clients aware of your brand but ultimately ensure that the value you can offer them is at the forefront in all elements; from copy, to CTAs to visual assets.
CloudLead
CloudLead provides B2B Lead Generation and Data Enrichment services. Through machine learning tools backed by human researchers, they help marketing and sales scale their outbound processes. With CloudLead, businesses can identify new customer leads, update and improve existing lead databases, and set up managed outbound email processes.
What Works:
Call-To-Action:

Get 30 Free Leads

Awareness stage goal:

We have to match our content and CTAs to the buyer journey stage. Someone at this stage is not ready for a demo but they need to see the instant value. CloudLead offers a no strings attached value experience by offering prospects free leads. Online visitors get value easily and are left wanting more. 

Simple and Quick:

Time to value is crucial at this stage. CloudLead offers this instantly, ensuring there is no doubt for the prospect, coupled with simplified and clear messaging.
2. Chaser
Chaser is a credit control and accounts receivable software that helps users to automate manual tasks and get invoices paid faster, whilst maintaining great customer relationships. It's a win-win solution; ensuring you get the money deserved but in a way that can retain the customer relationship and keep it untarnished.
What Works:
Call-To-Action:

Get Free Email Templates

Valuable and practical awareness stage goal:

This is a great taste of what Chaser can do for their customers. They are leveraging their experience in this department and sharing knowledge rather than just selling. These email templates have already started to solve the problem that users are buying the product for, without asking for anything in return.
Consideration Buyer Journey Stage
Things are really starting to look up. Your prospects know who you are, what you do and they believe your solution is going to solve their problem. However, there is still much to be done. In this buyer journey stage, your prospect is looking for more information to build credibility and trust. Can they trust you to get the job done? Can they trust that you have their best interest at heart? Have you given them enough confidence to rely on you for their needs
With these questions hanging over your prospect's heads, they will start to increase their interaction with your brand. Their pros and cons list will determine their level of confidence and engagement. Let's aim to have the pros side overbalance the cons, ok? 
The ultimate goal is to be as helpful and informative as possible by leveraging quality content, appropriate CTAs, and interactive online experiences. Below are two companies that put the experience of the product at the forefront. Allowing visitors to have an interactive experience with the product, get a feel for the solution, and understand the value they'll receive is key in the consideration buyer journey stage. It is an opportunity to let your product do most of the selling, and prove value to users.
Porter Metrics 
Automation is booming in efforts to reduce mundane tasks and focus our time on things that truly have an impact. Porter is built to let any marketer without previous knowledge of Google Data Studio automate reporting in a few minutes. In a nutshell, Porter is built for marketers who don't code, want to do things by themselves, appreciate personalized support, and hate bureaucracy.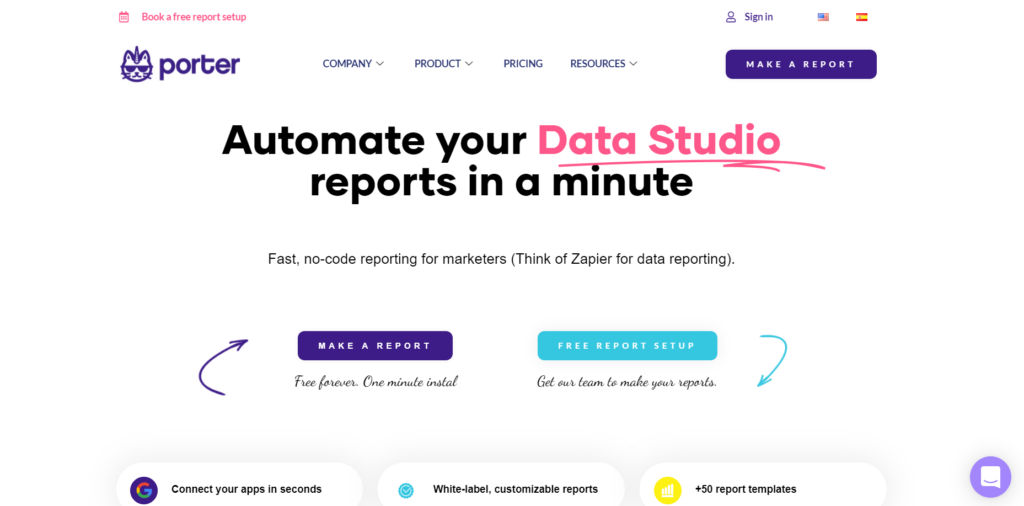 What Works:
Call-To-Action:

Make A Report

Quick time to value: The proof is in the pudding. Rather than the typical 'free trial' and all-to-common experience, Porter removes any friction and simplifies the CTA with clear value. Porter takes it further by ensuring value is received within a minute before a prospect commits to a final purchase. With 'Make a Report' users are guided through the process with 4 simple steps and are rewarded with a 14-Day Free Trial for every successful report. Low commitment, quick value experience, and a reward leaves users wanting more from a brand they now feel they can commit to and get value from.
    2. Navattic 
As we have already discussed personalized and improved user experiences our next example of success in the consideration buyer journey stage is Navattic, who appropriately allow anyone to create an interactive demo with their interactive product tour platform. As a product does the selling Navattic can help create experiences that convert while equally ensuring they create their own interactive experience. .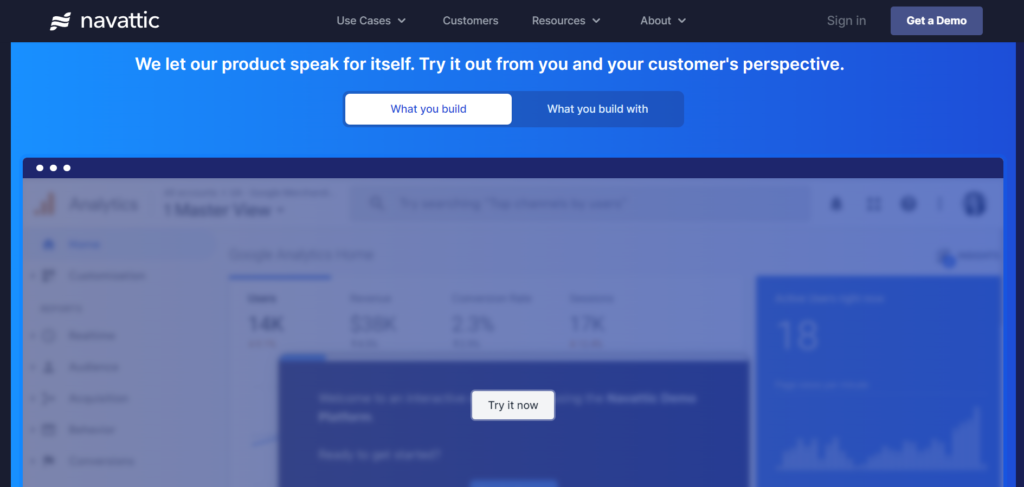 What Works:
Call-To-Action:

Try It Now

Interactive product demo experience: With so much competition and an endless online world of information, solutions, and resources we must always strive to stand out. An interactive website means that you are appealing to your audience in an interesting and authentic way. With a quick, ungated, and simple interactive demo Navattic can increase and Streamline the user experience to ultimately lead to more time being spent on their website.  Increasing their time on page and allowing for a valuable, rewarding, and interactive experience can encourage your visitors to explore your product further and ultimately convert.
Decision Buyer Journey Stage
We all have choices to make but with so much to choose from the freedom of choice becomes much more difficult. It can be tiring and overwhelming as you fear missing out on something that could have been. We know that those big life decisions are hard. But it's the simple things, like trying to pick a movie from the evergrowing list, that can seem just too hard, so instead, you end up watching something you've already watched because you know how it ends. The more marketers and salespeople understand the fatigue of choice the more we can do to make the buying process easier for our prospects. 
At this decision buyer journey stage, you want to set yourself apart from the competition. To stand out on the page or be a key contender for the final choice. This must be an easy decision with little friction and a supported push to final conversion. After spending time building a quality lead with content that has supported your user during their awareness buyer journey stage and consideration buyer journey stage, it's time to convert. Here are examples of companies that make the decision easy and obvious, reducing any friction and simplifying the buying process.
Remo 
Remo is an interactive events platform that connects people in a more authentic way. We've all become far too familiar with the online world of communication. Remo's CEO, Hoyin Cheung, like many of us felt a disconnect when leaving an online meeting and he was determined to find a way to connect with people in the same way that he could connect with someone in the real world. Thus, Remo's mission and fuel were born; transform the experience of connecting, communicating, and collaborating with people across the globe by "humanizing" online interactions.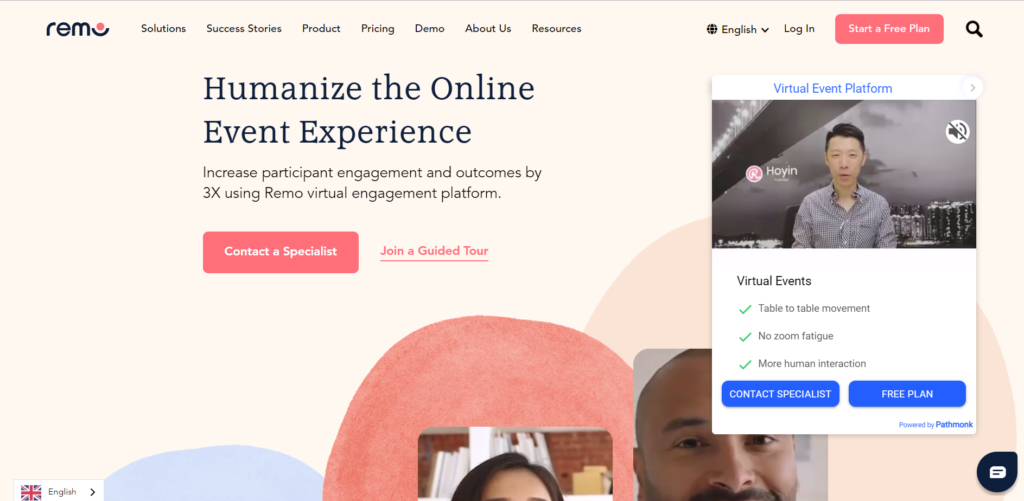 What Works:
Call-To-Action:

Contact A Specialist / Free Plan

An easy decision: 2 simple choices. Either "Speak to a specialist" or " Start a Free plan". The experience a company provides during the decision-making process is as vitally important as the quality of the actual service or solution. Ultimately, a sales conversation will support the prospect, as they can be guided through this new terrain, ask questions, and be provided with essential information. Setting up a new solution can take time, and we find online users are often on a mission to save as much time as possible so Remo's efforts to compare a 'less' valuable choice with one of higher value makes the decision easier.
    2. Grammarly 
We all make typos and as I write this Grammarly has assisted me with accuracy and perfection.  Grammarly's digital writing assistant helps 30 million people and 30,000 teams write more clearly and effectively every day. In building a product that scales across multiple platforms and devices, Grammarly works to empower users whenever and wherever they communicate. Communication is essential to any marketing and sales efforts and Grammarly can help you generate quality content.
What Works:
Call-To-Action:

Add to Chrome It's Free

Easy, Low-Commitment Decision:

Rumor has it that they have a 40%+ Conversion rate and that doesn't surprise us. With a simple click, you can have the tool downloaded or added to your chrome extension with no friction. With our efforts to ease the fatigue of choice and reduce the overwhelming amount of solutions Grammarly has ensured they remain an easy decision.
Selling and marketing have become harder and the lack of control that B2B marketers have in this virtual online world gives the buying journey much more power. We must adapt in order to stay relevant and the best of us have already started.
Websites must be purpose-built to drive sales performance, supported by providing the customer with what they want and need. As marketers, it is important to understand from a consumer's point of view, what type of content can encourage a user to move from a lead to a customer, and optimizing each buyer journey stage can help. The examples listed above are all unified in the goal to simplify and streamline the buying process. With a focus on the buyer journey stage and their efforts to give prospects what they need in that stage they have all seen successful conversions.
In our efforts to aid marketers with buying journey analysis and execution of each buying journey stage you can leverage data and insights with a free month of Pathmonk Metrics. We understand that it's often hard to tell why your site doesn't bring the expected results and what changes you need to make. Pathmonk Metrics highlights what requires your attention and gives actionable suggestions for better results.
To go beyond data and truly generate heightened buying experiences you can leverage Pathmonk's AI-powered buying journeys. With Pathmonk Results, you can unlock +50% more customers, and influence the visitors' buying journey on your website. We offer you a completely automated service without website changes.
Smart website analytics made simple
Understand your user intent, buying journey, and enhanced attribution in one unified hub. Up to 10x conversions.