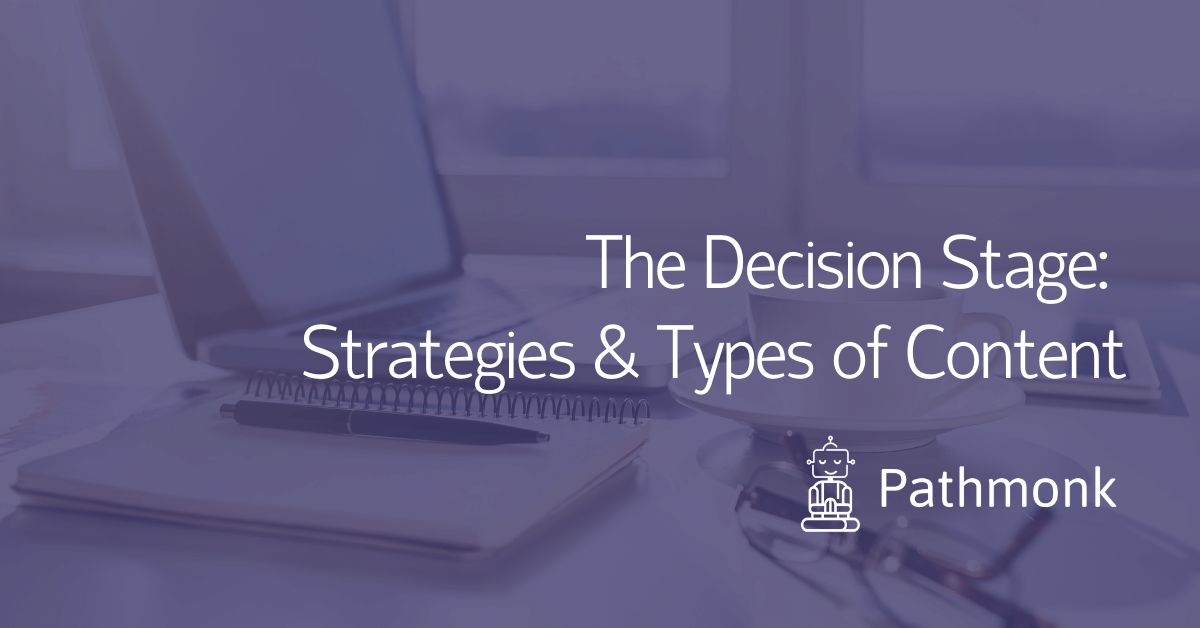 Individuals are enjoying the freedom of independent research; finding information and conducting comparisons. Ultimately, B2B buyers are making final purchasing decisions without even reaching out to the business they wish to buy from first. With this lack of control and increasingly more complex online buying world, the introduction and purpose of the buyers' journey is to help identify the channels where these potential customers are receiving this information and provide businesses with the ability to influence the content and gently nudge the potential customer to make a decision that positively impacts the business's customer base and sales. 
As we dove into strategies and tips to improve the awareness and consideration stages, it's time we dive deeper into possibly the most important stage; the decision stage. Now that the prospective buyer knows what their problem is and how they're going to resolve it, they come to the end of their journey: the Decision Stage. By this point, to provide the best service, you should have stepped into your customer's shoes, understanding the source of the problem or pain point, and thinking about how your product or service will solve the problem or improve it. If your customer succeeds, you will. 
The decision stage is possibly the most important of the buying journey. You generated awareness, assisted the prospect's evaluation process and now you're a contender for a solution that could best meet their needs. Buyers now know what they need and have begun deeper discussions with colleagues or have started forming their pro/con lists, and you're hoping that they favor your solution, service, or product. 
Thus we have to win them over. The buying process has become increasingly more complex. With, what seems like, a never-ending amount of high-quality information and competitor solutions, individuals from B2B companies become armed with varying information, sources, and solutions; prolonging that decision stage just a little bit more. As the VP, Advisory of Gartner says; "There's a massive opportunity for supplier organizations to simplify the decision stage by providing customers the information they need to anticipate obstacles and overcome them."
It's more important than ever to simplify the decision stage and provide content and experiences that have one goal in mind: to move these buyers even closer to purchasing your products or services. As the Buying Journey revolves around crucial stages, it's essential that you execute both the awareness and consideration stages before diving deeper into successfully supporting a buyer in the decision stage. 
Free AI-Powered Buying Journey Toolkit
Learn how to optimize your buying journey and speed up your revenue with top strategies and invaluable resources.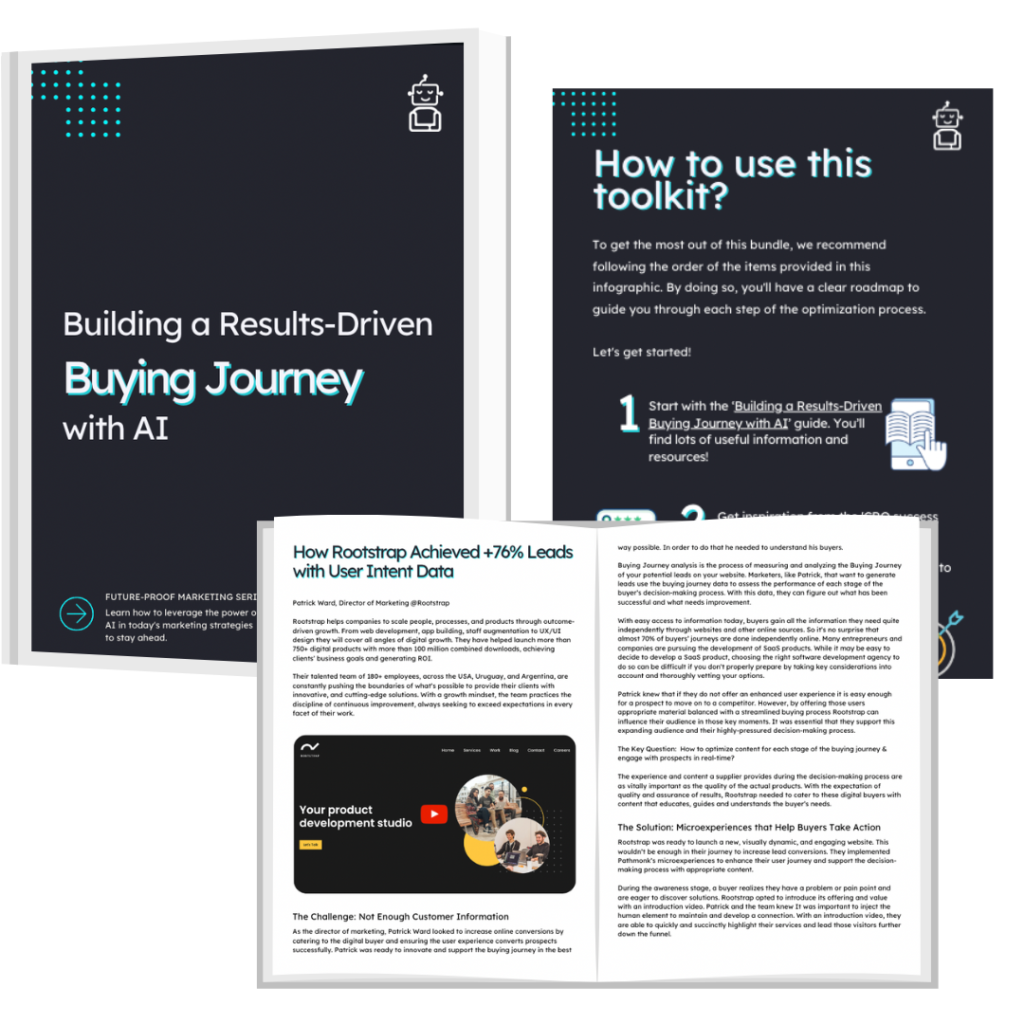 What is the Decision Stage?
Although human-interactive sales decrease and online buying dominates, sales still need to happen and the decision stage is the critical point where your marketing expertise can help you convince them that your company is the best fit. As the decision stage is the third stage in the buying journey, it is the most valuable stage as buyers are on the home stretch of the purchasing process.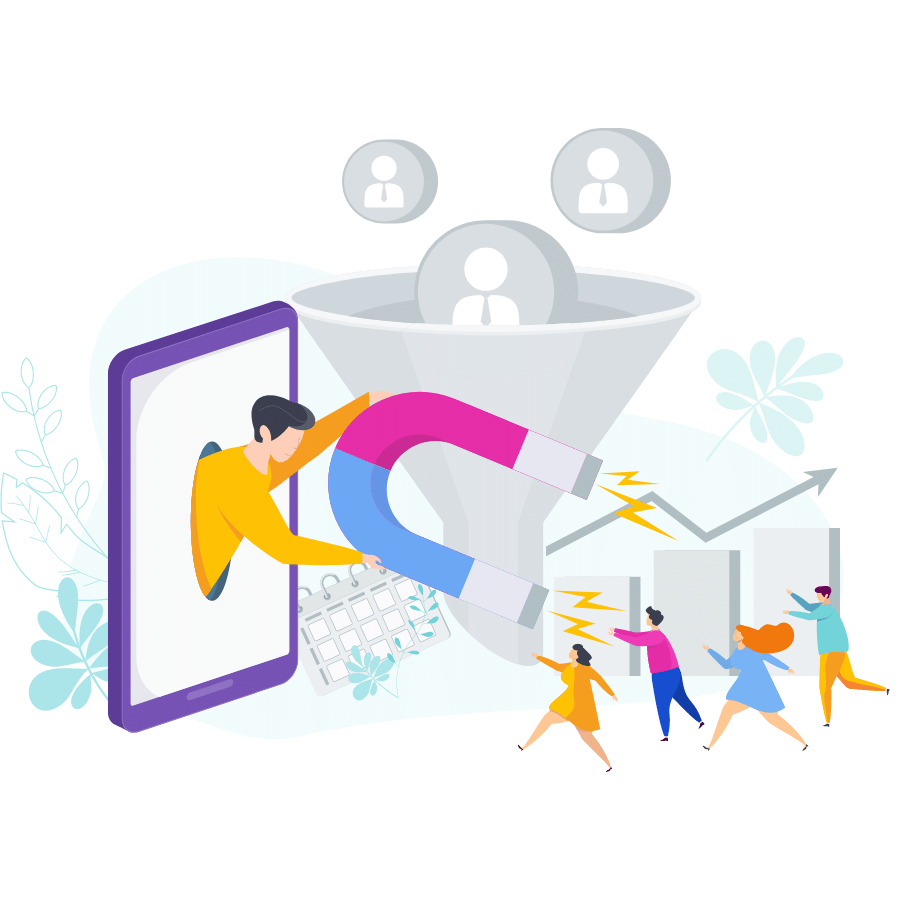 What are the Goals of the Decision Stage?
In the decision stage, you want to set yourself apart from the competition. To stand out on the page or be a key contender for the final choice. To better support the decision stage and provide both optimized content and a simplified buying process we have to:
Understand possible objections your buyer could have so you can address them.

Is your pricing competitive in the industry? Is there a complex setup? Do I get to interact with the solution before purchase? Are we signing a binding contract etc?

Ensuring that you have a unique selling proposition, that ultimately provides value to the buyer.

Free trial, concierge setup, 24hr support, streamlined setup, etc. 

Provide content that proves that the product or service does exactly what it promises

.

Develop a more refined and trusted relationship with the prospect through free trials or demos.
What Role Does the Decision Stage Play in the Buyer's Journey?
We can analyze the users that almost became our clients, the ones that nearly signed up. They are truly your potential customers as they went through all the steps of the prior stages. Why didn't they sign up? How can we change this? It may have simply depended on sending an email, making a call, or scheduling a meeting to conclude the sale. 
The role of the decision stage in the buying journey is the last opportunity to make a prospect a customer, to encourage a purchase. After spending time building a quality lead with content that has supported your user during their awareness and consideration stages, it's time to convert.
Marketing Strategies for the Decision Stage
Unfortunately, simply asking a prospect to 'sign up' isn't enough, you need to clearly communicate the benefits they receive by signing up on your website and ultimately provide an incentive. In order to be interested and excited about your offering, the value must be distinct and understandable. Therefore, avoid the default generic phrases in your call-to-actions that are uninspiring and repetitive.
For example, it is much easier to understand the value of
Read for free

Create a meal plan
Versus the generic and all-to-common:
After you have collected their contact information there are various channels to start the communication; email, phone, or, these days, Zoom calls.
As product-led growth hits the scene as the new buzzword in successful marketing strategies we have the opportunity to show and not just tell. Product-led growth is all about letting your product do most of the selling, and proving value to users BEFORE you ask them to pay for anything, or take up their time with a meeting. You could offer: 
Premium trial 

Free 7 day trial

Tour of the application
With this simple action and often inexpensive incentive, you could quickly take that lead to a conversion.
Imagine buying a car without a test drive. Personal evaluation is important, getting in touch and experiencing the product is essential to making the decision. With demos, you have the opportunity to begin developing a relationship with your client. Take the opportunity to be an expert in your space and show off your solution's capabilities. 
Collect key buyer information from potential customers: interests, company information, and different channels of communication. Ultimately, it becomes easier to schedule meetings with them, as long as you own the specified data.
Our prospects are getting closer and closer to making their purchase. We'll dive into content that suits the decision stage below but it's important to note that that content won't be optimized without including words and phrases that anticipate prospects' queries and needs. The message is certainly critical, but the words used to deliver it are equally so. How we deliver our messages and information can have an impact on conversion.
Some examples:
Free trial
Demo
One day only
No strings attached
Don't miss out
Risk-Free
Premium
Exclusive
Targeted Offers & Discounts
Money talks and often final decisions come down to the price. In the decision stage, it's the ideal time to surprise your prospect with a special offer. Offer a discount or an offer that goes beyond just the solution for premium members or for those who sign up ('free ebook included', 'monthly expert reviews', '20% off' etc.), ultimately something that adds more value to their purchase.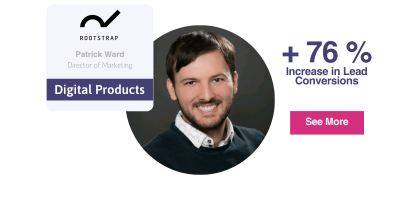 Types of Content for the Decision Stage
It's important to remember, as marketers that understanding the buyers' journey isn't enough. We need to match content to the buyer's stage and understand what better supports that stage. Someone in the awareness stage is not quite ready for a demo. By tailoring your content to the buyer's current stage with content specific to their buying stage, you're more likely to attract them to your solution or service. Close the deal with conversion-focused content that will convince your prospect to make an investment in what you have to offer.
Provide Competitor Comparison
One of the principal benefits of internet buying is easy access to competitors. Simple interfaces about what features your product has versus the competitors are a piece of critical information that greatly influences the customer in their decision stage. Use comparison charts and lists of pros and cons to help people understand why your product or service is the best choice for their needs.
Product Literature & Detailed Information
It is more than likely that your prospects have already completed in-depth research so continue to supply them with decision-stage-focused content that empowers them during internal discussions and ensures that you can provide detailed answers. This content should cover everything a prospect needs in order to make that purchase decision. You don't want to leave them unsatisfied and burning with unanswered questions that could trigger them to leave your website. Examples include specs, photos, pricing, options, warranties, shipping info, product literature, datasheets, FAQs, and analyst reports.
Sellers and marketers adapt in order to stay relevant and the best of us have already started. Websites must be purpose-built to drive sales performance, supported by providing the customer with what they want and need. As marketers, it is important to understand from a consumer's point of view, what type of content can encourage a user to move from a lead to a customer. You will want to encourage consumers to choose your company's product or service by not only promoting your products and services but also by informing the consumer about your products and services as well as about your company.
Smart website analytics made simple
Understand your user intent, buying journey, and enhanced attribution in one unified hub. Up to 10x conversions.