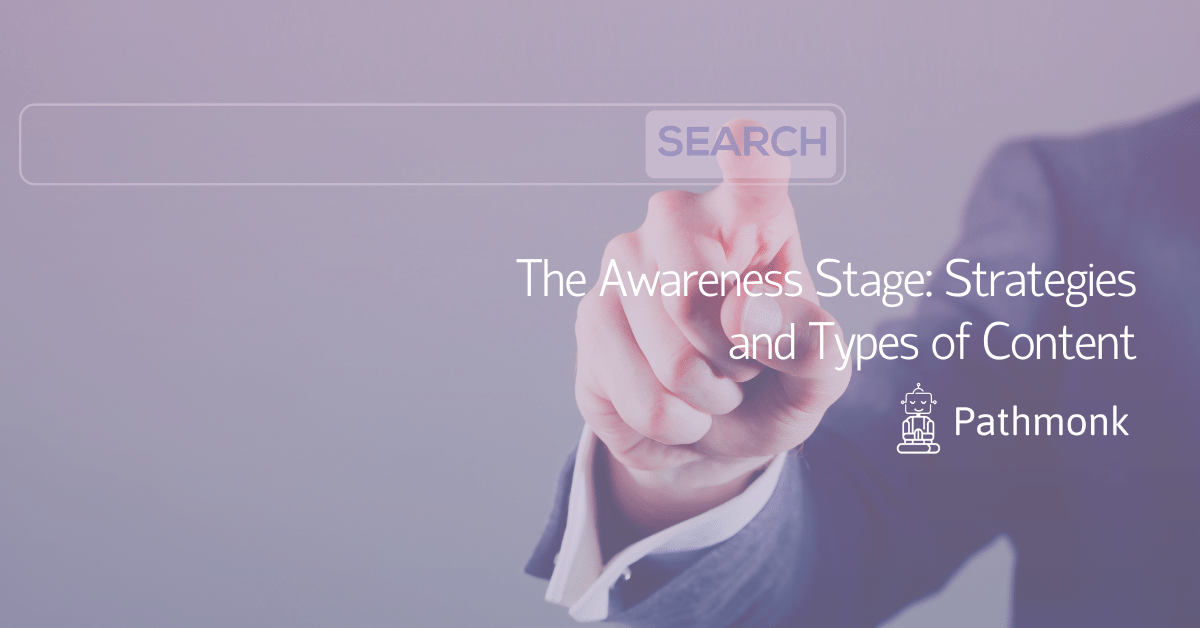 Consumers can't purchase products or services from your business if they don't know these items exist. This is where understanding the elements making up the buyer's journey proves to be incredibly beneficial. The first stage of the buyer's journey is classified as the awareness stage and is used to make these consumers aware of your brand and what products or services you have to offer them. 
The entire process of the buyer's journey can be classified as a sales funnel. Within this sales funnel, certain marketing content, tactics, strategies, and campaigns are going to work best for each stage of the buyer's journey. Thus, your business's marketing and content needs are going to differ from when you're at the top of the funnel to when you're at the bottom. 
When attempting to gain brand awareness for your business, you're placed at the top of the funnel, or TOFU. Thus, the strategies and types of content you're going to use for the awareness stage of the buyer's journey is going to be in line with marketing tactics fitting with the top of the funnel. 
In this article, we're going to be exploring the topic of the awareness stage and providing valuable information on how to create the best content that attracts potential customers and increases your lead generation.
Free AI-Powered Buying Journey Toolkit
Learn how to optimize your buying journey and speed up your revenue with top strategies and invaluable resources.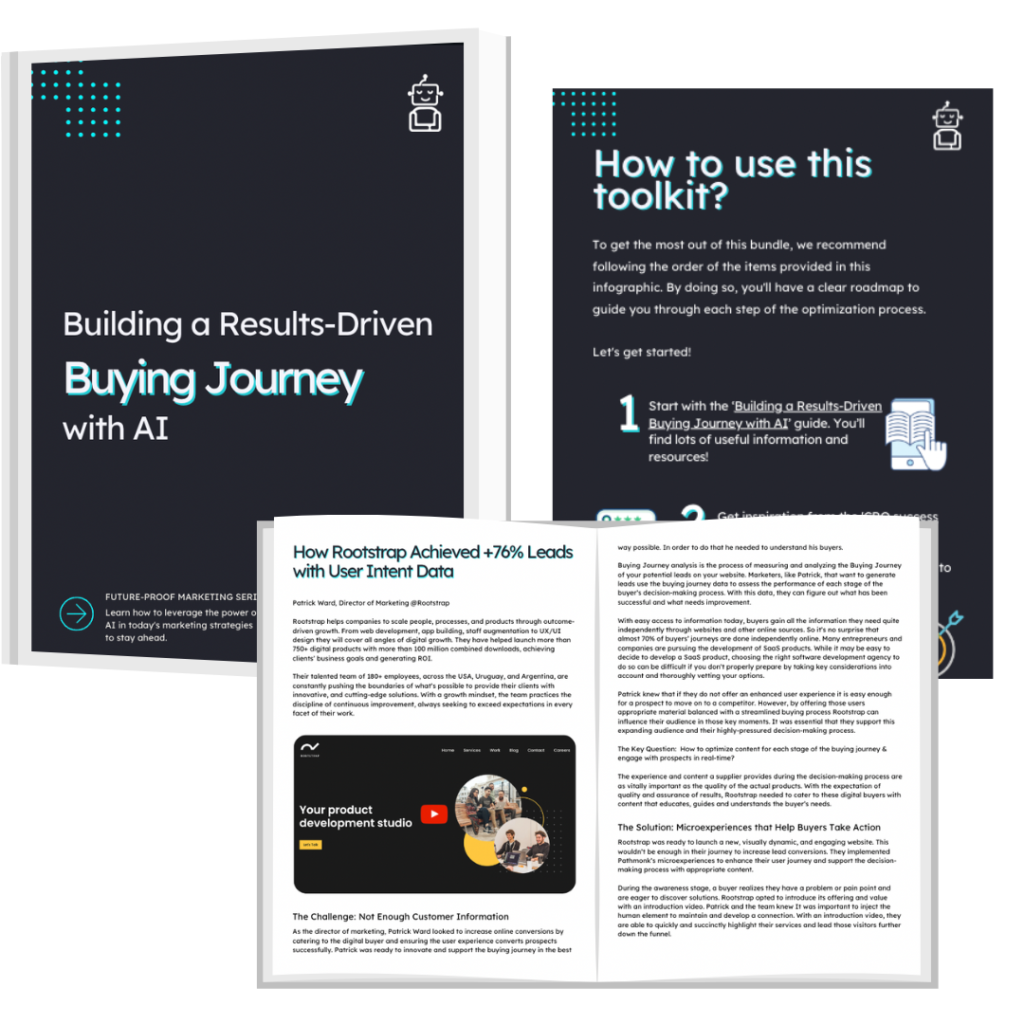 What is the Awareness Stage?
The awareness stage is the first phase of the buyer's journey and is the process of making potential customers aware of your business, its brand, and products or services. During this awareness stage, it's commonly known that prospective clients are just experiencing symptoms of a specific problem and are trying to place a name on it. Thus, these users are browsing through the internet in an attempt to figure out this issue and get a solution. 
This is where your business comes in to 'save the day.' By offering the right content, you have the ability to provide a solution for this prospective customer. The client doesn't know your business or how it can offer a solution. In this awareness stage, it's your job to make these potential clients aware of your brand and the products or services you can offer them.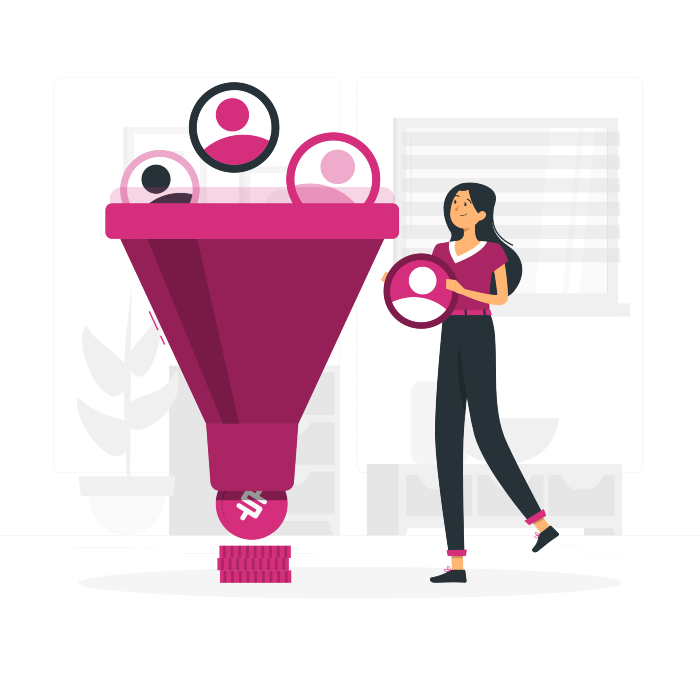 What are the Goals of the Awareness Stage?
The ultimate goal of the awareness stage is to develop content that attracts leads and encourages these leads to become potential customers. Creating this content aims to get your business and its products or services in front of those who want or need what you have to offer but don't know it yet.  
What Role Does the Awareness Stage Play in the Buyer's Journey?
The awareness stage plays a vital role in establishing the mechanisms that are going to put the entire buyer's journey in motion. How is this possible? 
Well, the content created for the other stages of the buyer's journey (consideration, decision, and closing) is made redundant if there aren't any leads that are made aware of your business and its products or services. Thus, the awareness stage can be seen as the foundation of the buyer's guide that allows all the other aspects of the buyer's journey to be set in motion. 
Marketing Strategies for the Awareness Stage
Before discussing the different types of content that you can develop specifically for the awareness stage, it's imperative to identify the awareness stage's marketing strategies. This is because some marketing tactics are primarily for the top of the funnel that needs to be understood before effective content creation can occur. 
As previously mentioned, the awareness stage's primary objective is to increase your brand and its product awareness. The most effective and straightforward method of approaching top-funnel marketing is to analyze and evaluate these questions: 
The audience you're going to be targeting during this awareness stage either don't know who your business is or only has a very limited amount of knowledge of your brand and the products or services you offer. Before an individual making up this audience buys from your business, they are likely going to want to know who your brand is and what it's selling. 
This theory goes far beyond just introducing yourself and the product you're selling. This audience isn't just trading their money for your product or service. This money is essentially being used to support brands that these customers trust. 
Due to this, you need to provide your targeted audience with information that helps them understand your brand and the values that are incorporated into your business. Doing this aids in increasing your conversions, which is the goal of the awareness stage. 
Tactics to Achieve This: 
Don't provide any sales pressure. 
You should develop content that gives the audience an upfront value while needing as little commitment from the prospective customer as possible. 
Offer content that reflects the values of your business.
Why Should Perspective Clients Care?
The next step you need to follow when creating marketing strategies is to inform these prospective customers why they need to support your brand and purchase your products or services. It doesn't matter who your target audience is as no consumer isn't going to spend their money on a brand, product, or service that isn't going to benefit them. That's why you should share the benefits of using your brand's product or service, rather than just mentioning the features. 
Tactics to Achieve This: 
You should show your prospective clients that there is a solution to the issue they are facing. 
The content created should be educational and informative. 
You should present your product or service as one possible solution to their problem.
What's the Result for These Potential Clients if They Act or Not?
With this marketing strategy, you're able to share what the prospective customer's life is likely to look like if they use your product or services against if they choose not to purchase these products or services. This shouldn't be confused with a sales pitch because it isn't. It's seen as an opportunity to share how your product or services' benefits and features can change the life of the targeted audience. 
This doesn't necessarily need to be life-changing. You can achieve this tactic by highlighting how their daily lives can be positively impacted by having this product or service. 
Tactics to Achieve This: 
Showing off the value that's offered by using your business's services and products. 
Creating content that shows off your industry expertise. 
Types of Content for the Awareness Stage
Prospective clients aren't ready to make a purchase during the awareness stage, but they want information. At this point in the buyer's journey, the targeted audience is likely to have only just become aware of your brand and its products. Thus, the content creation for this awareness stage would need to be primarily focused on establishing yourself as an industry expert and building trust with this audience. 
Here are some of the most common types of content that can be used during the awareness stage: 
Blog posts and articles are an excellent content option for the awareness stage in the buyer's journey. This is because you're able to create informative content that isn't pressuring the reader to purchase your product or service. 
This type of content is also easily accessible through a simple search on Google or another search engine. Creating SEO-focused content for these blog posts and articles helps this information to get ranked higher in different search engines, which helps increase the number of people who see it. 
Videos are an excellent method of showcasing the individuals and personalities that are behind the brand. This helps make your brand look more approachable. There are various ways that this video content can be implemented while in the awareness stage. Some of these include: 
How-to and educational videos 
Brand films
Documentaries
Using infographics during the awareness stage is seen as the perfect type of content for this stage in the buyer's journey. This is because these infographics are easy to digest and can be shared very easily. Not to mention, these infographics are great for potential customers who have short attention spans. These infographics should incorporate key ideas, statistics, and points. 
The main goal of using social media marketing is to develop a community with your brand being its center. However, this can be a little challenging because it requires an immense amount of creativity and quirkiness to be successful. Taking a unique approach to showcasing your product or services is what's going to set you apart from others and help build a community. 
The awareness stage of the buyer's journey is something that can't be overlooked or completely ignored. This is because setting up the awareness stage is going to be the foundation that affects the way the rest of the stages of the buyer's guide play out. 
For this reason, extensive research needs to be conducted when establishing the strategies required to make your targeted audience aware of your brand and its products or services. These tactics can help determine the type of content that would be best appropriate for making these prospective clients aware of your business. These strategies then need to be integrated into the content creation in order to achieve the goal of generating leads and increasing website conversions.
Smart website analytics made simple
Understand your user intent, buying journey, and enhanced attribution in one unified hub. Up to 10x conversions.