When prospects discover a website it is challenging to instantly know what their goal is and what will result from their visit. Are they just browsing while looking for more information? Or do they have serious buying intent? Many consumers don't want to be overrun with calls to action, even more so when they are the wrong ones.
Interactions with a potential client in face-to-face scenarios offer more opportunity to personalize that sales experience, directly offering them what they desire and matching their intent. With these articles, we will guide you down the Buyer's Journey with techniques to provide the ultimate website experience, no matter the stage of the journey of a persona.
The buyer's journey is the process buyers go through to become aware of, consider, and decide to purchase your product or service. The journey consists of a three-step process. By adapting the website experience for each visitor based on their stage in this process, businesses can optimize the website experience and improve business metrics such as conversions or revenue.
In this first article, we will take a general look at the Buyer's Journey and understand a few optimization techniques that are going to be supporting your visitors across the whole journey. The following tips are not attached to a specific stage, however, they will assist in a comprehensive outcome.
Here is a collection of canonical considerations and fundamentals that we recommend for achieving a successful web page conversion rate. Ultimately it will improve your performance and lead to a healthy overall buyer's journey & Conversion Funnel.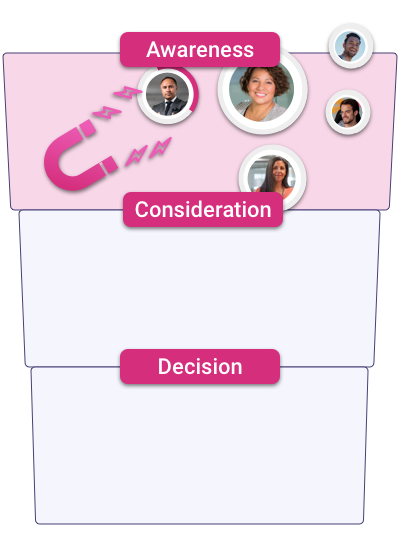 How to Improve Across All The Stages of the Buyer's Journey:
When you don't have a complete understanding of your audience, a disconnect is created between your business and your potential customers. For content marketers, this usually means you're putting out content that your readers don't necessarily relate to, which can cause you to lose engagement.
Simply, take the buyer's journey and ask the question: "How will we appeal to and interact with this individual so that they become a customer?" 
As you make content that plays out these capacities, you'll consider the stage they're at in their excursion and the best channels to place those assets before them.
However, it can be challenging to create the right content, for the right people, at the right time. Before we deep dive into content that is right for each stage of the buyer's journey let's review a few basic steps. Execute the foundation so that your optimization for each stage will materialize.
Free AI-Powered Buying Journey Toolkit
Learn how to optimize your buying journey and speed up your revenue with top strategies and invaluable resources.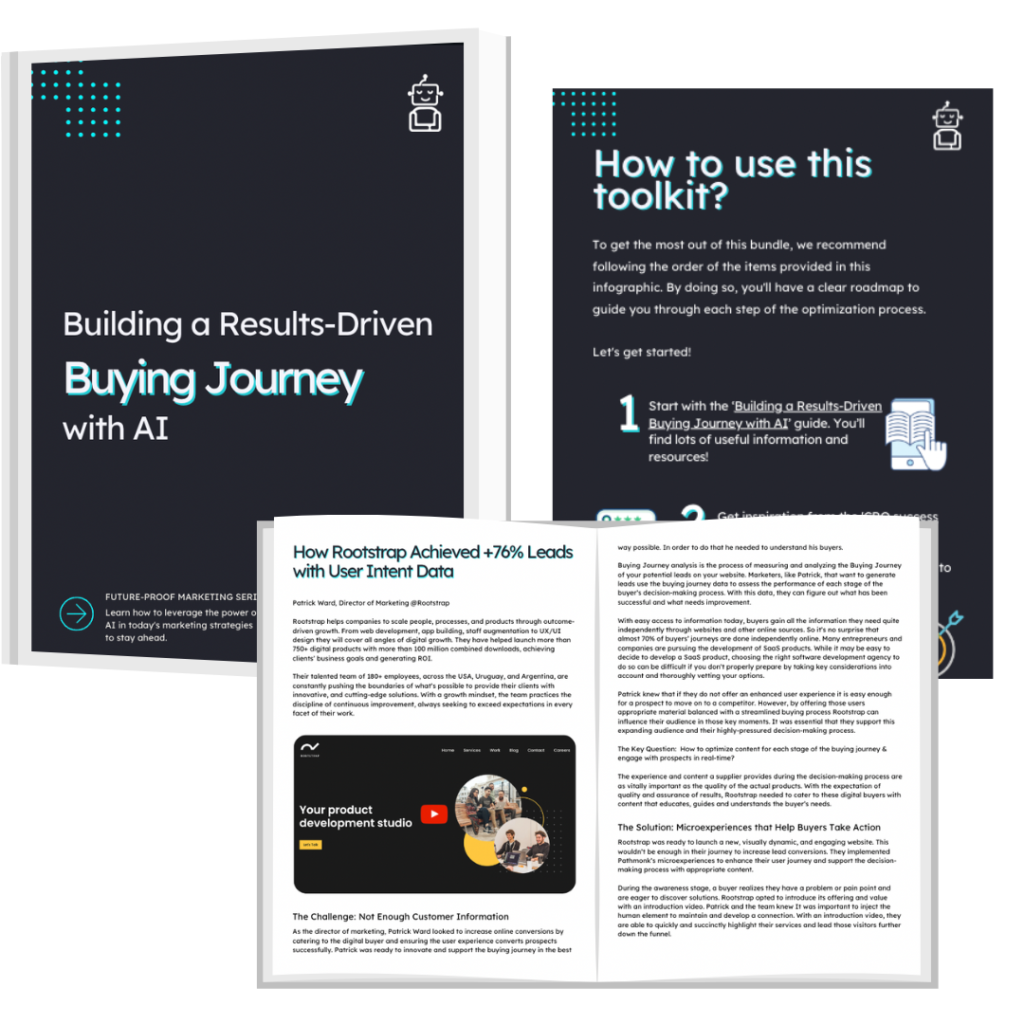 Tips For The Buyer's Journey
Track Your Customer's Website Activity
In order to know your weak points, you can integrate tools for analyzing your website's usage. It is undoubtedly valuable to know who, how, when, and why the clients are using your platform; the foundation of understanding your buyer's journey. Make sure to track each channel and each stage of the buyer's journey so that you know where in the buyer's journey visitors withdraw.
Analyze Your Website's Traffic
You can't improve what you don't measure. By having insights into the data of your platform's usage, you can start considering concrete actions to improve it. Here are some actions you can apply, with an example of some analyzed key metrics:
A high bounce rate:
Optimize your page load time

Include a single call-to-action: Show just one main conversion goal.

Getting Started

and

Purchasing

shouldn't coexist on the same interface.

Improve your design, hero message & imagery – there is only one first impression.
Limited time spent on a page:
Improve page readability

Add high-quality images

Show credibility
Almost no new visitors:
Create ad campaigns focused on your customer's niche

Adapt your website to be SEO-friendly
Reach a Remarkable Page Speed Score
You can rate your website's page speed using this free tool: PageSpeed Insights by Google. You will receive various tailored recommendations about how to improve your website.
Communicating your ideas and value propositions should be clear and informative:
Probably, if you don't mind, I will send a document, through email or direct message, for archiving the project that I think is important, take a look, if you consider and if you like them or not, and give me feedback.
When your objective is to get your customer's attention and ultimately support that buyer's journey, using powerful words is captivating and provoking. You will evoke interest and ultimately trigger your visitor's curiosity. eg: Captivate, life-changing, boost…
Contrastingly, avoid weak words that offer almost zero value: thing, stuff, really, very…
Optimizing your SEO encourages a  highly-ranked position on search engines. There are numerous approaches to refine this: 
Publish relevant content 

Maintain your content 

Self-explanatory links. Search engines will understand

www.car.com/catalog

more than

www.car.com/XDJ593JDN/2020.html

,even if they have the same content
Get Suitable Traffic To Your Website
Having traffic is important to generating a successful buyer's journey. However, consider if that traffic is going to potentially purchase your product. When selecting an ads campaign, try to be specific on what type of client you want to obtain.
A nordic coat company should avoid tropical countries. 

A female makeup brand should aim to have women as their core visitors.
Multi-Device-Friendly & Responsive Design
In the third quarter of 2020, more than 50% of the internet traffic came through mobile devices. Therefore having an unoptimized website for mobile users will critically affect the buyer's journey. Another, often overlooked, benefit of a responsive UI is better positioning on search engines.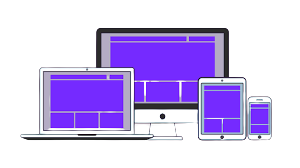 How Does Pathmonk Help You?
Pathmonk leverages intent data and micro-moments to power up the buyer's journey on your website; leading to a lift in website conversions with your current traffic.
So how does it work? Pathmonk analyses all actions of your website visitors and delivers personalized micro-moments that convert more visitors into leads.
From the very first instant on your website until they decide to acquire your product or get in touch it's all automatically achieved for you. Access to dynamic and automatically customized buying journeys for each individual visitor on your website. Show the right CTA for each stage to deliver a winning experience and delight your visitors
Check out part 2 of this series, where we discuss the "Awareness Stage" and how to improve your website when your visitors abandon it too early.
Check out part 3 of the series, where we share lessons learned about the "Consideration stage" and hands-on insights about which content supports visitors in this stage.
Check out part 4 of this series, where we look into the "Decision Stage" with extensive details and highlight processes to improve your final conversions.
In our efforts to aid marketers with buying journey analysis and execution of each buying journey stage you can leverage data and insights with a free month of Pathmonk Metrics. We understand that it's often hard to tell why your site doesn't bring the expected results and what changes you need to make. Pathmonk Metrics highlights what requires your attention and gives actionable suggestions for better results.
To go beyond data and truly generate heightened buying experiences you can leverage Pathmonk's AI-powered buying journeys. With Pathmonk Results, you can unlock +50% more customers, and influence the visitors' buying journey on your website. We offer you a completely automated service without website changes.
Smart website analytics made simple
Understand your user intent, buying journey, and enhanced attribution in one unified hub. Up to 10x conversions.