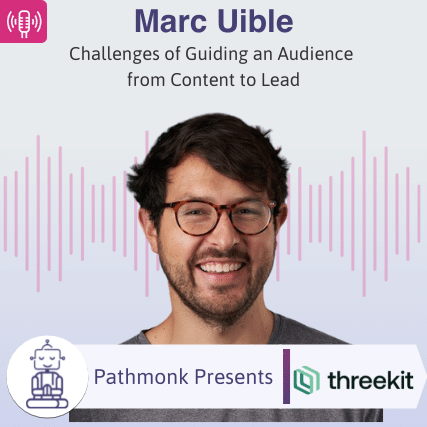 Introduction
Online shopping is the new thing, especially as the pandemic graced us with its presence. I love a good online shop; I take my time, compare prices and simply make a purchase. However, some have struggled to get on board, especially with big-ticket items. You want to see it, picture it. So to take us into the future of online buying is ThreeKit.
ThreeKit has created software to help brands showcase their products in 3D, augmented reality, and virtual photography. The VP of marketing and alliances, Mark Uible, like any marketer, has done his homework, discovering that more shoppers are ready for 3D experiences. With their new technology, content drives their prospects. Yet, their challenge is guiding an audience from their content to a lead.
Mark is proud of their competitive advantage as they easily capture and engage prospects. However, he looks to improve online conversions as he works to understand their buyers' journey to influence and engage prospects. Guiding an audience is a challenge in the online space and like Mark, we've been exploring and taking advantage of micro-experiences.
Take The Next Step on Your Growth Journey
Growth Marketers in the show focus mostly on one of the three big problems. Increasing the number of leads, reducing the customer acquisition cost, or improving the lead quality – that's why they are in growth in the first place. Reports from Gartner and real experience from the guests show that >70% of the buying journey is happening online.
The step-by-step Ebook guide below will help you to get started and analyze the digital buying journey on your website. Take this cheat sheet to accelerate revenue for your company. The buying process has changed, has your website experience?
Get The Buying Journey Guide
Read practical advice, best practices, and expert tips to help you become a master of your website's buying journey