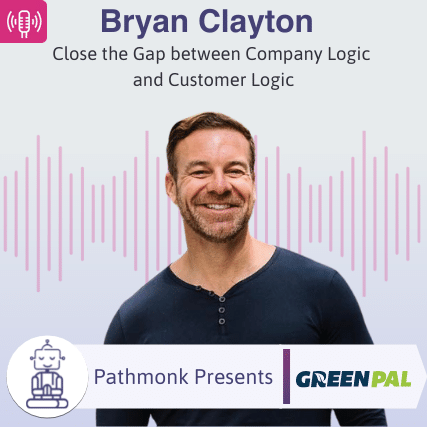 Introduction
It's a Saturday afternoon, you've been waiting to relax and enjoy the weekend. Yet, something just seems to be nagging you, preventing you from finishing that series. You haven't mowed your lawn in weeks. Neighbors are questioning if anyone still lives there, children avoid it in fear of a serial killer. But you can't help but think; life is too short to cut your own grass so you take advantage of GreenPal.
GreenPal is the Uber for lawn mowing based in the US. Connect with professionals around the country, compare quotes, hire and pay online. The CEO and founder, Bryan Clayton joined us today. He has worked effortlessly to bring success to his business and he has offered our listeners exceptional value and advice. Firstly; close the gap between company logic and customer logic.
Spending years working to grow and increase clientele, Bryan has focused on communicating with his customers and understanding their behavior and language. Although it requires continuous optimization the gap between company logic and customer logic grows smaller by the day. Just like your overgrown lawn.
Take The Next Step on Your Growth Journey
Growth Marketers in the show focus mostly on one of the three big problems. Increasing the number of leads, reducing the customer acquisition cost, or improving the lead quality – that's why they are in growth in the first place. Reports from Gartner and real experience from the guests show that >70% of the buying journey is happening online.
The step-by-step Ebook guide below will help you to get started and analyze the digital buying journey on your website. Take this cheat sheet to accelerate revenue for your company. The buying process has changed, has your website experience?
Get The Buying Journey Guide
Read practical advice, best practices, and expert tips to help you become a master of your website's buying journey