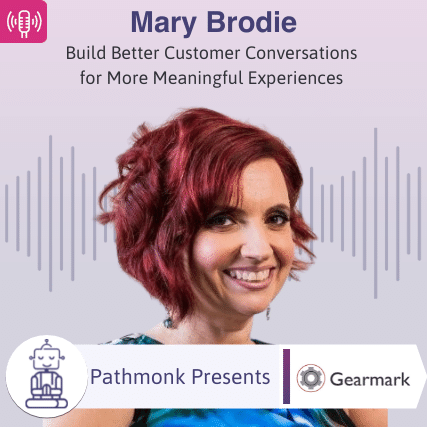 Introduction
Creating innovative technologies, solutions and services can often get business owners lost in selling their own ideas. Sales and marketing teams dedicate their careers to being successful in influencing a buyer's decision, supporting the buying journey, increasing growth, and generating quality clients. However, we have the opportunity to move away from giving the customer what we think they want, to using customer conversations and insights to drive product development and messaging.
Supporting companies to increase customer conversations to generate more meaningful experiences is Mary Brodie. Mary is the founder of Gearmark. The team and consultants at Gearmark help create memorable digital experiences made for people – not just profits. That's what we have to remember: people are behind these purchases and decisions.
We're more likely to remember a meaningful experience rather than the unique qualities of a company or product. There is more to purchasing and interacting with a company than simply completing a transaction. Building better conversations and crafting meaningful and memorable experiences grows trust and long-term loyalty making your brand and business a success.
Take The Next Step on Your Growth Journey
Growth Marketers in the show focus mostly on one of the three big problems. Increasing the number of leads, reducing the customer acquisition cost, or improving the lead quality – that's why they are in growth in the first place. Reports from Gartner and real experience from the guests show that >70% of the buying journey is happening online.
The step-by-step Ebook guide below will help you to get started and analyze the digital buying journey on your website. Take this cheat sheet to accelerate revenue for your company. The buying process has changed, has your website experience?
Get The Buying Journey Guide
Read practical advice, best practices, and expert tips to help you become a master of your website's buying journey