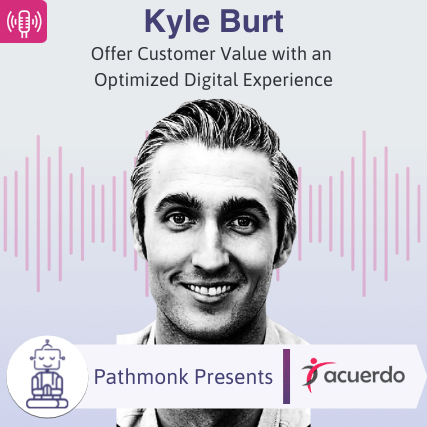 Introduction
Offering a product or service supported by a traditional website is no longer enough for the modern buyer. The digital world is growing and expanding and so too are buyers' demands and expectations. With a unique and optimized digital experience businesses can match those great expectations. These interactions will define how your customers feel about your service or product and ultimately influence their purchasing decision.
Understanding the value an optimized digital experience can provide is Kyle Burt, co-founder of Acuerdo. Acuerdo is a digital orchestration agency, using their customer experience playbook to guide your team to fast results. They are there to offer the whole package and experience to their own clients to ensure revenue growth and customer retention.
Kyle is equally focused on a digital experience for his own prospects and clients as they navigate Acuerdo's online presence. By focusing on building a community and continuing to offer more value through tailored and high-quality content, Kyle is serving his clients and prospects.
Take The Next Step on Your Growth Journey
Growth Marketers in the show focus mostly on one of the three big problems. Increasing the number of leads, reducing the customer acquisition cost, or improving the lead quality – that's why they are in growth in the first place. Reports from Gartner and real experience from the guests show that >70% of the buying journey is happening online.
The step-by-step Ebook guide below will help you to get started and analyze the digital buying journey on your website. Take this cheat sheet to accelerate revenue for your company. The buying process has changed, has your website experience?
Get The Buying Journey Guide
Read practical advice, best practices, and expert tips to help you become a master of your website's buying journey