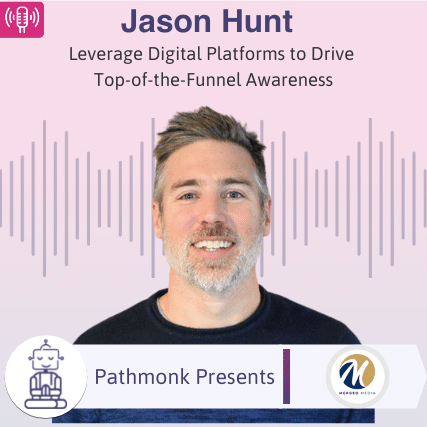 Introduction
It's fairly obvious that we enjoy diving into growth perspective, lead generation, and customer buying journeys with our guests. But we love nothing more than diving into these topics with companies that help clients do the same thing. Merged Media is a full-service digital marketing agency that covers all angles from SEO, website design to social media.
The co-founder Jason Hunt joined us today to discuss his perspective on growth and driving top-of-the-funnel awareness. Like us, the team has developed a podcast in order to create a community around the industry and the need for growth services. With the successful podcast and reach on social channels Merged Media can drive top-of-the-funnel awareness to their informative website.
To encourage further lead generation Jason looks to focus on optimizing conversions by placing more focus on understanding the buying journey. To really see each step a visitor takes and getting to the core of a user's behavior. Let's just say Jason and Pathmonk are on the same page.
Take The Next Step on Your Growth Journey
Growth Marketers in the show focus mostly on one of the three big problems. Increasing the number of leads, reducing the customer acquisition cost, or improving the lead quality – that's why they are in growth in the first place. Reports from Gartner and real experience from the guests show that >70% of the buying journey is happening online.
The step-by-step Ebook guide below will help you to get started and analyze the digital buying journey on your website. Take this cheat sheet to accelerate revenue for your company. The buying process has changed, has your website experience?
Get The Buying Journey Guide
Read practical advice, best practices, and expert tips to help you become a master of your website's buying journey