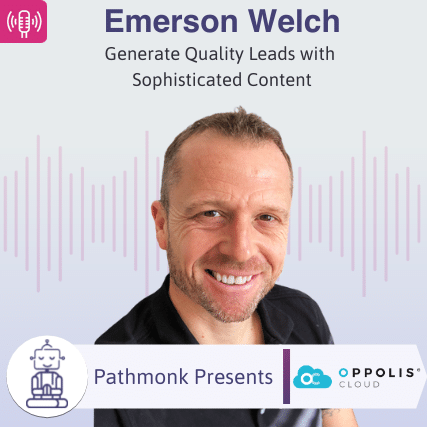 Introduction
Being a creative in the marketing world is thrilling as you work to reach audiences in unique ways, execute brand image and communicate solutions and projects in a captivating way. Like every job, there are mundane admin tasks and things that could do with a little more automation. Oppolis offers cloud products for creatives, an ecosystem that is an interconnected world of modular apps and plugins all seamlessly working together as one to make your creative journey better.
The marketing director, Emerson Welch joined us today to open up about his journey as a marketer and his efforts to grow and expand the business. As Oppolis target a niche audience, content is a priority for Emerson. To educate, stimulate and generate quality leads the team at Oppolis executes sophisticated and innovative content.
Sophisticated content marketing is an effective approach to generate quality leads that offer a longer lifespan. It will attract the ideal buyer and keep them attracted to you. Emerson attributes website optimization as a key lead-generating source. By diversifying content, integrating human interaction, and supporting the buying journey Oppolis generate quality leads over quantity.
Take The Next Step on Your Growth Journey
Growth Marketers in the show focus mostly on one of the three big problems. Increasing the number of leads, reducing the customer acquisition cost, or improving the lead quality – that's why they are in growth in the first place. Reports from Gartner and real experience from the guests show that >70% of the buying journey is happening online.
The step-by-step Ebook guide below will help you to get started and analyze the digital buying journey on your website. Take this cheat sheet to accelerate revenue for your company. The buying process has changed, has your website experience?
Get The Buying Journey Guide
Read practical advice, best practices, and expert tips to help you become a master of your website's buying journey