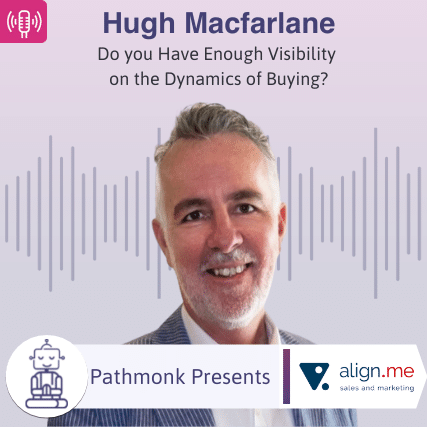 Introduction
Our guest today addressed a concerning idea that is circulating in the marketing and sales world today: The buying journey is dead. CEO and founder of Align.Me, Hugh Macfarlane strongly disagrees and frankly, so do we. The inherent stages of a buying journey still exist but it is the buying psyche and dynamics of buying that are changing.
Consumers are demanding higher quality user experiences that you can create. By having intent in your conversion goals and logically influencing the buying path with micro-experiences and resources your buyers can be empowered and supported. Leaders in the online world adapt to understanding the evolving changes of the dynamics of buying rather than losing sight of the buyer psyche.
Hugh is an expert on all matters "funnel" and founded Align.Me because of his passion for empowering businesses to align their sales, marketing, and delivery to the process of their buyers. Align.Me is your complete B2B marketing agency helping you execute your go-to-market plan from start to finish. Learn more about Align.Me but most importantly learn from Hugh's years of experience and expertise in the dynamics of buying.
Take The Next Step in Your Growth Journey
Growth Marketers in our show focus mostly on one of the three big problems. Increasing the number of leads, reducing the customer acquisition cost, or improving the lead quality – that's why they are experts in growth in the first place. Reports from Gartner and real experiences from the guests show that >70% of the buying journey is happening online.
The step-by-step Ebook guide below will help you to get started and analyze the digital buying journey on your website. Take this cheat sheet to accelerate revenue for your company. The buying process has changed, has your website experience?
Get The Buying Journey Guide
Read practical advice, best practices, and expert tips to help you become a master of your website's buying journey