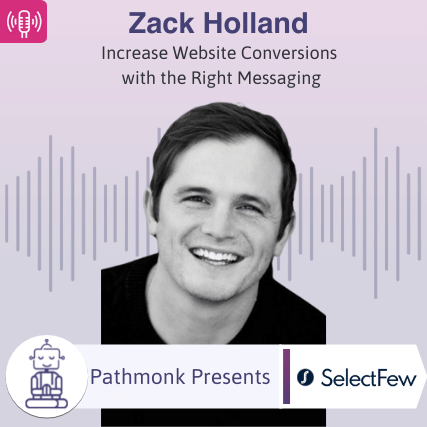 Introduction
So you need a marketing team to increase growth and gain access to the perfect audience. You have 2 options; Hire an agency or place your trust in freelancers. How about avoiding the inefficiencies that come with those 2 options? Stop wasting marketing budgets on shady marketing agency fees, pricey internal hires, and disappointing freelancers. You can meet in the middle with SelectFew.
SelectFew is a marketing company committed to doing things differently. Their system offers you vetted freelance marketing experts, guided and managed by your experienced SelectFew Strategist. So you can spend money on a lean, accountable, and performance-based system. We spoke to marketing veteran and CEO, Zack Holland about the growth of this unique company, his perspective on website conversions, messaging, and the future of marketing.
Ironically marketers appear to be stuck in traditional forms of the business and Zack dives into the challenges of crafting the right messaging to increase website conversions and overall lead generation. Although their refreshing solution is needed to break businesses from traditional marketing cages, Zack is eager to prioritize clear and understandable messaging in order to offer them a sign of freedom and hope.
Take The Next Step on Your Growth Journey
Growth Marketers in the show focus mostly on one of the three big problems. Increasing the number of leads, reducing the customer acquisition cost, or improving the lead quality – that's why they are in growth in the first place. Reports from Gartner and real experience from the guests show that >70% of the buying journey is happening online.
The step-by-step Ebook guide below will help you to get started and analyze the digital buying journey on your website. Take this cheat sheet to accelerate revenue for your company. The buying process has changed, has your website experience?
Get The Buying Journey Guide
Read practical advice, best practices, and expert tips to help you become a master of your website's buying journey