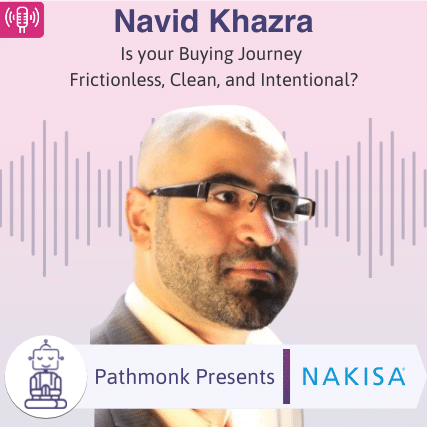 Introduction
We love to dive into understanding and optimizing the buying journey. We love to educate our audience about the buying journey and learn from experts in their field. Our team believed we were champions of analyzing the buying journey until we met with Navid Khazra. Navid is the Senior Director of Product Marketing at Nakisa. Nakisa offers a cloud-based business operations platform. Supporting businesses' accounting management and organizational designs allowing them to transform and see the impact.
Navid helps us understand the business's inner workings and his ideas on optimizing the buying journey for Enterprises. As a marketer and slight perfectionist, Navid is always looking to improve. By making changes based on data, customer feedback, and customer needs, Navid continues to work towards a frictionless, clean, and intentional buying cycle.
Like us, he is obsessed with the buying journey and the value of a website. He ensures that the website plays a role in every stage of the journey. From attraction to education to retention, Navid has his customers and prospects in mind, aiming to suit and provide for all personas.
Take The Next Step on Your Growth Journey
Growth Marketers in the show focus mostly on one of the three big problems. Increasing the number of leads, reducing the customer acquisition cost, or improving the lead quality – that's why they are in growth in the first place. Reports from Gartner and real experience from the guests show that >70% of the buying journey is happening online.
The step-by-step Ebook guide below will help you to get started and analyze the digital buying journey on your website. Take this cheat sheet to accelerate revenue for your company. The buying process has changed, has your website experience?
Get The Buying Journey Guide
Read practical advice, best practices, and expert tips to help you become a master of your website's buying journey