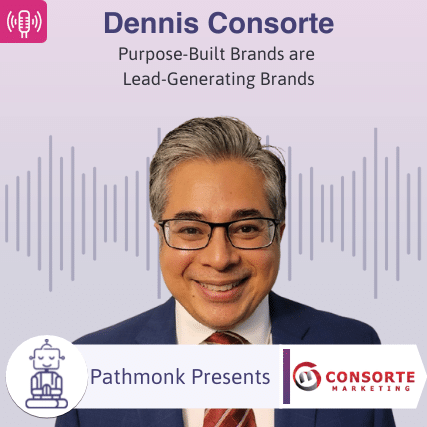 Introduction
'Purpose is the reason why a company or a brand exists. It is the underlying essence that makes a brand relevant and necessary to its customers.' – Bill Theofilou. How well a brand works to solve customer's problems, create loyalty and build connections can truly differentiate the successful from the unsuccessful. Bill isn't alone in his thinking as our guest today, Dennis Consorte, is fueled by purpose-built brands that offer clear value.
Dennis wears multiple hats as he has developed his skills working for varying organizations. As the head of Consorte Marketing, a digital marketing agency, Dennis targets purpose-driven brands, start-ups, and small businesses to help them drive traffic, convert sales, and increase customer lifetime value. As he has worked with an extensive range of businesses he knows that purpose-built brands are lead-generating brands.
These lead-generating brands are what bring joy to Dennis. Companies that offer clear value, values that align with his, fuel his 4×4 marketing car. His growth and happiness are driven by word of mouth and his determination to be selective in his clients. He admits he is ready to put his own advice into play when it comes to his own digital marketing as his future directs him to website optimization and buying journey analysis.  
Take The Next Step on Your Growth Journey
Growth Marketers in the show focus mostly on one of the three big problems. Increasing the number of leads, reducing the customer acquisition cost, or improving the lead quality – that's why they are in growth in the first place. Reports from Gartner and real experience from the guests show that >70% of the buying journey is happening online.
The step-by-step Ebook guide below will help you to get started and analyze the digital buying journey on your website. Take this cheat sheet to accelerate revenue for your company. The buying process has changed, has your website experience?
Get The Buying Journey Guide
Read practical advice, best practices, and expert tips to help you become a master of your website's buying journey