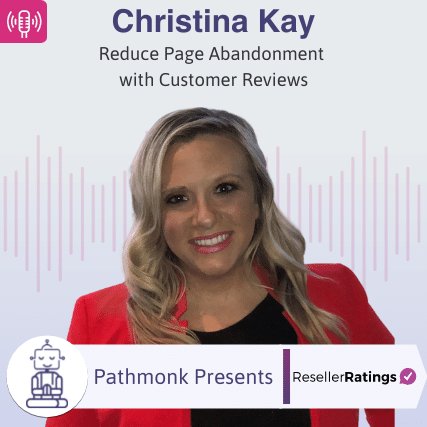 Introduction
As we transition to more online purchases, businesses have to adapt to their customer's buying journey. How can we influence a buying decision when we don't have the opportunity to directly engage with buyers? Customers are more likely to purchase from a website that has customer reviews than a website that doesn't. Reviews give potential customers more confidence in their purchasing decisions, reduce page abandonment and doubts, leading to a higher conversion rate.
Supporting and encouraging customer reviews is ResellerRatings a leading user-generated content platform. With their Ratings and Reviews platform, and syndication network companies can acquire new leads, increase customer conversions, and reduce page abandonment. The head of marketing Christina Kay is proud and humbled by the success of ResellerRatings, as they are a pioneer in the industry.
Prospects can be successfully influenced during their buying journey if we produce content that is suitable and appropriate to the stage of the journey they are in. During the Consideration stage, the consumer is at the height of their research, comparing and weighing which solutions or products offer the most value. It's an opportunity to provide content that is honest, accurate, authentic, and value-adding. Reviews and ratings offer the perfect content and influence.
Take The Next Step on Your Growth Journey
Growth Marketers in the show focus mostly on one of the three big problems. Increasing the number of leads, reducing the customer acquisition cost, or improving the lead quality – that's why they are in growth in the first place. Reports from Gartner and real experience from the guests show that >70% of the buying journey is happening online.
The step-by-step Ebook guide below will help you to get started and analyze the digital buying journey on your website. Take this cheat sheet to accelerate revenue for your company. The buying process has changed, has your website experience?
Get The Buying Journey Guide
Read practical advice, best practices, and expert tips to help you become a master of your website's buying journey