Sometimes, it can feel like search engine optimization is a never-ending process of creating new content, new offers, and new landing pages.
And, to some extent, it is.
But that's not all it is. 
In fact, when you really focus on your long-term goals instead of just promoting each new landing page with each new offer, you may find that it's possible to generate new leads from content and landing pages you created months – or even years – ago.
This type of long-term lead generation is absolute gold in the online marketing world, and it is a critical aspect of sustainable company growth.
Of course, it's hard to know what will be a hit with your potential customers right now, let alone what will still work several months or years down the road.  
That's not to say that it's impossible.
It simply means that you might have to re-assess your current marketing plan, implement some new, automated tools, and optimize every landing page for more than just short-term gains.
Free AI-Powered Buying Journey Toolkit
Learn how to optimize your buying journey and speed up your revenue with top strategies and invaluable resources.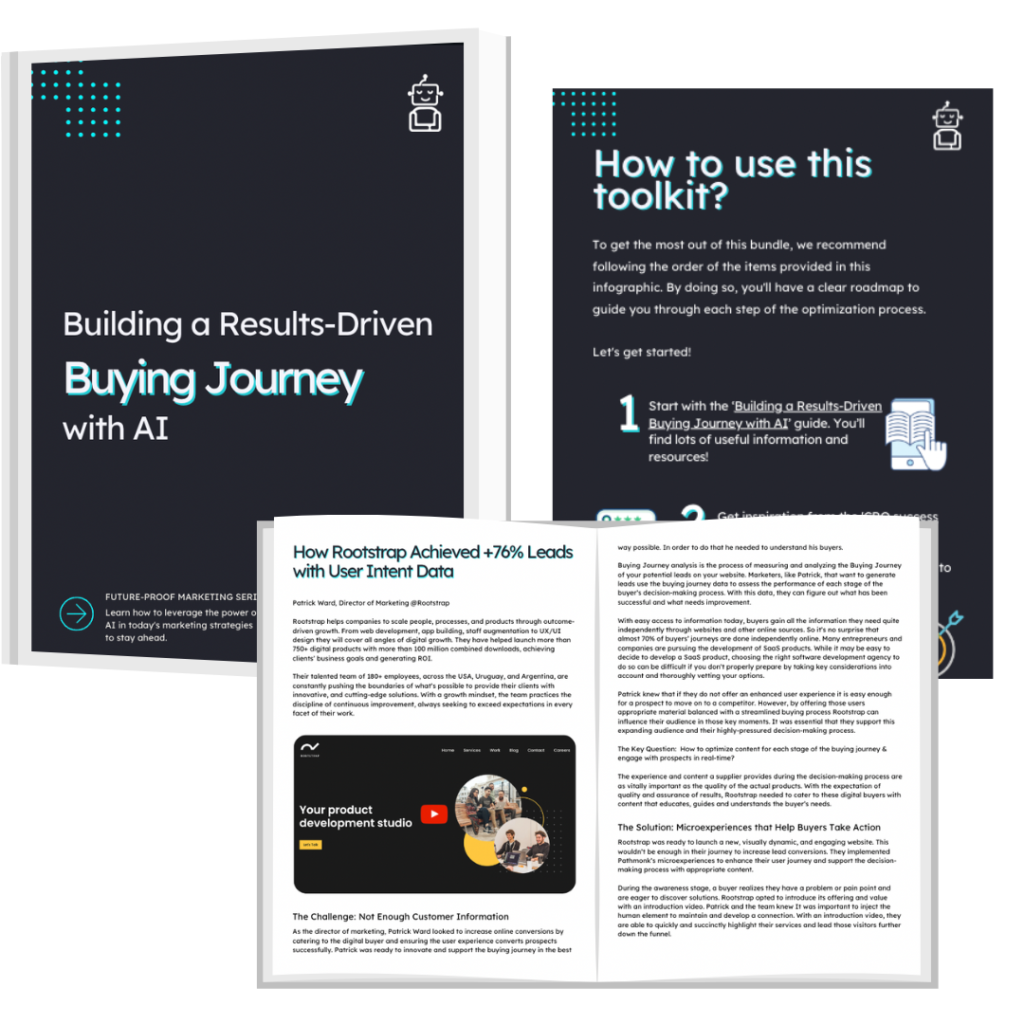 Getting on the Same Page about Landing Pages
Once a page on your website begins to rank for important keywords, it can consistently deliver a lot of qualified traffic and potential leads.
Most SEO strategies focus on maintaining these rankings, since these pages were specifically designed to deliver important information to the visitor. Customers can easily spend plenty of time on this page – or returning to this page – when they want to know more.
Landing pages, on the other hand, aren't normally built to rank for a single keyword (though, obviously, keywords are an important part of a good landing page) – they're built to get as many conversions as possible on a single offer.
The goal of these pages is to provide the quick information that a visitor may need and then give them a reason to click further into the website, leave their contact information, or even make a purchase.
Traditionally, most of the traffic they receive is not through SEO and organic rankings, but through other means. They don't often rank in the search engines because that isn't their purpose. 
Instead, they're heavily promoted through other means (social media, pay-per-click advertising, print advertising, etc.) while the given offer is in effect, and then allowed to slide onto the marketing backburner as the company shifts its efforts to a new offer.
Why Landing Pages are Critical for Long-Term Lead Generation
In a recent Gartner survey, they documented how growth continues to be the top business priority for CEOs in 2019 and 2020 (compared to things like IT issues, structural development, and financial concerns).
In other words, the pressure is on for marketers to constantly find and acquire new leads.
And, to that end, the study suggests that these CEOs have high hopes for technological and digital solutions to keep costs low while constantly increasing the number of leads.
This means that they will need a powerful search engine optimization strategy to maintain a steady flow of traffic and effective landing pages to convert that traffic into paying customers.
It is possible to make good use of solid landing pages through a dedicated advertising and promotional campaign, but this kind of focus on the here and now will weigh much heavier on the finances. By stretching the value of a landing page beyond paid promotions, it's possible to develop a more sustainable approach to online marketing and lead generation.
Can Landing Pages Still Be Effective After the Promotion Period?
Long-term lead generation means taking advantage of a strategy that doesn't rely on a constant flow of cash out of the marketing budget.
Landing pages are often seen as a tool for a single promotion, a single event, or a single product. Many companies may even remove them from the website as soon as they move onto the next promotion, event, or product launch.
It's easy to see why.
If these landing pages only seem to provide value as long as they are being actively promoted, then there isn't any reason to hang on to them or devote extra time to them if they're not going to deliver any tangible benefits.
But that's just it right there.
These pages CAN deliver value over time.
This is, in fact, one of the most beneficial things about online marketing in general. The things you create now can continue to work hard for you – day and night – for years to come.
But it is only going to happen if you apply the necessary SEO strategies, the best design practices, and the most effective content from the very start.
Is There Really Such a Thing as an Evergreen Landing Page?
It is possible to extend the lifetime value of your landing pages – from a lead generation standpoint – by treating them as part of your content strategy and overall SEO campaign, and not just forgetting about them when you move on to the next offer.
When you do SEO for landing pages, you need to work under the assumption that the page is going to be around for a while and that it is going to have some long-term value.
These pages won't necessarily act like your other evergreen content pieces (eBooks, long-form blog posts, whitepaper, etc.), but if you write and design them with an eye to the future – and continue to develop and optimize them according to the data you collect from them – they can continue to be beneficial long after their initial publication.
This can be a real change in mindset for many marketers. However, when you begin to notice that some of your leads are coming in from pages you created over a year ago, you'll see the value in making the change. 
Building an Effective Landing Page for Long-term Lead Generation
So, what makes an effective landing page?
What elements can ensure that your efforts today will have dividends tomorrow (or next year)?
While there are no absolutes in the world of online marketing there are several things you can do to create the best possible pages for long-term lead generation. This includes:
Segment and target your messaging
It's really easy to segment your offers and messages by product type or demographic. It is more effective – especially in the long run – to target a customer's motivations and build your landing pages accordingly.
This is particularly important when your goal is lead generation. This is because products, demographics, trends, and services may change over time. Your potential customers may not know this. They may not have any idea which product, exactly, is the best one for them. 
They do, however, know what has sent them online looking for some kind of solution.
If your page can address those needs, they won't care whether the page was published last week or last year.
Keep your message on point
If you try to do too much with a landing page, it can negatively impact your conversions – especially if someone is discovering the page months or years down the road. Make sure that each page only addresses a single motivation.
Build the page following SEO best practices
Getting your landing page to appear in the natural search results will take time. This is why it is so crucial to build every page on a solid SEO foundation. SEO for landing pages follows the same basic structure as anything else:
Effectively research and implement the best keywords in the content and headings
Write title tags and meta descriptions that address the customers' motivations using the right keywords
Create content that delivers the information that the customer needs
Structure the page to make the information immediately accessible
Make it clear what a person can do on the page and why they should do it
Link to the page from other pages within your website
Build links to the page from outside sources
Revisit the page regularly to make any necessary changes – add new content, remove things that hinder a visitor, and update any brand messages
Gather Data, Optimize Better, Keep the Leads Flowing
If you've done everything right, you should be driving a lot of new traffic to your landing pages. If you do even more things right, you should expect a pretty solid conversion rate on those same pages.
It's every marketer's dream to see those things line up on the first try, with barely any barriers between you and significant revenue growth.
Obviously, though, things are never quite that easy.
It's hard to know exactly what will resonate with a customer. It's tough to zero in on the motivations of your target audience. Maybe it's not even the landing page that's having trouble but the promotional material around it that isn't performing as well as it could.
Having said all that, though, it's important to remember that you don't have to guess and make assumptions about customer motivations.
When you have the tools to gather the right data, you can turn it into actionable business intelligence.
It requires time to analyze lead sources, landing page performance, and customer behavior, but the right tools can provide the insights you need to make the best decisions about your landing pages. 
This way, you don't have to rely on guesswork to improve long-term lead generation. Instead, you can rely on actual numbers to predict what will increase conversions and get the most value out of your SEO efforts, your landing pages, and your leads.
Smart website analytics made simple
Understand your user intent, buying journey, and enhanced attribution in one unified hub. Up to 10x conversions.