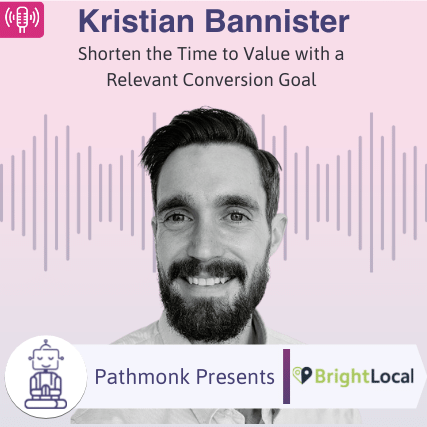 Introduction
Shop local has been a popular term over the last few years as the population work to reduce our carbon footprint, support communities, create jobs, and drive innovation. Supporting the growth of local businesses is BrightLocal. BrightLocal gives you the tools to rank higher, improve your reputation, and generate more traffic and leads from local searches.
The director of marketing, Kristian Bannister shared his wisdom today. They naturally drive their growth through search engines proving what they can achieve but it's more important for Kristian to reduce the time to value for their prospects as their conversion goal is frictionless and simple.
With all leads driven through the website, a conversion goal that supports the buyer's journey is essential to the team's success. Beyond focusing on the customer journey, Kristian highlights the importance of setting the foundation with your brand position. Invest in your brand first and build the structure of a successful business on top.
Take The Next Step on Your Growth Journey
Growth Marketers in the show focus mostly on one of the three big problems. Increasing the number of leads, reducing the customer acquisition cost, or improving the lead quality – that's why they are in growth in the first place. Reports from Gartner and real experience from the guests show that >70% of the buying journey is happening online.
The step-by-step Ebook guide below will help you to get started and analyze the digital buying journey on your website. Take this cheat sheet to accelerate revenue for your company. The buying process has changed, has your website experience?
Get The Buying Journey Guide
Read practical advice, best practices, and expert tips to help you become a master of your website's buying journey