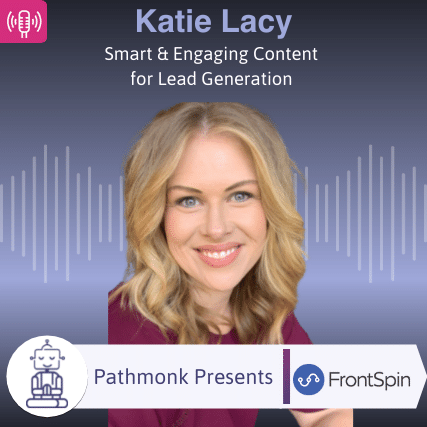 Introduction
If there's one role I don't envy it would be sales. With the competitive and pressured role of making sales everyone knows when you lose. It is a constant change and thinking on your feet with little to no warning. Not to mention the added challenge of a pandemic, disconnecting us even more. However, it can be an extremely rewarding and satisfying job as you influence the success of a business.
Helping sales do better jobs is the sales-engagement platform from FrontSpin. Their cloud-based system and power dialer helps you engage with more prospects and customers in less time, closing more deals and accelerating sales. The marketing manager, Katie Lacy joined us to discuss lead generation and the power of powerful content.
As FrontSpin relied on word-of-mouth lead generation Katie stepped in to take their growth to new heights. By creating smart and engaging content coupled with useful e-courses the team was able to build a larger customer base and work to assist those in sales and benefit their careers.
Take The Next Step on Your Growth Journey
Growth Marketers in the show focus mostly on one of the three big problems. Increasing the number of leads, reducing the customer acquisition cost, or improving the lead quality – that's why they are in growth in the first place. Reports from Gartner and real experience from the guests show that >70% of the buying journey is happening online.
The step-by-step Ebook guide below will help you to get started and analyze the digital buying journey on your website. Take this cheat sheet to accelerate revenue for your company. The buying process has changed, has your website experience?
Get The Buying Journey Guide
Read practical advice, best practices, and expert tips to help you become a master of your website's buying journey