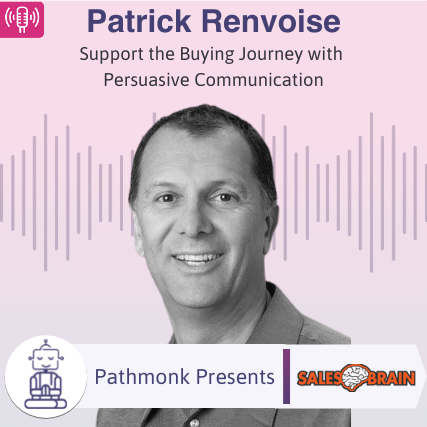 Introduction
Sales and marketing teams dedicate their careers to being successful in the art of influencing a buyer's decision, supporting the buying journey, increasing growth, and generating quality clients. But as our guest reminds us today it's not an art but a science. It's the science of how people use their brains to make buying decisions. Patrick Renvoise has been fuelled by discovering the truth behind sales and marketing, to unlock the door to the buyers' brains.
He has spent years researching and formalizing a science-based map to help companies worldwide get their message truly understood by the brain of their customers. SalesBrain was born as a pioneer of neuromarketing. A scientific persuasion model that helps companies achieve scientific growth, rapid growth, and proven growth. SalesBrain increases marketing and sales performance by targeting the decision making part of your customer's brain with a unique, award-winning, science-based NeuroMap®
We had an epic conversation with Patrick as he dives into supporting the buying journey, executing the buying experience with key components to persuasive communication, and so much more insightful knowledge into the new age of neuromarketing. You won't walk away without remembering a vital piece of information or advice. But first, you have to listen to see what's behind the door.
Take The Next Step on Your Growth Journey
Growth Marketers in the show focus mostly on one of the three big problems. Increasing the number of leads, reducing the customer acquisition cost, or improving the lead quality – that's why they are in growth in the first place. Reports from Gartner and real experience from the guests show that >70% of the buying journey is happening online.
The step-by-step Ebook guide below will help you to get started and analyze the digital buying journey on your website. Take this cheat sheet to accelerate revenue for your company. The buying process has changed, has your website experience?
Get The Buying Journey Guide
Read practical advice, best practices, and expert tips to help you become a master of your website's buying journey