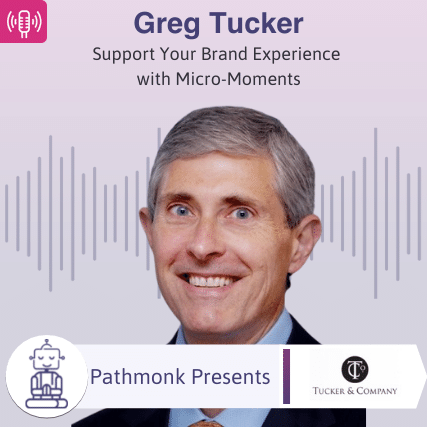 Introduction
Greg Tucker, an expert in customer experiences joined us today and we were relishing in it. If it wasn't glaringly obvious that we care deeply about customer experience and customer journey then you haven't been concentrating. Greg, founder of Tucker & Company is helping executive teams transform customer experience and business processes to drive growth and profitability.
In order to drive success, we should all be working to improve and understand the customer journey to ensure you're offering your audience the ultimate experience. Greg examines the value of micro-moments in the customer journey; they should be an inherent part of your brand experience and delivery.
Micro-moments precede the decision–making stage of buying. With technology and more analysis of customer behavior, businesses can find innovative ways to imbed their brand in impactful micro-moments. Engage, and connect with your audience but most importantly understand them. Micro-moments that keep these factors in mind and integrate your brand can impact buyers in key-decision moments. Learn more from the customer experience expert, Greg Tucker.
Take The Next Step on Your Growth Journey
Growth Marketers in the show focus mostly on one of the three big problems. Increasing the number of leads, reducing the customer acquisition cost, or improving the lead quality – that's why they are in growth in the first place. Reports from Gartner and real experience from the guests show that >70% of the buying journey is happening online.
The step-by-step Ebook guide below will help you to get started and analyze the digital buying journey on your website. Take this cheat sheet to accelerate revenue for your company. The buying process has changed, has your website experience?
Get The Buying Journey Guide
Read practical advice, best practices, and expert tips to help you become a master of your website's buying journey