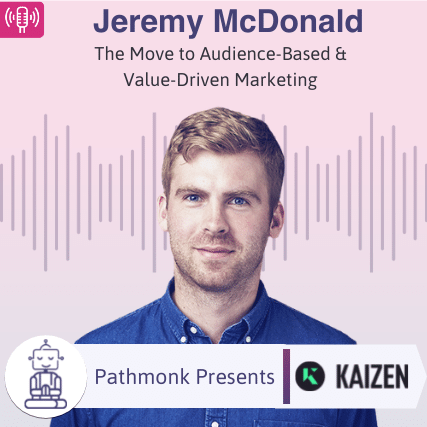 Introduction
Businesses are moving away from giving the customer what they think they want to use consumer data to drive product development and messaging. This audience-based and value-driven strategy focuses on making a genuine connection with the customer beyond interest in a product or service. Rather than selling or developing a product or service you think customers want you can leverage audience data and start to understand that your audience is your most valuable asset.
Moving towards sharing knowledge and insights to add value to their audience, is Managing Director of Kaizen, Jeremy McDonald. Kaizen is a digital marketing agency that delivers compelling digital experiences that engage audiences and grow businesses. By shifting their focus to audience-based and value-driven marketing Jeremy addresses the 'why' of their business and is determined to add value to a prospect's journey.
From influencer marketing to paid social, Kaizen aims to deliver bespoke strategies that suit their clients' needs. Kaizen is a Japanese term meaning 'continuous improvement' and the team naturally embodies this in everything that they do. Jeremy offers us insights into marketing with his expertise and years of both personal and business growth.
Take The Next Step on Your Growth Journey
Growth Marketers in the show focus mostly on one of the three big problems. Increasing the number of leads, reducing the customer acquisition cost, or improving the lead quality – that's why they are in growth in the first place. Reports from Gartner and real experience from the guests show that >70% of the buying journey is happening online.
The step-by-step Ebook guide below will help you to get started and analyze the digital buying journey on your website. Take this cheat sheet to accelerate revenue for your company. The buying process has changed, has your website experience?
Get The Buying Journey Guide
Read practical advice, best practices, and expert tips to help you become a master of your website's buying journey