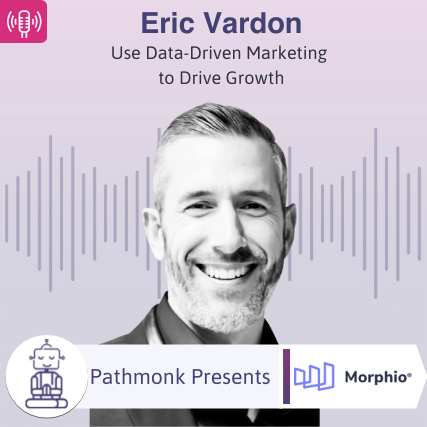 Introduction
Gone are the days of mass, untargeted marketing. The digital age has brought about widened reach, with the added advantage of pinpoint targeting and accuracy. The development of better analytical tools and approaches, such as Pathmonk and our guest today has given business leaders significant new decision-making ammunition. With data-driven marketing supported by the tools and processes available businesses have a world of opportunity to drive growth, truly understand their customers, and increase effectiveness.
The co-founder of Morphio, Eric Vardon, is driven by data as he works to optimize the performance of their marketing strategies and the product itself. Morphio is a marketing security software that takes all the data from your digital marketing platforms and puts it into a single view for analysis and insights. It tracks performance against your goals and uses machine learning to predict trends.
This is a new and improved way of working for marketers and data-driven marketing is essential to generating leads as Morphio works to support, nurture and interact with prospects in a way that builds trust and knowledge. Eric reveals the conception of Morphio, the stages in their growing and learning phases as well as his efforts to bring leads and opportunities.
Take The Next Step on Your Growth Journey
Growth Marketers in the show focus mostly on one of the three big problems. Increasing the number of leads, reducing the customer acquisition cost, or improving the lead quality – that's why they are in growth in the first place. Reports from Gartner and real experience from the guests show that >70% of the buying journey is happening online.
The step-by-step Ebook guide below will help you to get started and analyze the digital buying journey on your website. Take this cheat sheet to accelerate revenue for your company. The buying process has changed, has your website experience?
Get The Buying Journey Guide
Read practical advice, best practices, and expert tips to help you become a master of your website's buying journey