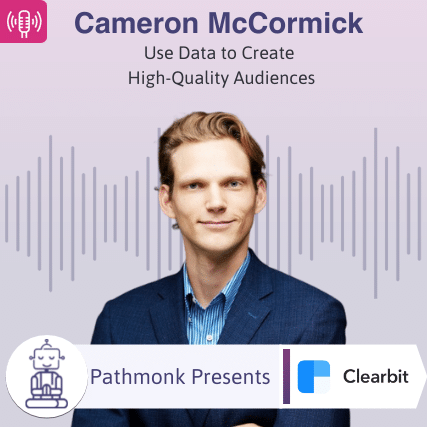 Introduction
The way people are buying is rapidly changing. From the already growing online-purchasing space to the shift to full digital experiences, owing to the global pandemic, many businesses have had to adapt their perspective on the buying journey. Buyers are doing more independent online research than before, making the research cycle shorter and more efficient.  So to change along with this developing customer journey we must ensure high-quality audiences are targeted and supported through the sales funnel.
Clearbit is a B2B Data Company focused on providing clients with the right data about their customers at the right time to create high-quality audiences and increase conversions throughout the sales funnel. The head of sales, Cameron McCormick, highlighted the benefits of their solutions and dived into the details of one of their most exciting products Clearbit Advertising.
Clearbit Advertising offers high-level targeting on Facebook to drive high-quality audiences and conversions with 100+ B2B targeting filters. Clearbit's team is focused on solving a lead-to-quality-lead conversion problem. When acquiring new clients they work hard to truly understand customers' pain points and ensure clients' audiences are aligned with their data research and findings.
Take The Next Step on Your Growth Journey
Growth Marketers in the show focus mostly on one of the three big problems. Increasing the number of leads, reducing the customer acquisition cost, or improving the lead quality – that's why they are in growth in the first place. Reports from Gartner and real experience from the guests show that >70% of the buying journey is happening online.
The step-by-step Ebook guide below will help you to get started and analyze the digital buying journey on your website. Take this cheat sheet to accelerate revenue for your company. The buying process has changed, has your website experience?
Get The Buying Journey Guide
Read practical advice, best practices, and expert tips to help you become a master of your website's buying journey