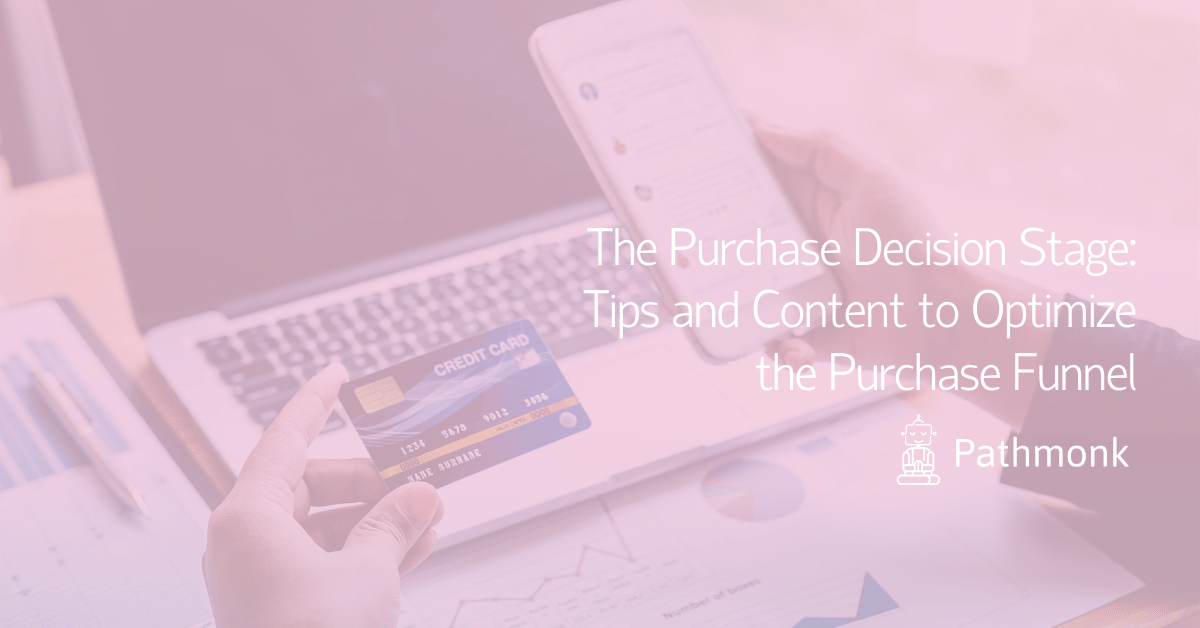 The buying journey comes with a variety of aliases; from Buying Journey to Purchase Funnel to Consumer Purchase Decision Process to User Journey to Marketing Funnel and more. Their names may differ, some stages vary and even the number of stages changes slightly but the one thing that they all have in common is the unified goal of turning a prospect into a customer with a final purchase decision. 
Essentially the buying journey is a journey made up of stepping stones a consumer will go through to make a final purchase. The online buying process is however more complicated and the introduction of the buying journey or purchase decision funnel has allowed marketers to analyze customer acquisition processes, to help you understand how potential customers discover your product or brand and, more importantly, how they eventually become loyal customers. As we begin to understand each stage we can influence the content and gently encourage the potential customer to make a purchase decision. 
Before we dive deeper into the purchase decision stage we have to address that this is not the most important stage of the buying journey. Although it is rewarding and essentially the main goal, it is not possible to achieve without optimizing the critical stages before – the awareness stage, consideration stage, and decision stage. Consumers don't simply decide to buy. They are influenced by various factors that you can leverage in the full journey. 
A study by HubSpot found that over half of consumers tell friends and family about their favorite products at least once a week or more. With 93% of customers reading online reviews before making a purchase and the discovery of a gap that businesses who are determined to delight customers can fill, it is critical to focus on customer service and truly build trust and enhance the buying experience. From content to social reach to brand awareness to advocacy to referrals to reviews your buyer will draw information and data before making that final purchase decision. So give them that data in a way you can control and execute. 
With, what seems like, a never-ending amount of high-quality information and competitor solutions, individuals from B2B companies become armed with varying information, sources, and solutions; prolonging and complicating the purchase decision stage. It's more important than ever to simplify the purchasing stage and provide content and experiences that have one goal in mind: to turn a prospect into a customer.
Free AI-Powered Buying Journey Toolkit
Learn how to optimize your buying journey and speed up your revenue with top strategies and invaluable resources.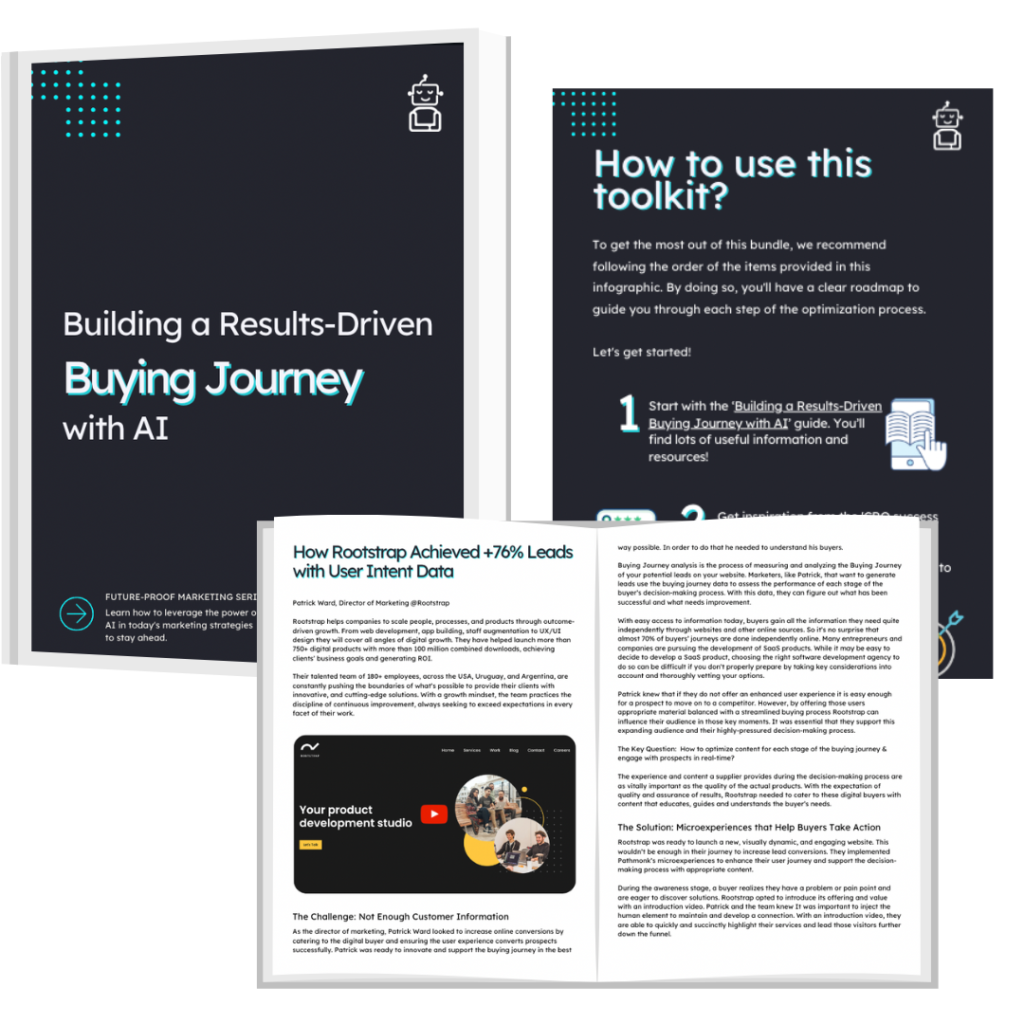 What is the Purchase Decision Stage?
At this stage, consumers are ready to buy. They have gathered information and resources, weighed up your solution with competitors, discussed the decision with their colleagues, and have decided what they want to buy and how they want to buy it. After you have converted your consumer into a demo request or free trial or website signup you have to push them to their final step; the purchase decision.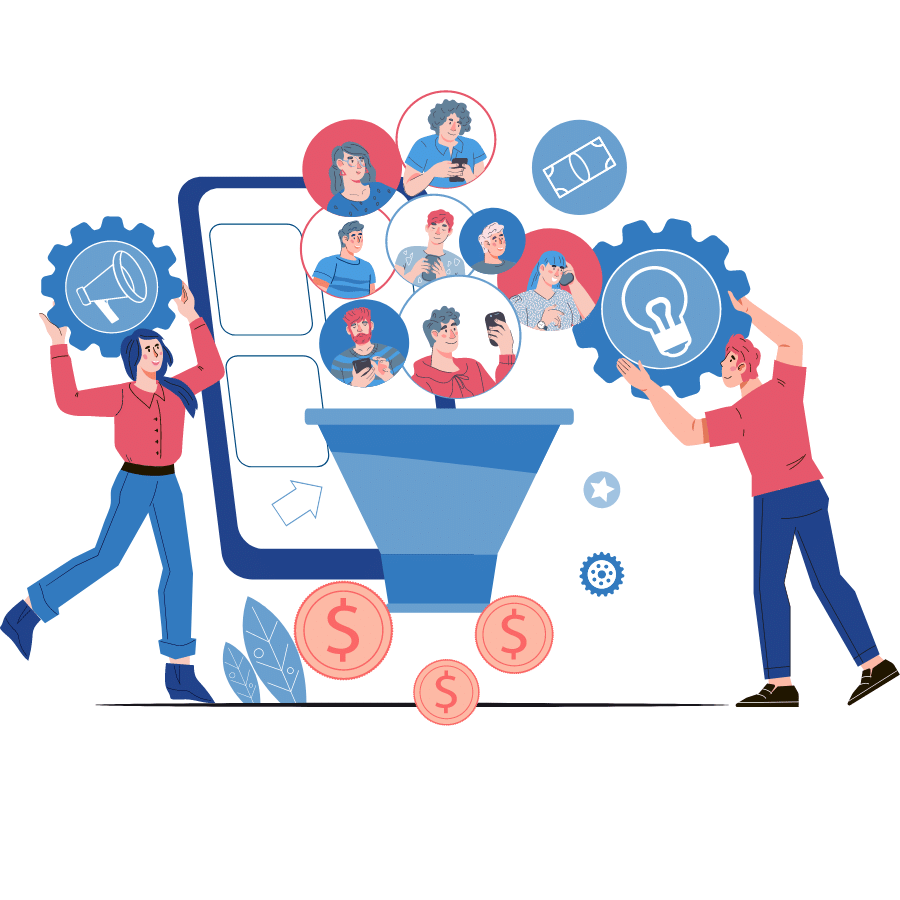 What are the Goals of the Purchase Decision Stage?
Some assume that there is little to do at this stage, but your goal is to get your prospect to purchase now, before losing them. They've made their decision, they're going to buy, what more could I possibly do? Unfortunately, it is still possible to lose a prospect at this stage. We may have varying purchasing processes from online to in-person, but either way, the purchasing experience provided is key and can quickly impact their choice to buy. At this stage, you want to simplify the purchasing process. To better support the purchase decision stage and provide both optimized content and a simplified buying process you have to:
Remind the customers of the reason behind their decision to buy the product.

This could be the reiteration of your great pricing or highlight your value proposition once more. 

Give as much brand information

reminding them that you are the best provider and you can fulfill their needs.

Stick to your promises.

Don't give your prospects any excuse to abandon their decision or cart. Avoid hidden fees or misleading feature descriptions.

Focus on building trust and not distracting with any overselling or irrelevant content.
What Role Does the Purchase Decision Stage Play in the Buyer's Journey?
There can be many reasons as to why a consumer chooses not to purchase. The purchase process can be overcomplicated or unsatisfactory, reviews or feedback can sway that final decision or something even more out of our control; budget cuts, change in business plans, etc. Analyzing this stage more can provide us with insights to continue to improve and optimize this purchase decision stage. 
The role of this stage in the buying journey is that the buying behavior changes into a larger and more weighted action as they ready themselves to click that final purchase 'button'.  After spending time building a quality lead with content that has supported and influenced your user during their awareness, consideration, and decision stages, it's time to add another customer to your list.
Marketing Strategies for the Purchase Decision Stage
At this stage, a marketer should consider all possible reasons a buyer could have to hesitate to make that final purchase and work to sway them from any doubt. Marketers need to simplify and streamline the purchasing process. Start with reminding the customers of the reason behind their decision to buy the product. Give as much information regarding your brand to highlight that your product can fulfill their needs. No marketing/buying/purchase funnel is perfect but we have the opportunity to optimize and fine-tune this purchasing process to ensure a higher chance of customer acquisition and conversion; solidifying that purchase decision. 
Optimize Your Checkout, Purchasing, or 'Get in Touch' Pages
The line to purchase should be obvious and simple. You want to create a sense of urgency and need while ensuring the process is simple. Your website may be attractive and you've hit touchpoints throughout the buying process, providing relevant and engaging content, but if this part of the process is not optimized it could have been for nothing. 
To Avoid:
Mandatory signups 

Additional Costs. This can include shipping costs or signup fees

Bombard them with popups and CTAs at this final stage
To Do:
Provide multiple payment options. Don't restrict them

OnePage Checkouts

Display security badges. So they feel secure with the usage of a solution or paying online

Ensure this process is possible on a mobile device
Attractive Offers and Discounts
Money talks and often a final purchase decision comes down to the price. It's the ideal time to surprise your prospect with a special offer. Offer a discount or an offer that goes beyond just the solution for premium members or for those who sign up ('free ebook included', 'monthly expert reviews', '20% off' etc.), ultimately something that adds more value to their purchase.
Retargeting Through Emails
In the previous decision stage, our prospects may have downloaded material or signed up for a free trial, or become even closer to completing that purchase. With the help of an email retargeting strategy, you can get a second chance at converting this visitor into a sale. There are various lead generation tools to assist you with gathering more detail about prospects. As our websites are not the only place to reach an audience we can use emails as an effective strategy to make the most of your website traffic and gain more insights into your customers.
Be Easily Reachable & Available
Ultimately you'll want to have considered every possible scenario your prospect could have for doubting their purchase decision and use both the strategies above and the high-quality content below to answer and provide for every need. However, a phone call or email, or message may be the final thing the prospect needs to complete the purchase. So ensure you're sales-ready to take on any potential customer with unmatched customer service, adding that personal touch.
Types of Content for the Purchase Decision Stage
Our prospects would have completed their research and comparisons by this stage so we can simply reiterate that they have made the right purchase decision and reassure them with trusted content. At this stage, your prospect is scrutinizing every detail, with their hand on their wallet in anticipation. This is going to be the most personalized and persuasive content in your arsenal.
User-Generated Content, Reviews & Testimonials
The proof is in the pudding. Naturally, we'll be biased about our own services so highlighting testimonials and reviews can bring a reality to the prospects. It instantly establishes credibility with your potential customers and adds a personal layer to the buying experience, giving us as marketers the opportunity to connect to the emotions of our buyers. However, we must remember that we don't want to distract the customer from completing the purchase. We can do so by ensuring the reviews are not clickable to distract further and are simply an additional opportunity to reassure the prospect. 
Beyond simple written reviews or testimonials, we can leverage additional content that previous happy customers have generated. From video reviews to pictures to influencers on social channels. This can add another layer of relatability and trust. But, again, everything in moderation.
This is a great opportunity to further streamline and simplify the buying process; to cement their purchase decision. As you can't avoid the research that customers will inevitably do rather assist them with that research than lead them further away with a Google Search. An ROI calculator can help them do research right on your website in real-time, helping to save your prospects time and the hassle of trying to figure out how to calculate the ROI of their purchase on their own. It allows you to increase website visitor engagement, therefore decreasing your bounce rate. It's another opportunity to reassure your prospect and highlight why your solution or service is the best choice. Learn more about how to create and use ROI calculators here.
FAQs or Most Common Questions
A FAQs page is the opportunity for our prospects to have an even deeper experience with a website. You should provide a link to a FAQs page or offer a list of 'Most Common Questions' during the purchase decision stage. As the prospect scrutinizes your product, solution, or service you can provide them with every answer. FAQs don't just benefit our prospects but allow us to increase our internal linking which can optimize our SEO further.
Sellers and marketers adapt in order to stay relevant and the best of us have already started. Websites must be purpose-built to drive sales performance, supported by providing the customer with what they want and need. As marketers, it is important to understand from a consumer's point of view, what type of content can encourage a user to move from a lead to a customer. You will want to encourage consumers to choose your company's product or service by not only promoting your products and services but also by informing the consumer about your products and services as well as about your company. 
There is no right way or one way to support a buyer during this purchase decision stage and we have covered best practices and suggestions from our own experience. With varying buying personas, personalization is becoming more critical and we must work to find the best strategies and content for our buyers. As the online buying world ever evolves and expands, solutions and tools, like Pathmonk, help you to gain control over your buying journey.
Smart website analytics made simple
Understand your user intent, buying journey, and enhanced attribution in one unified hub. Up to 10x conversions.