With the majority of marketers incorporating intent data into their marketing strategies to some degree, it is clear that this is a powerful tool for marketing strategies. Companies use it to expand their primary pipeline and uncover previously undiscovered sales opportunities. Using software, such as Pathmonk, helps generate the success you are looking for by working hard to understand and meet consumers' expectations.
Four Things to Consider When Redesigning Your Website
When determining where to get your information, keep in mind that the different types of data have different perspectives, provide various advantages, and present their unique challenges.
Free AI-Powered Buying Journey Toolkit
Learn how to optimize your buying journey and speed up your revenue with top strategies and invaluable resources.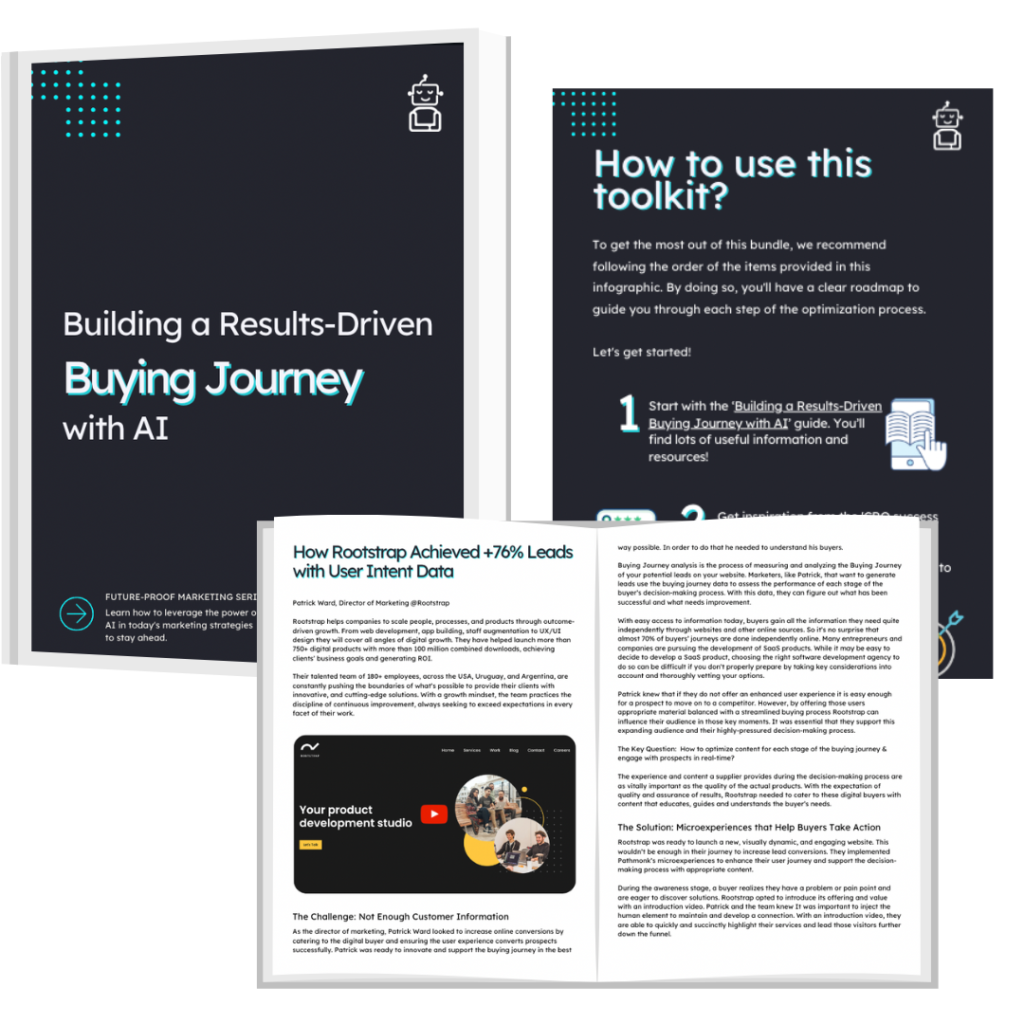 The primary goal of intent data is to capture and monitor any possible signals during a buyer's journey so that the next action can be devised. Many types of this data may provide useful prospect analytics. What is intent data?
Regarding online data, signals can come from your specific company's website or other platforms and a virtually limitless range of external sources. Pathmonk simplifies this by analyzing the actions of each visitor to provide predictions of their intentions and delivering specialized micro-moments to convert prospects into leads.
General forms generated from online engagements include:
Product reviews
Webinar attendance
Website visits
Social media engagement
Marketing asset downloads: Case studies, white papers, etc.
Time spent on industry-related web pages
Industry publications or online subscriptions to trade
It is essential to understand that the various types of intent data operate differently. Intent data reveals which accounts or leads are actively performing online research. The account is seen to "surge" on certain domains when research activity on that subject spikes.
Accounts growing on related issues can then be prioritized by sales and marketing teams over similarly eligible accounts that are not showing purpose. B2B intent data, when used correctly, can significantly increase sales and conversions.
What Is the Difference Between First-party Intent Data and Other Types of Intent Data?
Did you know there are different types of intent data? First-party, second-party, and third-party intent data are all various forms. What are the differences between these? Let us take a look in further detail:
First-party Intent Data
First-party intent data essentially involves gaining insight from various internal resources. It may include the following:
Interactions and engagements with customers
Keyword queries and internal searches
Nurture workflows and email tracking
Behavior flow tracking and website cookies
Social media listening strategies
Marketing professionals often depend on first-party data because it gives them a direct showcase of their audience, which only piques the interest of those already paying attention. First-party information offers various advantages such as saving money via in-house data gathering, drilling down into customers with an existing account, tailoring topic taxonomies, and having full control over the information.
Additionally, first-party data is highly valuable and easily accessible with virtually no additional significant costs. Marketers can combine company records with consumer intent algorithms to tap into existing data, which enables them to determine which accounts are buyer-ready. Why is this beneficial? It assists you to learn about buyers' behavior which you can effectively map; hence, you save a great deal of money on external data spending.
Therefore, it is recommended that all B2B marketing professionals leverage the first-party intent data, meaning they should integrate it into personal marketing strategies. 
Second-party Intent Data
This includes information or data collected by other companies. A few examples of this include publishing networks and review sites. Individuals who use these platforms have to register to gain access to the specific information and grant rights for the owners to sell or share their data and contact details.
Third-party Intent Data
Marketers gather insights across various digital touchpoints that are external to their organization – these insights are referred to as third-party intent data. Examples of this include content platforms, websites, and social media funnels.
Experts do not rely on third-party data as their primary source of gaining insight; however, many believe that these marketing professionals are missing out on a key component when not using this form.
Individuals who know how to effectively utilize third-party information may gain interest at earlier stages during the buyer experience, which enables sales and marketing departments to adapt the type of communication with these accounts to encourage action and interaction.
Third-party intent data can also be used in conjunction with third-party account-based marketing practices, allowing external businesses to better access and interact with "in-market" targets by integrating targeted content amplification with intent.
Lastly, scale is provided by third-party purpose data. Although first-party marketing is great for increasing interest in highly active, pre-existing profiles, third-party marketing helps marketers reach out to a larger number of potential prospects and encourages them into the transparent funnel smoothly and effectively.
The Benefits of a Combination of All Intent Data for Marketing
You can get absolute insight into your existing prospects and consumers and how they interact with the company on your platforms when you use a hybrid strategy. One also receives a sneak-peek into interaction with all external websites, allowing you to utilize advanced targeting strategies to interact with and attract new buyers.
Third-party purpose helps you to reach out to in-market prospects who are not interacting with your business at this current stage. Pathmonk software achieves the perfect integration, as it knows exactly how to integrate the timing and relevance of the company's message to influence buyers.
How Intent Data Is Used to Drive Revenue
How does intent data work? As a result of B2B intent data, initiating go-to-market plans is beneficial for consumers and prospects. It aids sales and marketing teams in segmenting behavior and reaching out to the appropriate individuals.
Businesses that do not use predictive analytics data are just responding to data from their website, while their potential customer has already been trying to solve a problem for weeks. Professional marketers use Pathmonk to give their audiences an automatic experience during their buyer journey.
There are several strategies you can use to drive revenue through the use of intent data for marketing. Using buyer data is essential if you want to remain competitive, as it can significantly impact various areas of business. The following are ways you can use this information to drive revenue:
Identify early opportunities
Lead scoring
Account-based marketing
Refining the content strategy
Targeted marketing
Analyzing and retaining customers
Identify Early Opportunities
The most obvious application of intent data is to reach out to potential customers sooner during the purchasing process. Getting in touch with customers before other sales representatives, is one of the best ways to get a massive head start over the competition. Pathmonk simplifies this process even further by evaluating every scroll, click, and revisit by potential customers.
Buyer intent data may help differentiate between those who are actively investigating a problem and those who are merely reading about it without intending to buy. This information shows whether a lead suits the ideal consumer profile or not, making prioritization a breeze.
Relationships are at the heart of account-based marketing. The most critical component to interacting and developing relationships with the right prospects is intent data. Although account-based marketing often necessitates technographic and firmographic data, it is essential that you collect as much data as possible about your prospects to take a highly focused approach.
This data not only expands your scope but also provides you with information that you would not be able to gather on your own. Additionally, this aids in the discovery of more in-market clients, the more precise scoring of leads, and the reshaping of the account-based marketing strategy with personalized messaging.
Refining the Content Strategy
Intent data assists you in developing a relatable content plan tailored to your ideal clients' preferences. Although many SEO tools can assist you in identifying the best keywords and trending topics, integrating this technique into your content marketing strategy can provide you with a completely new layer of information to help you improve your advertising strategy.
With the use of buyer intent data, you can make your marketing campaigns, even more, domain-specific by focusing on leads who show specific signals. You do not spend any of your advertising capital on individuals who are only interested in your product for a short time and are not planning to purchase it.
You can start sharing relevant content that helps your B2B customers achieve their goals and open up an opportunity for your company because you have connected the dots between what they need and their purchasing signals.
Analyzing and Retaining Customers
One can gain real-time insight into which consumers are looking for information on specific topics and solutions. This kind of insight into current customers allows you to upsell and find pain points ahead of time, rather than being caught off guard by consumers who did not renew or purchased items from a competitor you did not know about.
The trick is to use the information in the right way, whether you use internal data, external sources, or a combination of both. Users can make intent data relevant and actionable for any B2B marketing and sales teams if they understand the limitations of each option and apply it correctly.
You could open up a world of data that you never had before by establishing a simple data plan, setting specific targets, and exploiting purpose to fill in the knowledge gaps. Using a platform such as Pathmonk makes this journey even simpler and more convenient.
Smart website analytics made simple
Understand your user intent, buying journey, and enhanced attribution in one unified hub. Up to 10x conversions.