Thousands of marketers want to know more about account-based marketing because it might be a good approach to use in their business. Read on and find out everything you need to know about it.
Four Things to Consider When Redesigning Your Website
Free AI-Powered Buying Journey Toolkit
Learn how to optimize your buying journey and speed up your revenue with top strategies and invaluable resources.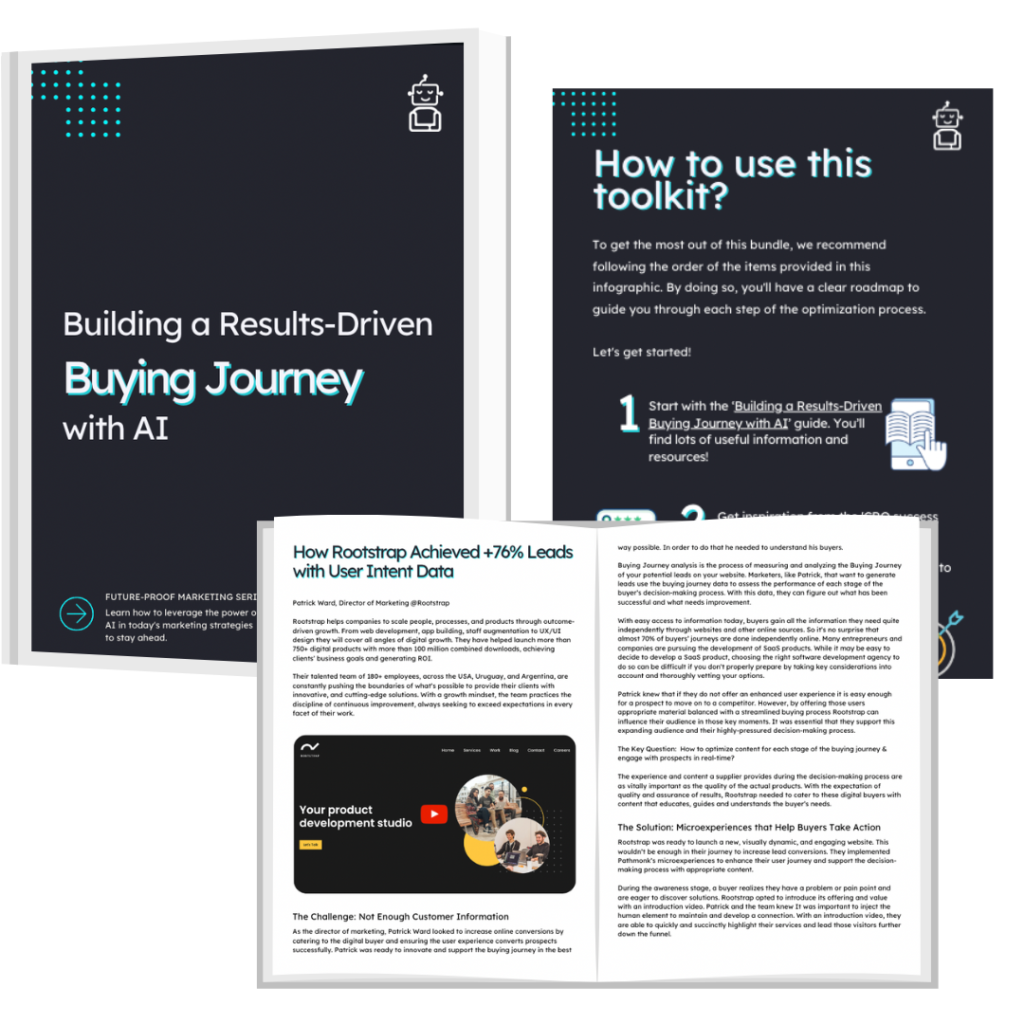 What Is Account-based Marketing
Many people would like to live in a world where they sell the best accounts. Consequently, no one would waste time trying to sell to unqualified leads. 
If you want to leave all of that behind, you might want to know what account-based marketing is. It's a specific strategy where the marketing and sales team work together to identify high-value accounts and create personalized strategies for them. 
How Does Account-based Marketing Work
On many occasions, people ask "how does account-based marketing work?" because they don't understand the basic components of the strategy. 
The approach is based on the idea that your customers are not a mass of people. Instead, they are individual markets. Consequently, if you personalize the journey of each buyer, you have more opportunities of fostering an engaging relationship and increase your revenues. 
With tools such as Pathmonk, for example, all of that is possible. It's made to help companies convert more visitors using Artificial Intelligence. 
Although it sounds like an amazing strategy to use in your business, as a marketer, you need to consider many things before trying it out. 
When you use ABM, you have to conduct thorough research to identify key accounts, design a specific strategy, and monitor the results after some time. 
Planning ABM (or account-based marketing) takes time and effort. It's not something you can implement overnight. Therefore, getting a tool such as Pathmonk can make the journey a lot easier.
Benefits of Account-based Marketing
Many marketers start considering ABM for their business because they understand the benefits that it offers. However, you can only enjoy the qualities of the approach if you know how to implement it. 
All marketers must keep in mind that ABM includes four different categories: owned, earned, and paid media, and paid social media.  
Each time you design strategies for one of those groups, you can share customized content for specific accounts, send unique emails for marketing campaigns, and more. Check out all the good things that it can bring to your business:
1. Your Marketing and Sales Can Be Aligned 
When different teams in your company reach specific goals, you can grow and develop exponentially. 
In terms of marketing alignment, having people focusing on the same goals ensures consistency and discipline. Therefore, everyone understands their roles and works to give customers an amazing experience. 
No matter when customers reach out to you, the staff can understand how to respond to them if everyone is aligned towards common goals. When a new account starts working with your company, the respective team members can pick up in specific moments and know what to do next.
2. It Allows You to Increase the Relevance of Your Business 
When you rely on ABM, you have to customize everything. The experience of each client is going to be completely unique. 
Each account contacting your business can receive personalized content, campaigns, and communications. When your team is perfectly aligned and coherently interacts with customers, you can maximize your company's relevance. 
When customers have a customized experience, they cannot forget the company that gave it to them. They want to come back because they know the staff can handle their difficulties and give them effective solutions. 
In other words, relying on ABM means you can allow your business to gain relevance among target accounts.
3. You Can Give Steady Customer Experiences  
Succeeding with the ABM approach is easy once you understand the essential aspect of the approach: delivering consistent experiences to your customers. 
Thus, each customer coming to you must have the same high-quality experience when your sales and marketing teams interact with them. Even though the specific aspects of the interaction are personalized, everyone must be treated fantastically so they want to come back.
However, implementing ABM to give long-term high-quality experiences can be a daunting job. It might take months or years to align your teams, so they work perfectly together. The good thing is that the process itself can be interesting, and an encouraging change to make. 
When everyone involved understands the goals, and the marketing and sales team work together like a well-oiled machine, you can naturally deliver a feeling of consistency to all your target accounts.
4. You Can Measure Your Investment Return 
When you use ABM in your business, it is not difficult to measure your return of investment, also known as ROI. 
Measuring your ROI is one of the most important benefits you can have with ABM because it is a long-term addition to your company. Using it allows you to determine if a deal is convenient or not; for example, you can identify if certain accounts are ideal for your business or not.
5. It Helps You Expand Your Business 
Expanding your business should always be one of your main goals. Fortunately, ABM is a great way to do so. 
The process of ABM implementation requires you to train your team, so they identify significant target accounts. Thus, they should delight them and provide them with an engaging experience to help your company grow. 
Other approaches require you to close deals quickly instead of working on a long-term basis, but the deals might not be the best for your company. If you use the ABM strategy and take time to build satisfactory relationships with your customers, accounts can become loyal to you.
When you have loyal accounts, they become your main promoters. Therefore, they expand your business in their network. Building a strong and long-term relationship with your customers is the number one way to succeed in the marketing world.
How to Use Account-based Marketing
Using ABM is a great choice you can make for your business. However, as was previously mentioned, it takes time, and you must know the necessary steps to implement it. 
Choosing ABM can give your company a strong base to foster great relationships with your target accounts. Take a look at the following stages to start using the approach: 
Getting started is always the most challenging step. In the initial phase, you must put the first building blocks so your business can succeed on a long-term basis. 
One of the first things you should do when you begin is to make a list of potential target accounts, preferably with a good reputation that could help your business. 
After that, you could start some strategies; for example, you could run a marketing campaign or advertise to high-intent accounts. 
Once you get the basics out of your way, you can start making more progress. The next step consists of adding more accounts to your customer list. 
Therefore, you have to do thorough research and identify the best accounts to include. Additionally, you should monitor all processes and determine which ones need improvement.  
The second step also includes doing research on potential competitors and getting data from multiple channels. You should give all the information to the sales team, and they can use it to develop effective strategies. 
Once you reach the operationalization step, you should aim for high-quality processes and reputable techniques. Consequently, you can build long-lasting strategies that work specifically for your goals. 
When you reach the development phase, your market and sales team should be completely aligned. You cannot grow and enhance your strategies if you still have communication issues or haven't established clear goals. 
Your marketing and sales team should work together. They should have shared philosophical values, but also specific practices that help achieve your company's goals.  
In the development phase, you should start reaching out to target accounts. Now that you have identified the best ones in the previous steps, it is time to establish communication with them and begin fostering alliances. 
You can measure success depending on the engagement level you get. One can also determine performance effectivity and other specific aspects while you monitor the effectiveness of all the strategies you implement. 
The optimization and improvement stage is the last step in the process. Your ABM should be running smoothly, and your sales and marketing teams should constantly communicate. 
In the last phase, you should constantly check your insights and determine if there is some improvement you can do. Every customer should have a completely personalized experience, and your staff should work as a team. 
It might take months or even one or two years, but once you have mastered the ABM approach, you can enjoy the benefits of having loyal accounts promoting you and expanding your business.
Using account-based marketing requires time and effort because you have to change your advertising approach. However, once you and your team implement the strategies, you can see your company develop and grow. 
Keep in mind that tools such as Pathmonk are what you need to make the process easier. You do not have to do everything by yourself – with Artificial Intelligence to aid you, you can have a smooth journey.
Smart website analytics made simple
Understand your user intent, buying journey, and enhanced attribution in one unified hub. Up to 10x conversions.