COMPANY: CUREosity is revolutionizing the world of rehabilitation therapy. CUREosity is a multiple international award-winning Med-Tec company that is changing rehabilitation by developing innovative therapy concepts. They develop VR-based therapy applications and games to help people with neurological and mental disabilities.
The Challenge:
Optimizing & Supporting a Longer Buying Journey in a New Category
Traditional physical therapy and rehabilitation are routed in programs where therapists use their hands to perform manual therapy in conjunction with specific exercises for a condition. Integrating VR into physical therapy has significantly increased patients' motivation as well as improved performance when moving within gamified content or Virtual Reality. By upgrading an existing practice with its innovative technology, and bringing physical therapy and rehabilitation to a new century, CUREosity has tapped into a new category. 
It's challenging to encourage and invite consumers to adopt innovations. How can you convince prospects that they are better off for having embraced your new technologies and innovations? Creating a new category is about education. Educating about not only a solution, service, or technology but about a problem they didn't know they had. This type of education needs to be routed in an experience. 
CUREosity has revolutionized and enriched rehabilitation, in its mission to do more for its community and humbly serve people on their journey to recovery. It was no surprise that Business Development Manager, Jannik Schmitz was equally ready to improve their website, and overall user experience to ultimately drive that education and serve this unique buying journey. Jannik is passionate about CUREosity and driving brand awareness. With his background in sales, Jannik is determined to scale the business and embrace the future of the digital buyer.
Driving growth for a complex or innovative product requires understanding and communication in order for prospects to see real value. Prospects are often spending more time educating themselves and understanding the possibilities, rather than quickly jumping to price comparisons and consultation requests. With this in mind, CUREosity's VR therapy is extremely tailored for each individual's journey to recovery. Jannik was therefore quick to acknowledge that the steps through the conversion funnel may be more of a pilgrimage rather than a short journey. Prospects will ultimately spend more time investigating facts and information by doing  thorough research and in-depth comparisons. The typical buying journey for a new category is often longer than expected. 
A website that better serves this longer and unique buying journey is an increasing necessity to any business, Jannik was eager to leverage the tools and solutions available, to increase direct sales requests on their website, yes, but ultimately enhance the overall user experience. With readiness to digitize the buying journey further, Jannik wanted to ensure the needs of the audience were catered to. Decision-makers are spending their time searching, qualifying, evaluating, and selecting suppliers online, with 80% of all decision-makers visiting a website before making a decision. Therefore delivering a quality online experience has a tremendous impact on the buyer's opinion. 
The Key Question: How to implement key micro-moments to shape the customer's decision?
Attracting traffic to a website can be a challenge in itself. But ensuring that you're visible as a new category is critical when creating demand for a service prospects don't know they need. Therefore, SEO played a critical role for CUREosity. They had spent time dedicated to crafting the best strategies in order to attract the right traffic. They have been successful in inviting both the right quality and quantity of traffic. However, getting this traffic to our websites is no longer enough, as digital consumers demand and expect more from brands. How could Jannik encourage visitors to start conversations and book appointments?
The Solution:
Implement Micro-Experiences
CUREosity's prospects have spent time researching and gathering information to empower their final decision, as education drives purchases. With the determination to support the buyer and make this often tiresome and long process easy, Jannik was ready to provide the right information at the right moment. 
These prospects require a more tailored consultation and detailed information as they are not quite ready to commit to this new and innovative solution. This places CUREosity's prospects in the consideration stage. As Jannik acknowledged this he was able to arm prospects with the information that suits their stage in the journey. By acknowledging the prospects buying stage and matching content and CTAs to that stage, Jannik and the team have been able to guide and influence this buying journey. The opportunity to create a seamless customer experience across all channels while being useful and anticipating users' needs was exactly what Jannik wanted for further growth and increased direct sales requests, which the company deserved to see. 
Pathmonk detects the intent-rich moments that shape the visitor's decision on whether to stay, sign up or leave the website. These game-changing moments are significant in converting website traffic. With Pathmonk's intelligence, CUREOsity's prospects were supplied with educational and actionable experiences in key decision moments.
Pathmonk delivered micro-moments that match the stage of the buying journey to trigger more conversions. With a more complex buying journey, Jannik wanted to deliver appropriate moments to match the stage of a prospect, while ultimately anticipating their questions and showing the right content at the right time.  
Seamless integration is a core value at Pathmonk. Pathmonk complements your current marketing funnel with no extra effort required on your side. You keep using the same sales and marketing tools, while Pathmonk increases your leads. You can easily integrate Pathmonk into any website within minutes.
Get The Buying Journey Guide
Read practical advice, best practices, and expert tips to help you become a master of your website's buying journey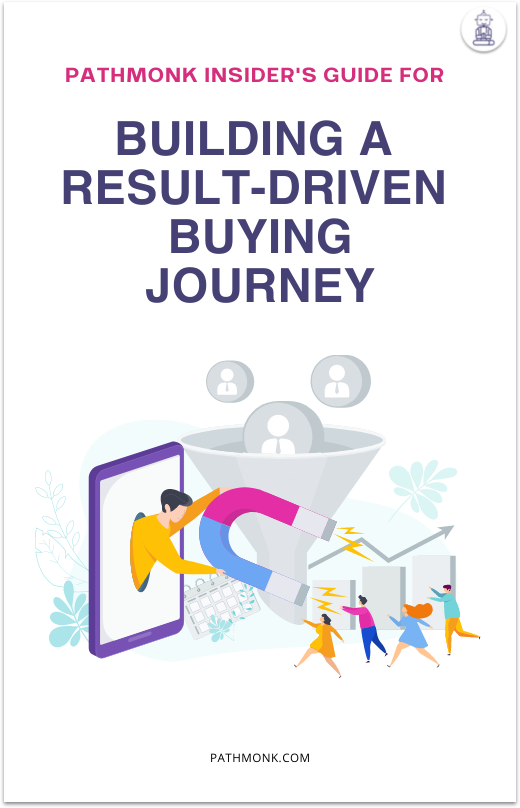 Results:
CUREosity Increased Direct Sales Requests by 95% With Pathmonk
As clients navigated the website their questions were answered in key-decision moments. Users felt catered to with no loss of service or quality. With Jannik's willingness to embrace the new-age micro-moment marketing, he quickly witnessed the benefits. As they work to better understand the mind of their customers and pivot to lightweight and appropriate conversion goals, the team at CUREosity are seeing the results. CUREosity was able to do this for their German audience with great success. They look forward to introducing these micro-experiences to the English market. 
Additionally, with Pathmonk's intuitive call to actions, CUREosity has seen the number of bookings for consultations multiply. 
Pathmonk has the ability to serve multiple languages and complement your current website setup with no extra effort required on your side. Instead of showing easily ignored pop-ups to your visitors or leading them down chatbot flows, you can show them information that is relevant and timely to their personal journey.
In an overloaded world of information, it is hard to convey the key values of your product and present them in a way that fits each visitor. Using AI, Pathmonk predicts the most likely next step of your web visitors and uses the most appropriate experiences to capture more visitors before they lose interest and leave. Trained with over 110 Million buying journey actions, Pathmonk leverages the power of intent data on your website.
Know Why Your Page Is Missing Results
Pathmonk Metrics analyses the growth opportunities & user journey on your website, then generates suggestions on how to improve.