User experience and conversion rate optimization are two of the most important processes you should consider if you are operating a website. You should know a lot about how they work together, and how they can help your business grow. Read on and find out more.
Four Things to Consider When Redesigning Your Website
Free AI-Powered Buying Journey Toolkit
Learn how to optimize your buying journey and speed up your revenue with top strategies and invaluable resources.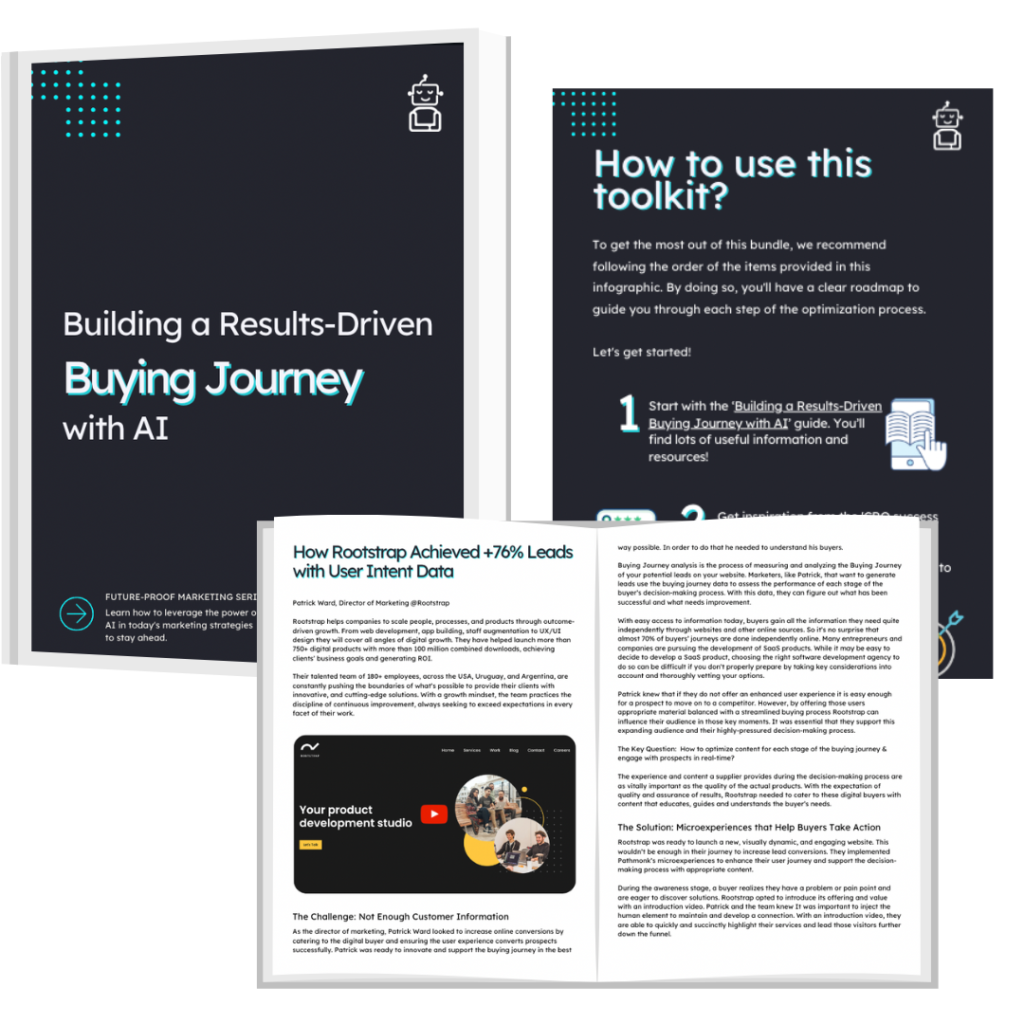 What Is UX and What Is CRO?
If you are a marketing beginner, you might not know what these two important terms stand for. CRO is conversion rate optimization, which is the process to raise the percentage of visitors who turn into customers when scrolling through a website. 
On the other hand, UX is user experience. It refers to the user's needs, values, what they want, and limitations and abilities when using an app or visiting a website.
Why CRO Is Useful for Your Business
Considering CRO allows you to determine how many people are visiting your site, and what percentage of that group is becoming your customers, it is one of the most convenient things you can do for your business.
Additionally, CRO relies on different techniques to give you useful information. One of the most common strategies it uses is dissecting a specific landing page and comparing it to another one, a process known as A/B testing.
Differences Between UX and CRO
As a marketer, you should take into account both CRO and UX. However, keep in mind that they are completely distinct from each other. Check out the following pivotal differences, so you understand how they work on your website: 
Although UX and CRO are terms used to improve your digital marketing strategy, their goal is not the same.  
UX's primary purpose is to make the website easy to navigate for users and to allow them to have a pleasant experience. CRO, however, focuses on turning visitors into buyers. 
The Focus Is Not the Same  
A very easy way to understand CRO and UX is by remembering the focus keyword each process uses to improve the website. While CRO focuses on convertibility, UX cares about usability. 
They Measure Success Differently  
The two aspects are measured very differently. If you have a website, you need to know how to monitor and evaluate both processes to identify potential issues and solve them. 
When it comes to measuring the effectiveness of your strategy for CRO, you can use a simple formula: the conversion rate is equal to the unique purchase orders divided by the total sessions over a time slot. 
To evaluate UX, on the other hand, you could monitor users' behavior when they visit your website or use surveys so people can communicate their experience and feedback. 
Considering all the previous differences between CRO and UX, it is no wonder that they use different tools to achieve their goals.  
Some common CRO tools are GoogleOptimize, OptinMonster, and Optimizely. To work on your UX, you could use UserBrain.net, Userlytics, or UserBob. However, if you want the best of both worlds… you can use Pathmonk.
Successful marketers care about user experience optimization. The main focus of UX is to make sure the visitors who click on your website can scroll through it easily and ultimately, enjoy their time. Keeping your UX in mind can subsequently improve your CRO:
You Don't Need to Use Random Experiments Anymore  
When you work with Conversion Rate Optimization, you focus on changing the website and testing each change, so you continuously tweak the site to improve it. 
Although using random tests and experiments might be a good way to get useful information about your website, basing the evaluation on UX may be the best approach. While CRO tells you what you need to change right now, UX explains where you should begin. 
You Can Optimize Your Web Design According to Different Devices  
Many professionals that focus on CRO only care about the desktop view of a website. However, UX designers understand users' need for instant gratification and take into account the likelihood of users scrolling through their phones instead of their computers. 
How CRO Can Help User Experience Optimization Designers: UX Conversion Rate
Conversion Rate Optimization professionals should focus on UX to further encourage and increase purchases, in the same way, that UX experts must also consider CRO when enhancing the user experience. By combining the two, you could increase your UX conversion rate, resulting in visitors being happy with their experience on your website, and consequently, becoming your new customers. 
UX designers have many tools to improve users' journey through your website. However, CRO experts have also developed important strategies you must keep in mind if you want to make the most out of your marketing strategy. 
A common tool used by CRO professionals is a heatmap, which could help UX experts understand essential information about your visitors' behavior. 
It Provides Additional Validation  
Using methods such as A/B testing could provide additional validation that helps you determine if a specific change worked or not. 
If you test different pages, for example, and find positive results, then you might get data to confirm that a specific change enhanced users' experience. Likewise, UX experts could use prior evaluations for many things – it could help avoid trying strategies that have already been proved to be ineffective. 
It's Time for CRO and UX Teams to Work Together
As a marketer, you should always aim to get the best results for your business. You want to find the most effective strategies and use them to get more traffic, and of course, increase your revenue. 
In an ideal world, UX and CRO teams work together to find the best solutions for your website. Both processes are equally important, and one can't function without the other. Therefore, here are some things you should try to balance those aspects. 
Align Knowledge and Processes  
Marketers should continually organize meetings with their UX and CRO teams, so both of them are aware of each other's processes while leveraging the other's knowledge. 
When both of your teams are aligned, you know they are working toward the same goal. Instead of randomly trying out things, they can help you keep your business consistent.  
A great way to achieve consistency and balance is to make your CRO team test most of the designs, or all of them, if possible. Therefore, your UX professionals can have immediate intel on whether or not their proposals are working. 
Learn to Read All Kinds of Data  
If you want to be successful at managing your website, you should speak the same language your UX and CRO teams do. 
Good marketers understand what data means, and they don't rely on their professional teams to explain every single detail. They might not understand everything, but they should be able to comprehend bullet points and insights. 
In other words, the more you understand, the better results you can get. Knowledge allows you to keep your teams' minds focused on the goal, and helps you identify issues or prevent future problems. 
Enhance the Website with Strong Practices  
The world is quickly changing, which is why marketing fluctuates so quickly. Nowadays, focusing on finding a universal practice that works for everything in your business is a complete waste of time.  
Instead, you should try to build strong practices that help you grow at a steady pace. Think of it this way: would you build a house without a sturdy foundation? Probably not. You should treat your business the same way. 
Use Hypotheses in Your Favor  
The best thing about CRO is that it makes you think from a scientific perspective. Instead of only focusing on numbers and metrics, it reminds you that you should form hypotheses from your research or prior tests. 
Thus, take advantage of what CRO offers and make sure your UX team uses it to enhance different processes. By keeping experiments in mind, they can pay more attention to things such as research, planning, diagnosing, and designing different strategies.
The Marketing World Is Changing
Not everyone succeeds in the marketing world. In many cases, that occurs because marketers are unwilling to let go of old practices that used to work for them. 
If you stubbornly focus on perspectives that don't work anymore, you might get stuck, which could make you feel frustrated and unmotivated. The good thing about UX and CRO is that you don't have to eliminate one to work on the other one. You can balance both while keeping UX's importance in mind. 
Therefore, the first step to becoming a better marketer is to wish to try new things and find the best solutions for your website. Remember that tools like Pathmonk can make the process much easier, which is why you should take advantage of them.
Some marketers focus on user experience only, while others just think about conversion rate optimization. However, both processes are important to make your business grow. Now, you know more about what they are and how to balance them, so start working on your website and make sure it has the best of both worlds.
Smart website analytics made simple
Understand your user intent, buying journey, and enhanced attribution in one unified hub. Up to 10x conversions.