COMPANY: Remo is an interactive events platform that connects people in a more authentic way. From networking events to job fairs to conferences to online meetings, Remo is sure to make your virtual event a success.
Pathmonk's Micro-Experiences Helped Remo Get
+$30k Revenue in 4 weeks
Remo is an interactive events platform that connects people in a more authentic way. We've all become far too familiar with the online world of communication. Remo's CEO, Hoyin Cheung, like many of us felt a disconnect when leaving an online meeting and he was determined to find a way to connect with people in the same way that he could connect with someone in the real world.
Thus, Remo's mission and fuel were born; transform the experience of connecting, communicating, and collaborating with people across the globe by "humanizing" online interactions. Since 2019, they've completely changed the face of the digital experience for 5,000 customers. They're the first tool that allows people to move freely in a branded space and nurture meaningful relationships, just like in-person events. You can create unique virtual event experiences with fully customizable floor plans, built-in engagement tools, whiteboards, and virtual backgrounds that enhance your guests' experience. 
From networking events to job fairs to conferences to online meetings, Remo is sure to make your virtual event a success. By Delivering immersive experiences that feel like everyone's in the same room with built-in engagement tools you can connect with your guests in meaningful ways. The virtual-event market is booming as we embrace pandemic life and distance. Not only is this new territory for the host of events but for the marketers of this new and growing SaaS model.
The Challenge:
Supporting this New Buying Journey with Appropriate Conversion Goals
Executing and successfully implementing an event takes a great deal of effort and time from the organizers. Some are well-versed in including digital elements in their events, however, for some, it is a whole new skill-set to acquire. Running good virtual events means dealing with technology in a new way, especially when it comes to virtual event platforms. 
Aaron Mohammed manages product and growth at Remo. He was determined and ready to support his prospects through this uncharted territory like an experienced and well-versed naval sea officer. To ultimately increase conversions on their website, Aaron wanted to understand the complexities of the buyers' journey more. 
Buyers naturally expect to receive the same thorough customer service on a website as they do in face-to-face sales interactions, so Aaron was was not willing to sacrifice their high standards. With readiness to digitize the buying journey further, he wanted to ensure the needs of the audience were catered to. As the numbers rise in the need and use of virtual events, the opportunity to deliver has a tremendous impact on the buyer's opinion. 
The Key Question: How to really support the visitor in their decision making?
The experience a company provides during the decision-making process is as vitally important as the quality of the actual service or solution. With the expectation of a quality experience, Remo needed to cater to these digital buyers with services that educate, guide, and understand the buyer's needs. Aaron knew that providing the right information at the right moment and ensuring a simplified and streamlined buying process, would increase their digital conversions.
Remo has three very different conversion goals that try to cater to the different needs of users:
14 Day Free Trial

Contact Sales for a Demo

Guided Tour
Ultimately, a sales conversation will support the prospect, as they can be guided through this new terrain, ask questions, and be provided with essential information. Aaron knew Remo needed to increase these demo-request conversions in order to truly support the visitors' decisions.
Get The Buying Journey Guide
Read practical advice, best practices, and expert tips to help you become a master of your website's buying journey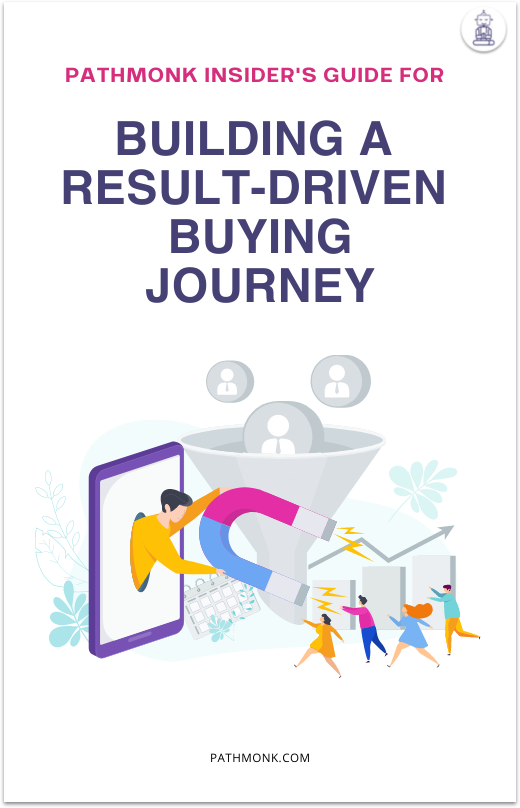 The Solution:
Support the Complex Buying Journey with Micro-Experiences That Help Users Make Decisions
Users canvasing the internet for the next-best virtual events solution spend time researching and ensuring they are making the best choice. If you are not offering an enhanced user experience it is easy enough for a prospect to move on to a competitor. However, by offering those users appropriate material balanced with a streamlined buying process you can influence your audience in those key moments.
The opportunity to create a seamless customer experience across all channels while being useful and anticipating users' needs was exactly what Aaron wanted for further growth and increased conversions, which the company deserved to see. He opted to use Pathmonk's easy integration to provide his users with micro-experiences. As this market booms, Remo has witnessed increased and high website traffic it was important that they implement Pathmonk's tool in their key target markets only, to ensure high-quality leads. 
With well-thought-out, micro-experiences Remo could inform visitors about what exact problems are solved with their platform, how it is different from others, and the results that customers can expect. With the added hyper-focus on the 'book a demo' conversion goal, Remo could truly support their prospects. 
Pathmonk detects the intent-rich moments that shape the visitor's decision on whether to stay, sign up or leave the website. These game-changing moments are significant in converting website traffic. With Pathmonk's intelligence, Remo's prospects were supplied with informative and actionable content in key-purchasing moments.
Pathmonk delivered micro-moments that match the stage of the buying journey to trigger more conversions. With a more complex buying journey, users are often at various stages in the conversion funnel. Aaron wanted to deliver appropriate moments to match the stage of a prospect, while ultimately anticipating their questions and showing the right content. 
Seamless integration is a core value at Pathmonk. Pathmonk complements your current website set up with no extra effort required on your side. Remo uses HubSpot's CMS. Pathmonk can be easily integrated into their HubSpot ecosystem, this was key for Aaron.
Results:
+$30k Revenue in 4 weeks
Remo saw an increase in sales calls and conversations making their website an efficient sales channel. As users felt supported through their journey they were able to book demos and speak to a specialist. As Pathmonk easily allows for your own updates and edits on micro-experiences Remo experimented further.
By placing a demo-request micro experience in comparison to a free trial micro-experience they found increased signups to the demos. Their users felt more encouraged to learn from and speak to a specialist rather than traversing the unknown seas by themselves. This was a great finding and learning for the team in this new booming market.
Pathmonk takes your sales proposition and provides them to your visitors at the right time. Using micro-experiences Pathmonk guides visitors based on their interactions to the most optimal buying journey.
In an overloaded world of information, it is hard to convey the key values of your product and present them in a way that fits each visitor on your website. Pathmonk nurtures your visitors with your key value proposition and builds interest with its revolutionary UX and Artificial Intelligence engine. Now Remo looks to support the buying journey of their key markets in Asia.
Know Why Your Page Is Missing Results
Pathmonk Metrics analyses the growth opportunities & user journey on your website, then generates suggestions on how to improve.