Marketers are navigating a digitally complex, always-changing era. As our websites and digital presence play an even bigger role in our customer journeys, marketers have become excited about the opportunity to track and analyze customer behavior and engagement. In this digital world, we have the opportunity to gather data and leverage customer journey analytics like never before. We can finally gather valuable insights so we can improve the customer experience and drive conversions. 
But we have to work hard to keep up with the demands of our consumers while keeping up with emerging technologies and revolutionary marketing tools. We're supposed to feel empowered by website data; to use it to make result-driven decisions, implement actionable insights, and improve our user experiences and lead generation efforts. But lately, data feels like more of a nemesis.
With our expanding digital world, sophisticated websites, disparate data sources, growing online audiences, data privacy, complex tools, and algorithms, lack of expertise and resources, and just simply, data overload, we're losing control of our customer journey analytics. 
But it's essential that we collect and analyze strategically to have any real impact. And as is with any adversary, we can contain and control it with the right tools. But finding the right tools is a barrier in itself. Some with technical complexity and steep learning curves, make it hard to adapt and embrace, while others have limited actionable insight or change suggestions. Some don't comply with growing privacy concerns and complicate analysis with messy and unscalable data. So we'll dive into the benefits and limitations of some of the most popular customer journey analytics tools out there. But first…
What Makes a Good Website Customer Journey Analytics Tool
Real-time data: Real-time data and insights, allows businesses to make quick decisions and respond to customer needs in key-decision moments. This is data that goes beyond just website visits. From clicks, geolocations, scrolling behavior, bounce rates, and more, it's essential data that helps us keep up with our consumer demands. To optimize buying experiences and meet prospects where they are in their buying journeys to ultimately increase conversions. 
Privacy Compliance: While we work hard to better understand the way our prospects buy, we must also work hard to meet the demands of the users we serve. Our consumers demand privacy, control, and protection. So as we gather critical data we must ensure it is privacy compliant. Privacy-friendly analytics provide you with more powerful data while establishing brand trust and credibility. 
Machine Learning and Artificial Intelligence: Machine learning and artificial intelligence are becoming staples in our day-to-day work. Helping us automate, remove inefficiencies, and revolutionize customer journey analytics. A powerful tool should be able to use machine learning algorithms to make predictions, find patterns, and automatically generate insights.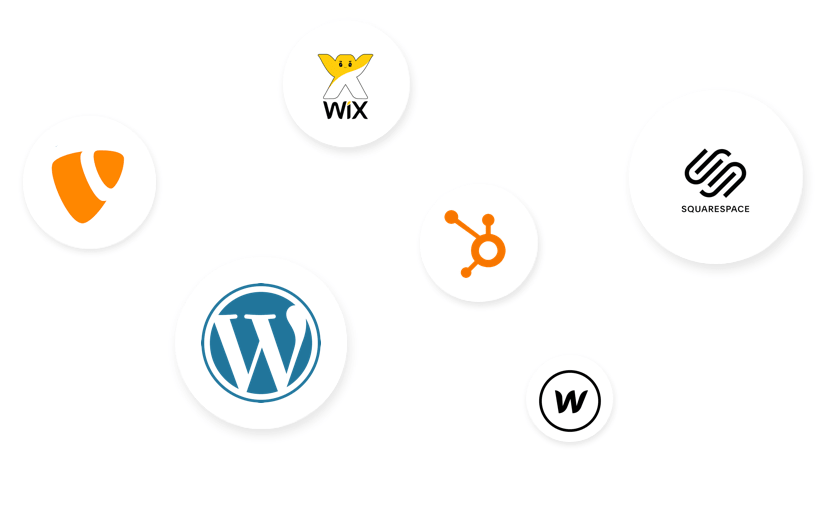 Integration: Marketers have a vibrant and diverse collection of tools. They're often empowering, effective, and helpful. But collecting so many tools can become overwhelming and all-consuming. And to make it worse, tools that are isolated and don't play nicely with others, makes our jobs harder. So it's important that your customer journey analytics tool integrates with other tools such as CRMs, and marketing automation software. You'll be able to have a holistic view of your customer data and make better data-driven decisions.
User-friendly interface: As I mentioned, tracking, collecting, and analyzing data is getting complicated. The last thing we need is a complicated tool to complement that. Your customer journey analytics tool should have a user-friendly interface that allows you to navigate, filter, and analyze data easily.
Data visualization: In connection to the point above, we want to simplify customer journey analytics so we have control and can leverage its true power without getting lost in messy data. A good customer journey analytics tool should be able to present data in an easy-to-understand format, such as graphs, charts, and tables. You should be able to quickly identify trends and patterns from your customer data.
Segmentation: In order to improve productivity, identify opportunities, and challenges, and personalize and tailor, we need to segment our data. You'll need to be able to group data sets based on attributes, such as demographics, behavior, and engagement.
Supercharge your ads' ROI without cookies
Boost your ads performance with cookie-free ads that retargets users based on their real-time intent.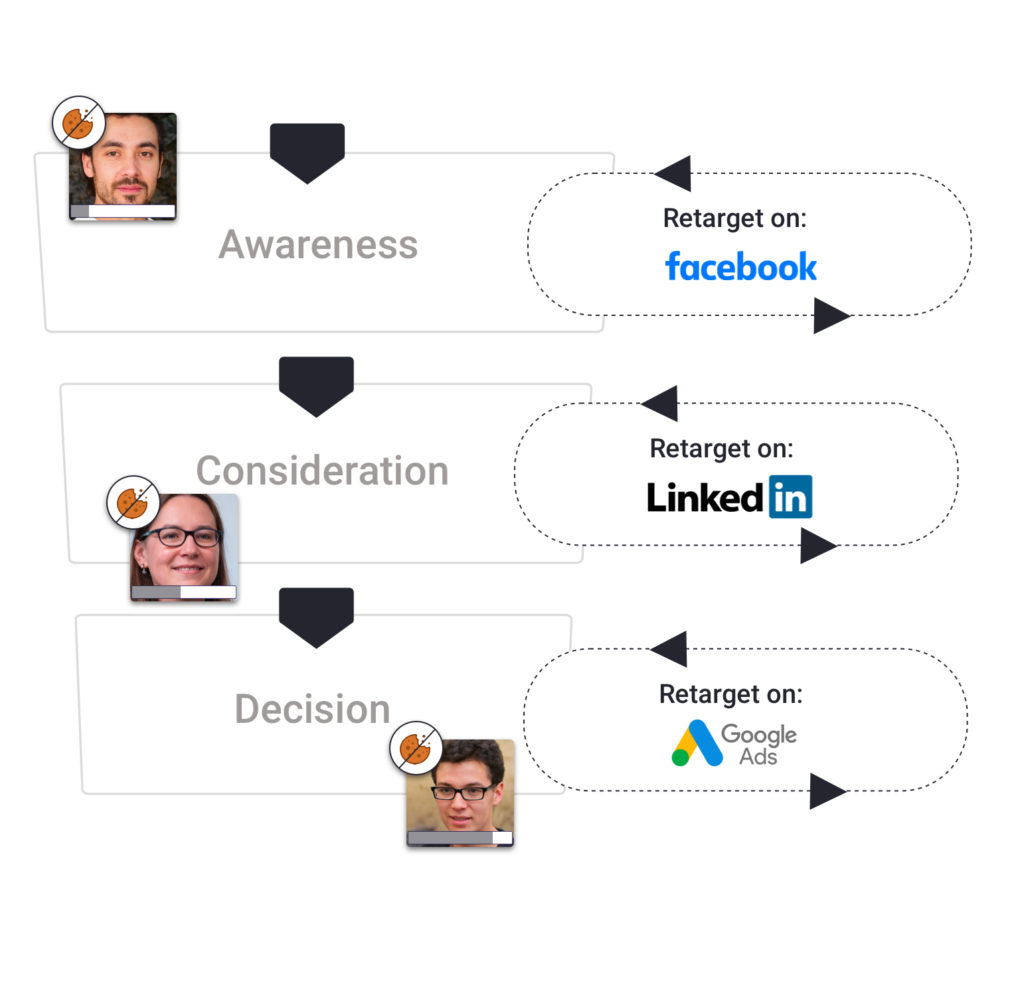 The Best Website Customer Journey Analytics Tools for 2023
So now that we know what makes a good website customer journey analytics tool, let's dive into some of the options available.
We know it, we use it. I bet it's open on one of your tabs right now. But do we like it? Do we know to get the most out of it? 
Google Analytics is a free tool that allows you to track and measure conversions across multiple channels. It helps you identify which channels are driving the most conversions so you can optimize your budget accordingly. It allows businesses to track the number of visitors to their site, where they came from, and how they interacted with the site. It also includes features like e-commerce tracking, goal tracking, and campaign tracking.
Benefits of Google Analytics
It's free

Easy to install

Default reports

There is an opportunity to dive deeper into website analytics

Seamless integration with other Google products

Extensive insights into web behavior

Mobile app tracking
Limitations of Google Analytics
There is a steep learning curve

Overwhelming

Data sampling can lead to inaccuracies

Google Analytics has a set of pre-defined reports and metrics, which can be limiting for businesses that need more specific or customized data.

Doesn't comply with EU data protection laws

Basic capabilities for predictive analytics

No built-in machine learning platform

Defaults to last-click attribution 

Not enough actionable insights

Only track if users accept cookies
Mixpanel helps businesses track user behavior, engagement, and conversion rates. It allows businesses to segment their data by user attributes and track the performance of their marketing campaigns. It also includes features like A/B testing and push notifications.
Easy-to-digest analytics

Customizable boards and workspaces

Event tracking, such as button clicks, form submissions, and purchases

Identify drop-off points and opportunities for improvement.

Track user retention

Send push notifications to users based on specific events or user behavior

Mixpanel integrates with a wide variety of other tools
With many internal features and tools, it can become overwhelming

Complex to set up and manage – Requires a software developer

Too much functionality and no real segmentation

High price tag

No improvement suggestions
Amplitude has become an increasingly popular customer journey analytics tool. Amplitude is a product analytics platform that allows businesses to track and analyze user behavior and engagement on their website or mobile app. It includes features like funnels, user segmentation, and cohort analysis. 
Retention Analysis

User-friendly interface

Easy implementation

Different pricing plans

Build comprehensive behavioral cohorts and develop buyer personas 

Integrations with other tools
Expensive paid plan

Difficult to move data in and out of Amplitude

Long learning curve

No pre-built dashboard

Setting up events can be challenging
Heap automatically tracks every user interaction on a website and mobile app, making it easy for businesses to analyze customer behavior. It includes features like automatic event tracking, user session replay, and user-level data export.
User-friendly and intuitive 

Retroactive and automated tracking

Real-time insights

Affordable with a free option

Collaboration tools

Cross-device tracking

Advanced segmentation
Requires a learning curve for users to configure and generate reports

Requires basic knowledge of HTML tagging

Limited configurations and customizations in the dashboards and reports

Not fully compliant with heavily-regulated industries
It would appear that Plausible, like so many of us, are tired of Google Analytics. Plausible is a simple, easy-to-use, privacy-focused web analytics tool. Without collecting any personal information, it provides website owners with insights into their website traffic.
For privacy-conscious site owners

Simple to integrate and easy to use

Track events, goal conversions, and campaigns

Collaborative dashboards

Open source software

Lightweight tracking scripts

Accurate data
Limited metrics and reports

No custom metrics 

Limited integration

No advanced segmentation
Pathmonk is a website conversion platform that helps businesses analyze the actions of website visitors and deliver personalized micro-moments that further optimize visitor conversion rates. Pathmonk offers a range of products. Their powerful privacy-friendly customer analytics tool helps marketers automatically and quickly conduct large-scale data analysis and provide them with money-making insights based on the way visitors behave on their website. While their intent data and micro-experiences allow businesses to power up their website buying journey and automatically customize the conversion funnel for all visitors at every stage and on any device.
Data based on user intent and buying behavior

Actionable insights and improvement suggestions

Simple & easy-to-use interface

No developers are required

For privacy-conscious site owners

It's simply plugged into your website 

Easily integrated with CRM or marketing automation tools

Predictive micro-experiences and real-time personalization

Complete automation

Real-time data

Enhanced attribution

Improve lead quality

Customizable

Concierge onboarding and setup
Paid service

An expanding and growing platform so some features are still being developed

Does not provide detail about what company or individual visited your website

Narrows buying journey focus to just website activity

Not a usability tool. No heatmaps or session recordings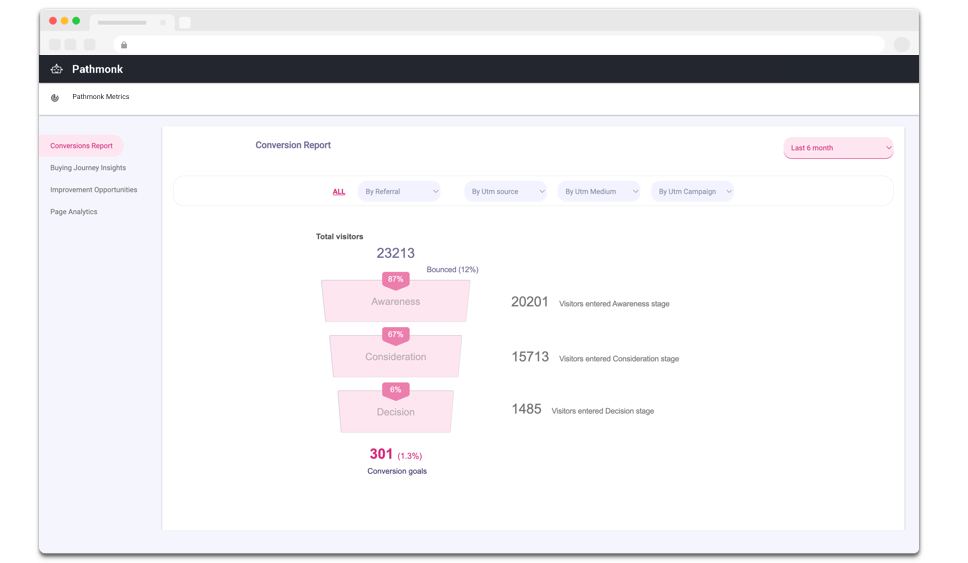 Between budgets, skill sets, and limited resources it can be hard to decide on the tool best suited for you. We can't deny that a free tool is appealing, so Google Analytics is a great option for businesses that want a free, basic web analytics tool. But with that low price tag comes consequences. To do more and understand more with Google Analytics will require you to have a larger budget, time, and skills. Mixpanel and Amplitude are better suited for businesses that need more advanced features and insights but lack the ability to provide improvement suggestions and influence prospects in real-time. 
Heap is ideal for businesses that want to automatically track user interactions but you may feel overwhelmed with the need for HTML tagging knowledge. While Plausible is perfect for privacy-conscious website owners who need simple metrics but with limitations in customizable and more in-depth metrics and reports. However, Pathmonk, with the combination of powerful analytics and personalized micro-experiences that increase conversions, is an exceptional solution that combines real-time analytics, intent prediction, lead qualification, attribution, and real-time personalization. Not to mention their cookieless retargeting solution and commitment to climate change with Pathmonk Climate. Perhaps we're closer to the perfect customer journey analytics tool than we think.
Supercharge your ads' ROI without cookies
Boost your ads performance with cookie-free ads that retargets users based on their real-time intent.