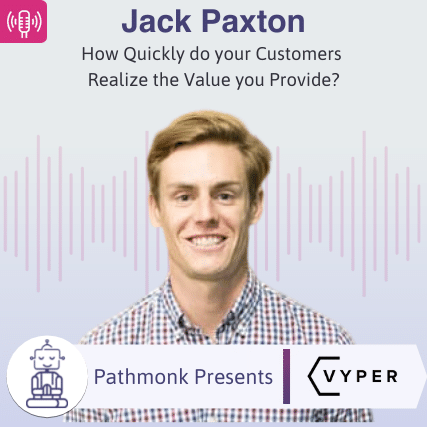 Introduction
To support momentum in your buying journey and provide a customer experience that helps your customers discover the ROI in your offering, you need to track your Time to Value as a key metric. In our digital world consumers are influenced by and demand instant gratification. You don't want to leave space for a competitor to prove their worth before you. The sooner you can show your clients value, the more likely they are to convert and be returning customers.
Our guest today, co-founder of Vyper, Jack Paxton has observed the successes and failures of increasing conversions. Trying different content, pop-ups, and calls to action, Jack has resolved to simplicity. With a straight-to-the-point strategy and buying cycle, customers realize the value quickly.
Coupled with a simple website and a clear value proposition Jack has prioritized a simple onboarding process too. By analyzing the customer experience and trialing different triggers, designs, and messages Jack has been able to encourage growth and ensure customers realize the value. By tracking and measuring he can better understand their sales cycle, know when customers will see the value of their solution, and forecast any changes needed to improve their sales funnel or marketing strategies.
Take The Next Step on Your Growth Journey
Growth Marketers in the show focus mostly on one of the three big problems. Increasing the number of leads, reducing the customer acquisition cost, or improving the lead quality – that's why they are in growth in the first place. Reports from Gartner and real experience from the guests show that >70% of the buying journey is happening online.
The step-by-step Ebook guide below will help you to get started and analyze the digital buying journey on your website. Take this cheat sheet to accelerate revenue for your company. The buying process has changed, has your website experience?
Get The Buying Journey Guide
Read practical advice, best practices, and expert tips to help you become a master of your website's buying journey