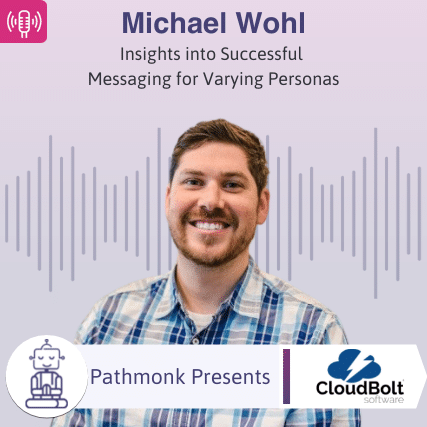 Remote working is here and many believe that a hybrid-cloud solution is key to transformation, and yet it is not fully adopted and avoided in fear that it's too complex. Helping enterprise IT can configure and manage private and public cloud resources—quickly, securely, and cost-effectively is CloudBolt, an industry's leading hybrid cloud management platform provider. With a wide audience and varying personas, we were eager to hear from Senior Manager of Digital Marketing, Michael Wohl. Michael offers a great perspective on what it means to create successful messaging and how we have the ability to control this on our website and digital platforms. He dives further into his experiences on common marketing challenges and growth strategies. Have a listen!
Take The Next Step on Your Growth Journey
Growth Marketers in the show focus mostly on one of the three big problems. Increasing the number of leads, reducing the customer acquisition cost, or improving the lead quality – that's why they are in growth in the first place. Reports from Gartner and real experience from the guests show that >70% of the buying journey is happening online.
The step-by-step Ebook guide below will help you to get started and analyze the digital buying journey on your website. Take this cheat sheet to accelerate revenue for your company. The buying process has changed, has your website experience?
Get The Buying Journey Guide
Read practical advice, best practices, and expert tips to help you become a master of your website's buying journey