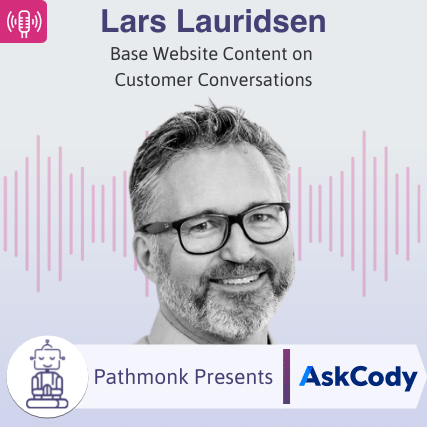 Introduction
It is so easy to disconnect from our customers. With our online buying journeys, we often forget to have real conversations with our audience. These conversations are vital to truly understanding your buyer. Sitting down and asking customers questions and getting down to their pain points should be the foundation of your website content.
Working to connect with customers and ensure their solution addresses users' pain points is the marketing director of AskCody, Lars Lauridsen. AskCody is a meeting management platform built to make meeting management streamlined and simple. Online meetings and in-person meetings during the pandemic have added additional challenges, so AskCody is here to make this not-so-fun process more efficient.
Lars opens up about their growth channels and buying journey for their Enterprise clients. As a website should be structured as a 24h sales representative, Lars is highly focused on the website content. By having these conversations and analyzing a customer's journey and experience the team can work to tailor a purpose-built website.
Take The Next Step on Your Growth Journey
Growth Marketers in the show focus mostly on one of the three big problems. Increasing the number of leads, reducing the customer acquisition cost, or improving the lead quality – that's why they are in growth in the first place. Reports from Gartner and real experience from the guests show that >70% of the buying journey is happening online.
The step-by-step Ebook guide below will help you to get started and analyze the digital buying journey on your website. Take this cheat sheet to accelerate revenue for your company. The buying process has changed, has your website experience?
Get The Buying Journey Guide
Read practical advice, best practices, and expert tips to help you become a master of your website's buying journey