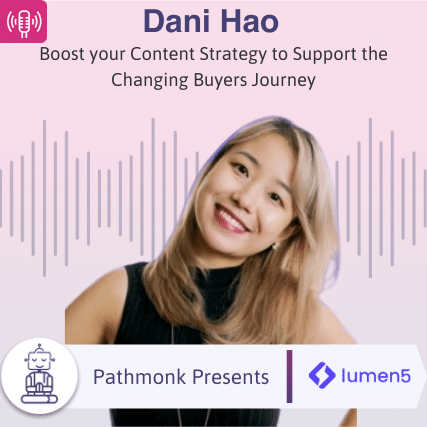 Introduction
Content is King and engagement is queen. Interactive online content will always remain at the forefront of building an audience, answering key questions, and strengthening your reputation and brand. However, producing content is no longer enough if the audience doesn't engage. The way people consume content is changing and our audience relishes instant gratification and quick information.
As a writer, currently writing, even I have to admit I love nothing more than a quick explainer video; engaging, visual, and straight to the point offering instant information and insight. Helping businesses boost their content strategy to support the way buyers consume and buy is Lumen5, a B2B video creation tool built by marketers for marketers.
Dani Hao, communication and community manager offers us insights into the way content consumption is changing and how marketers have to adapt, test, and go beyond with their content strategy. Dani reminds us that people buy from people and investing in authentic and trust-building content is key to a business's success. For those who do like to slow it down with a bit of written content thanks for getting this far.
Take The Next Step on Your Growth Journey
Growth Marketers in the show focus mostly on one of the three big problems. Increasing the number of leads, reducing the customer acquisition cost, or improving the lead quality – that's why they are in growth in the first place. Reports from Gartner and real experience from the guests show that >70% of the buying journey is happening online.
The step-by-step Ebook guide below will help you to get started and analyze the digital buying journey on your website. Take this cheat sheet to accelerate revenue for your company. The buying process has changed, has your website experience?
Get The Buying Journey Guide
Read practical advice, best practices, and expert tips to help you become a master of your website's buying journey