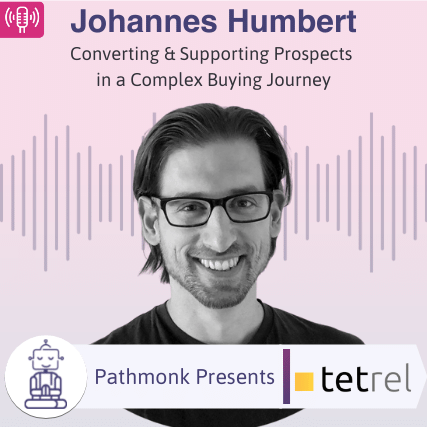 Introduction
Artificial Intelligence is a pretty popular topic. With buzzwords increasing and companies adding it to their 'must-haves' there is a need to understand it a bit more. More and more companies talk about integrating AI to increase automation, yet very few do, as the complex topic impacts prospects retention. Tetrel is making Artificial Intelligence easier to use for businesses. By identifying strategic use cases for Artificial Intelligence and evaluating them the team turns them into productive solutions.
Chief Commercial Officer, Johannes Humbert, discusses growth in their business and the challenges of converting and supporting prospects in a complex buying journey. With a topic holding so much information and use cases, Johannes discusses the importance of being present in the space your audience is researching, to be a source of information as a form of supporting the prospect.
Serving enterprises comes with serving more than one prospect. There are many decision-makers involved with much research and analysis to be done. Johannes continues to optimize with SEO, impactful content, networks, and use cases in order to convert and support those in the complex buying journey. He also offers a great tip into; let's say a unique way, of consuming podcasts.
Take The Next Step on Your Growth Journey
Growth Marketers in the show focus mostly on one of the three big problems. Increasing the number of leads, reducing the customer acquisition cost, or improving the lead quality – that's why they are in growth in the first place. Reports from Gartner and real experience from the guests show that >70% of the buying journey is happening online.
The step-by-step Ebook guide below will help you to get started and analyze the digital buying journey on your website. Take this cheat sheet to accelerate revenue for your company. The buying process has changed, has your website experience?
Get The Buying Journey Guide
Read practical advice, best practices, and expert tips to help you become a master of your website's buying journey