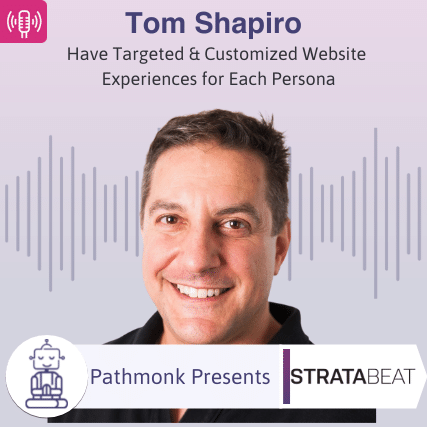 Introduction
One of our favorite questions to ask our guests is; 'if there were no boundaries in technology, what is one thing you would change for your company today?' Today Tom Shapiro gave a perfect answer 'We would pay a lot of money to see everyone on our website'. I mean, we're always here Tom, ready to give you those insights. Tom is the CEO of the web design and digital marketing agency, Stratabeat.
The team generates powerful results for your business through the combination of science and extreme creativity, focusing on neuroscience, psychology, and behavioral science. While generating powerful results for their clients Tom wants to generate powerful leads. As we all tweak and optimize our websites Tom is focusing on creating targeted and customized website experiences for the different industry visitors.
Each persona has different needs and meets the website at different stages in the buying journey. By building out and developing their channels and focusing on content that matches the buying journey Tom hopes to create targeted and customized website experiences. Learn about his perspective on growth and the common marketing challenges of today.
Take The Next Step on Your Growth Journey
Growth Marketers in the show focus mostly on one of the three big problems. Increasing the number of leads, reducing the customer acquisition cost, or improving the lead quality – that's why they are in growth in the first place. Reports from Gartner and real experience from the guests show that >70% of the buying journey is happening online.
The step-by-step Ebook guide below will help you to get started and analyze the digital buying journey on your website. Take this cheat sheet to accelerate revenue for your company. The buying process has changed, has your website experience?
Get The Buying Journey Guide
Read practical advice, best practices, and expert tips to help you become a master of your website's buying journey