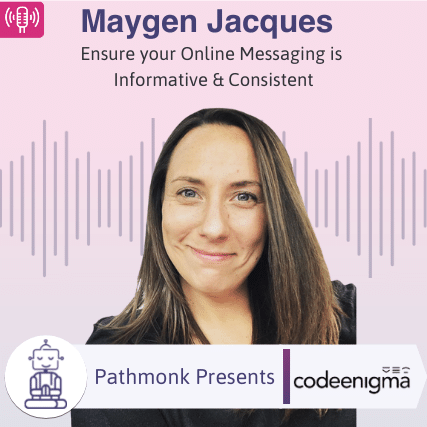 Introduction
Maygen Jacques, head of marketing at Code Enigma joined us on Pathmonk Presents today. She was sure to clarify that the business was less of an enigma than we would assume. Code Enigma is an agency of Drupal experts offering development, hosting, and support services for websites and web applications. As head of marketing and like every marketer we know, Maygen is highly focused on the user experience of their audience and ensuring that all their needs and questions are met.
Maygen and the team choose to focus on the company's expertise rather than overwhelming their audience with aggressive advertising and marketing. High-quality content is a way to highlight expertise while they work to find a way to keep the technical aspects of the business short and sweet. Beyond content, Maygen equally works to keep online messaging informative and consistent.
Online messaging is a powerful tool to retain customers and engage with their needs. With the right messaging you can influence the user experience and push your audience through the buyer journey. Maygen, like Pathmonk, is motivated by a personalized and streamlined user experience. Listen to hear more from her.
Take The Next Step on Your Growth Journey
Growth Marketers in the show focus mostly on one of the three big problems. Increasing the number of leads, reducing the customer acquisition cost, or improving the lead quality – that's why they are in growth in the first place. Reports from Gartner and real experience from the guests show that >70% of the buying journey is happening online.
The step-by-step Ebook guide below will help you to get started and analyze the digital buying journey on your website. Take this cheat sheet to accelerate revenue for your company. The buying process has changed, has your website experience?
Get The Buying Journey Guide
Read practical advice, best practices, and expert tips to help you become a master of your website's buying journey