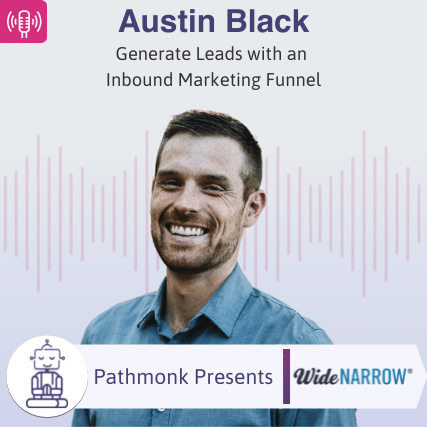 Introduction
We love to ask our guests how they continue to educate themselves and filter through the online noise to find relevant and quality content. Our guest today, Austin Black, is the senior growth marketer and business developer of Wide Narrow, a SaaS company that helps with just that. Wide Narrow helps analysts with their intelligent workflow. Filtering industry-leading sources supported by AI and information specialists, their clients are provided with information that matters.
Of course, Austin has the advantage of accessing Wide Narrow's platform to support his career and individual growth. Austin breaks down the evolution of the business and his input into lead generation, marketing, and pivoting into a more online-based environment as the pandemic imploded into their outbound world.
With a pivot to an inbound marketing funnel, Austin and the Wide Narrow team began to see an increase in their lead generation and the impact it had on their customer experience. By building tailored connections with potential buyers and providing solutions to problems that their prospects have Wide Narrow has been able to attract consistent customers. Learn to generate leads through relevant content, meaningful experiences, and an overall successful inbound marketing funnel.
Take The Next Step on Your Growth Journey
Growth Marketers in the show focus mostly on one of the three big problems. Increasing the number of leads, reducing the customer acquisition cost, or improving the lead quality – that's why they are in growth in the first place. Reports from Gartner and real experience from the guests show that >70% of the buying journey is happening online.
The step-by-step Ebook guide below will help you to get started and analyze the digital buying journey on your website. Take this cheat sheet to accelerate revenue for your company. The buying process has changed, has your website experience?
Get The Buying Journey Guide
Read practical advice, best practices, and expert tips to help you become a master of your website's buying journey