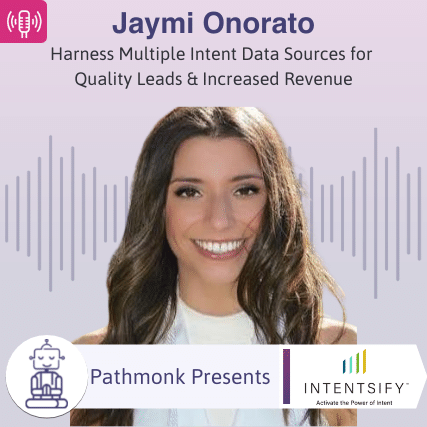 Introduction
We're so privileged to have the discussions we have on our podcast. We're always learning and working to keep up with ever-evolving trends. One common topic that has become more popular in the industry is intent data. We have noticed that more of our guests are eager to learn and understand this upward trend. So if you're looking for that additional information and inspiration to leverage intent data, today's guest is perfect.
Jaymi Onorato is the head of marketing at Intentsify. Intentsify is an intent data software and solutions provider. Literally, it's intensifying intent data by making it actionable, automated, and digestible so you can leverage powerful insights. We weren't surprised to learn that Intentsify takes an active approach in finding their own customers by using their own intent-driven solution in combination with education-based content. As our host, Lukas says, it's marketing inception.
Although intent data is an upward trend there are many seeking more information and Jaymi aims to provide this with high-quality educational content. Beyond this, we were happy to learn that Jaymi is looking to improve and increase personalization on their website in order to ensure visitors can resonate and connect with their solution. Focusing on user experience has increased their inbound leads and we're not surprised.
Take The Next Step on Your Growth Journey
Growth Marketers in the show focus mostly on one of the three big problems. Increasing the number of leads, reducing the customer acquisition cost, or improving the lead quality – that's why they are in growth in the first place. Reports from Gartner and real experience from the guests show that >70% of the buying journey is happening online.
The step-by-step Ebook guide below will help you to get started and analyze the digital buying journey on your website. Take this cheat sheet to accelerate revenue for your company. The buying process has changed, has your website experience?
Get The Buying Journey Guide
Read practical advice, best practices, and expert tips to help you become a master of your website's buying journey